Aerospace summit highlights opportunities for growth in key industry
Pure Michigan Business Connect to coordinate supplier-purchaser meetings
LANSING, Mich. – Representatives from leading U.S. aerospace companies will attend the Pure Michigan Aerospace Summit on April 10, 2019. The gathering of teams from global companies looking to establish contracts with Michigan-based suppliers underscores the state's fast-growing aerospace landscape and broader business climate that includes one of the strongest manufacturing-based economies in the country.
WHAT: 2019 Pure Michigan Aerospace Summit
WHEN: Wednesday, April 10, from 9 a.m. to 4 p.m.
WHERE: Ford Field, Detroit MI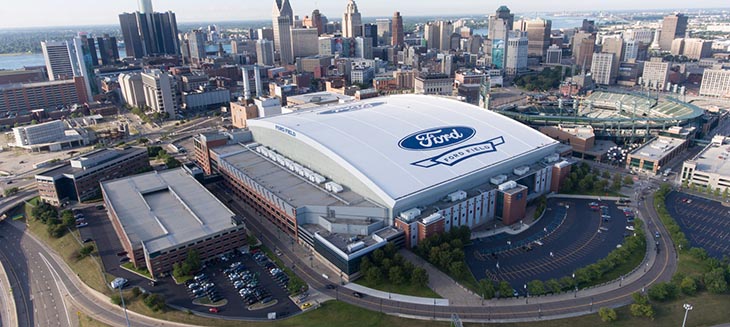 Image courtesy of Ford Field
In addition to the matchmaking meetings, tomorrow's aerospace summit features five speakers:
Jeff Mason, CEO, Michigan Economic Development Corporation
Trevor Pawl, group vice president of Mobility, Supply Chain and Trade for the Michigan Economic Development Corporation
Elise Lancaster, state director for U.S. Senator Gary Peters
David Prichard, president of Pravco, LLC and associate professor and aviation researcher at State University of New York
Lorelei Richey, general manager for Pratt and Whitney AutoAir
Ranked among the top ten states for the aerospace industry by PriceWaterhouseCoopers, Michigan is home to more than 600 aerospace-related companies and nationally recognized for its access to nine of the ten largest research-and-development facilities. What's more, with its 17 universities and technical schools with aerospace and aviation curricula, Michigan is a top state for employment per capita of mechanical, industrial and aerospace engineers, supplying the talent needed for aerospace companies to thrive in the state.
Pure Michigan Business Connect (PMBC) is coordinating meetings on behalf of hundreds of Michigan-based companies with purchasing teams from Lockheed Martin, Boeing Research and Technology, Aernnova Aerospace, RCO Aerospace Products and GE Aviation, among others. In general, these companies are looking to purchase services and materials related to CNC machining, metal fabrication, circuit card assembly, electromagnetics, welding, treating, coating, and adhesives, along with architectural and engineering expertise.
"The Aerospace Summit provides industry professionals an opportunity to network and expand their business operations, helping solidify Michigan as a competitive player in aerospace manufacturing and deployment operations," said Jeff Mason, CEO of MEDC. "Between our business-friendly climate and world-renown manufacturing prowess, Michigan is a key location for aerospace supply chain and engineering companies from around the globe to do business."
Since 2011, PMBC has spearheaded connections among suppliers and purchasers that have facilitated more than $8 billion in contracts and purchase orders between global companies and qualified Michigan-based companies, all while creating or retaining more than 40,000 jobs in Michigan. Accurate Carbide Tool Co. (ACT), for example, is a company out of Saginaw that provides manufacturing services to automotive and aerospace suppliers and recently benefitted from the PMBC's services. Due to matchmaking connections facilitated by PMBC, ACT was able to connect with the team at Boeing and attend their Supplier Showcase in Seattle, Washington, to pitch its products to their team. The pitch was successful, and four months later ACT had already won 12 purchase contracts with Boeing, resulting in a revenue growth of $60,000 for the Michigan company — all thanks to the opportunities created by PMBC.
In addition to aerospace, PMBC hosts summits and facilitates contracts for small- and medium-sized Michigan businesses in a range of industries, including automotive, agriculture, aviation, defense and cybersecurity.
Media are invited to attend from 9 to 4 p.m. Assistance is also available for media who are unable to attend but would like to arrange interviews with summit organizers, guest speakers or attendees.
To arrange an interview with Jeff Mason or other summit speakers please contact Otie McKinley at mckinleyo@michigan.org.
For onsite interviews, please contact Robert Chasnis, 517-599-4074, chasnisr@michigan.org
About Michigan Economic Development Corporation (MEDC)