National export program helps manufacturers develop strategies to expand into global markets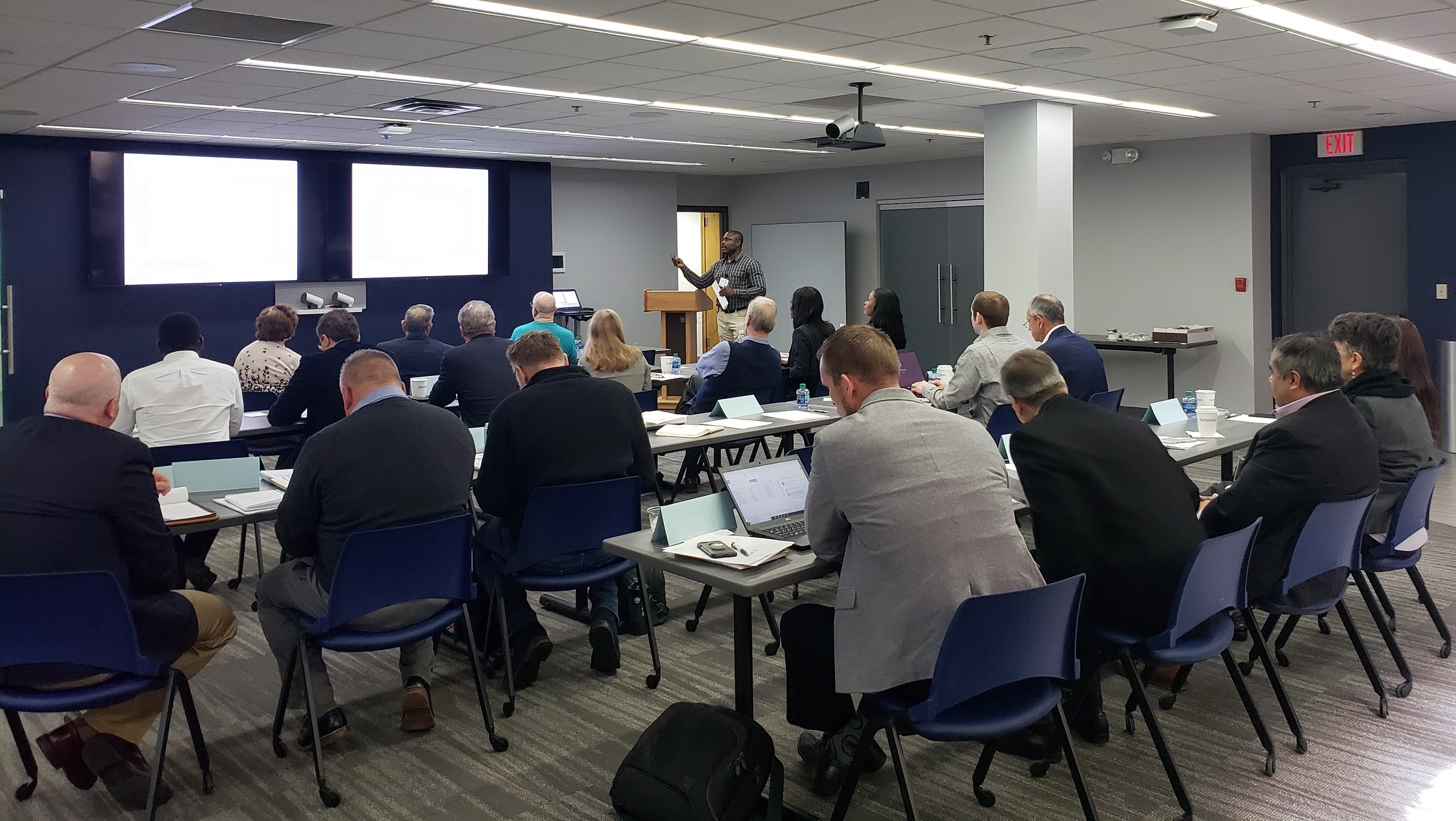 LANSING, Mich. – Executives from five Michigan companies have graduated from ExporTech Lansing, the Michigan Economic Development Corporation announced today.
"ExporTech provides an excellent opportunity for companies to sharpen their strategic export plans under the guidance of seasoned experts in various fields," said MEDC Director of International Trade Natalie Chmiko. "These graduates help power the engine of Michigan's economic growth, adding new manufacturing and highly skilled jobs and revenue from export sales."
Developed by the U.S. Department of Commerce, ExporTech is a national program that helps U.S. manufacturers and service-based companies to develop their international growth strategy. ExporTech Lansing is organized by the U.S. Commercial Service – Grand Rapids Office and Michigan State University's International Business Center and hosted at the law offices of Foster Swift Collins & Smith.
ExporTech features three day-long workshops spanning 10 weeks. Training and individualized mentoring is provided from a wide range of experts on export financing, payment risk, compliance, sales and distribution, country selection and more. Teams of students from Michigan State University are assigned to each company to assist in market research.
"One of the great things coming out of this program is that it helped us to think more strategically about our sales plans. It motivated us to focus on specific markets of opportunity based on research and counselling provided by the program mentors," said Dr. John's Healthy Sweets President and ExporTech graduate Mike McDonald.
Today's graduating companies join approximately 35 other Michigan businesses that have graduated from ExporTech programs offered in Detroit, Saginaw and Troy.
The five companies that successfully completed ExporTech today were:
Close Air Support LLC (Grand Rapids) – Provider of sales, sourcing, and inventory management services for the aerospace industry. Close Air helps airlines and MROs around the world to identify and purchase aircraft components.
Dr. John's Healthy Sweets (Grand Rapids) – Manufacturer of sugar-free candy that offers consumers alternatives to sugar candy, providing all-natural sweet products fortified by healthy ingredients. Dr. John's Healthy Sweets has exported their candies to Canada and Japan. They are planning to expand their sales in Asia as demand for healthy sweets and an appetite for US made products continues to increase.
Microcide Inc. (Sterling Heights) – Manufacturer of non-toxic and environmentally friendly antimicrobial products for households, personal care, health care, agriculture, and food industries. Their products have been used by NASA on the space station. They currently export to Canada, Mexico, and Chile but are planning to use strategies learned from ExporTech to expand to additional global markets.
Trinity Seven Enterprises (Canton) – Manufacturer of premium quality environmentally friendly cleaning consumer products. Their specialty Alpha line of household cleaning products are sourced mainly from plant derivatives and eliminate the need for harsh chemicals. Management from Trinity Seven is interested in targeting sales to Africa.
Virtual Consultant Groups (Detroit) – Developer and designer of eCommerce systems that generate revenue for their clients. They customize established technology platforms and software. VGC specializes in brand identity design and data analytics consulting. Virtual Consultant Group plans to target their services to companies in emerging markets.
"We look forward to working with each of the graduates to execute their strategic plans," said Kendra Kuo, director of the U.S. Department of Commerce's U.S. Commercial Service Grand Rapids office. "Many of the graduates are already leveraging our network of offices in U.S. Embassies around the world to make valuable connections and increase their sales."
Michigan's State Trade Expansion Program (STEP), administered by MEDC's International Trade Program, reimburses 50 percent of the cost of ExporTech to participating companies. In addition, participating ExporTech companies can utilize services offered by a network of federal, state, and university organized export assistance programs to take the export strategies developed during ExporTech to the next level.
As part of the program, executives received exposure to trade-related grants and resources, such as the Small Business Administration's STEP Grants, the U.S. Commercial Service's Gold Key Matching Service, the Michigan Department of Agriculture and Rural Development's Market Builder program, and Michigan Economic Development Corporation's International Trade Program. Featured speakers at the training connected the participants to local contacts including FedEx, Foster Swift Collins & Smith PC, Michigan Small Business Center, Michigan Manufacturing Technology Center, the NIST Manufacturing Extension Partnership, and the West Michigan District Export Council.
For complete details on where to begin the export process, interested companies can go to www.export.gov or www.exportmi.net. Or to apply for assistance, including MEDC's STEP eligibility requirements and the application process, please visit www.michiganbusiness.org/export.
About Michigan Economic Development Corporation (MEDC)