Wise Systems named Startup of the Year, WaveSense named Best in Show by PlanetM at the North American International Auto Show
Tuesday, January 15, 2019
PlanetM, Techstars and Automobili-D recognized the most innovative mobility solutions and startups at the 2019 North American International Auto Show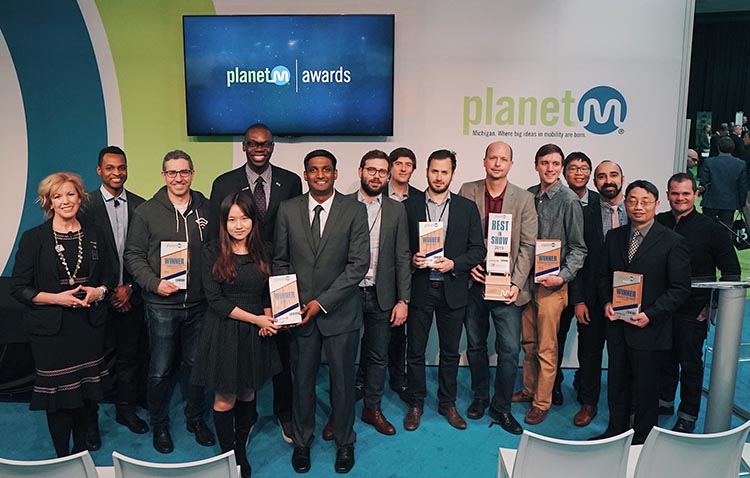 Tuesday, January 15 - Detroit – Today, PlanetM announced Wise Systems as the 2019 Techstars Startup of the Year and WaveSense as PlanetM Awards Best in Show, awarded by Governor Gretchen Whitmer and Lieutenant Governor Garlin Gilchrist II, at Automobili-D, the mobility portion of the North American International Auto Show (NAIAS).
"It is fitting to recognize the companies that are revolutionizing transportation at the North American International Auto Show because Detroit is well-positioned to drive the mobility marketplace toward a safer, smarter and more accessible future," said Lieutenant Governor Garlin Gilchrist. "We're proud to honor these companies and their solutions that will lead the charge in this next generation of transportation."

More than 60 mobility startups, hailing from 10 countries, demonstrated their mobility technologies in Detroit this week at Automobili-D. Since inception, the startup footprint at Automobili-D has grown by 59 percent and 77 percent are first-time exhibitors in 2019.
"Advances in new mobility have come a long way since the inaugural Automobili-D in 2017," said Trevor Pawl, group vice president of PlanetM, the state of Michigan's mobility-focused brand and business development program. "The startups exhibiting this year illustrate those advances in an eye-opening way, from new technologies in mapping and hardware to new applications and partnerships in IoT, advanced manufacturing and cybersecurity."
2019 Techstars Startup of the Year: Wise Systems
"We are proud to be part of Automobili-D and honored to be recognized by PlanetM and Techstars," said Chazz Sims, CEO and co-founder of Wise Systems. "Thanks so much to the judges and community for this recognition."
Wise Systems is an autonomous dispatch and routing solution that empowers operations teams and drivers to improve fleet efficiency and customer service, seamlessly adapting to the everyday challenge they encounter.
PlanetM and Techstars invited 16 mobility startups exhibiting at Automobili-D to pitch in front of an impressive roster of judges, including representatives from Bosch, Denso, Ford, Lear and many other notable mobility stakeholders.
PlanetM Pitch Competition 2019 Category Winners
"The annual startup pitch competition is an excellent opportunity for innovative startups to share their technologies and vision with the leading mobility companies and stakeholders," said Ted Serbinski, managing director of Techstars. "This year's event was one of the most competitive competitions to date. It brought 17 remarkable mobility startups from around the world to present their business in Detroit in front of automakers, suppliers and venture capital firms."
2019 PlanetM Awards Best in Show: WaveSense
WaveSense is accelerating the arrival of self-driving vehicles. They provide ground penetrating radar technology that creates subterranean maps to help vehicles navigate challenging conditions, such as snow, rain, fog or poor lane markings.
Governor Gretchen Whitmer and Lieutenant Governor Garlin Gilchrist presented the award to WaveSense's Tarik Bolat, CEO and Co-Founder and Byron Stanley, CTO and Co-Founder.
"It's an honor to be recognized by PlanetM as a leader in safety in autonomous vehicle technology," said Tarik Bolat, CEO and Co-Founder, WaveSense. "We are grateful to our automotive partners in the industry who are actively working with WaveSense to deliver robust and reliable autonomous vehicle navigation."
In its second year, PlanetM, Automobili-D and NAIAS hosted the PlanetM Awards to honor enterprises developing innovative and mobility-focused platforms and technologies. NAIAS provides the platform for companies in this industry to showcase their products, services, and technologies. Self-nomination for award consideration is open to all Automobili-D exhibitors.
PlanetM Awards 2019 Category Winners
PlanetM selected judges based on their hands-on experience within each mobility category. Judges represent small businesses, large enterprise companies, mobility venture capital groups, and smart city government organizations.
"We received many impressive applications this year for our outstanding lineup of judges to consider," said Jake Sigal, Detroit serial entrepreneur and co-host of the PlanetM Awards. "I have no doubt that the products on display at Automobili-D will go on to transform mobility."
About PlanetM

PlanetM is a partnership of mobility organizations, communities, educational institutions, research and development, and government agencies working together to develop and deploy the mobility technologies driving the future. Available to any mobility-focused company or investor, PlanetM is also a no-cost, concierge service that connects startups to Michigan's automotive ecosystem — the people, places and resources dedicated to the evolution of transportation mobility. Michigan has always been the leader of the automotive industry, and as vehicle and transportation technologies continue to evolve in amazing ways, Michigan is continuing to lead the way. Visit PlanetM.com to learn more.
About Techstars

Techstars helps entrepreneurs succeed. Through the Techstars Worldwide Entrepreneur Network, founders connect with other entrepreneurs, experts, mentors, alumni, investors, community leaders, and corporations to grow their companies. Techstars operates four divisions: Techstars Startup Programs, Techstars Mentorship-Driven Accelerator Programs, Techstars Corporate Innovation Partnerships, and the Techstars Venture Capital Fund.
Techstars Mobility is a Mentorship-Driven Accelerator Program part of Techstars. Techstars Mobility is the first North American accelerator focused on the future of transportation and mobility. Headquartered in downtown Detroit but investing worldwide in startups, Techstars Mobility has invested in 33 mobility startups since June 2015. www.techstars.com
About the North American International Auto Show

Now in its 31st year as an international event, the NAIAS is among the most prestigious auto shows in the world, providing unparalleled access to the automotive products, technologies, people and ideas that matter most – up close and in one place. Administered by executive director Rod Alberts, the NAIAS is one of the largest media events in North America, and the only auto show in the United States to earn an annual distinguished sanction of the Organisation Internationale des Constructeurs d'Automobiles, the Paris-based alliance of automotive trade associations and manufacturers from around the world. For more information, visit naias.com.
About Wise Systems

Wise Systems is an autonomous dispatch and routing solution that empowers operations teams and drivers to improve fleet efficiency and customer service, seamlessly adapting to the everyday challenge they encounter.
About WaveSense

WaveSense is the first company in the world to offer self-driving vehicle navigation based on ground penetrating radar at commercial scale. Its mission is to enable self-driving vehicles to navigate any road safely, precisely and reliably in all conditions. It is the exclusive worldwide license holder for utilizing ground-penetrating radar for localization of vehicles. WaveSense was founded in 2017 and is based on technology developed for and deployed with the US military. For more information on WaveSense, visit www.wavesense.io and follow us on Twitter at @wavesense_inc.
About Michigan Economic Development Corporation (MEDC)