West Michigan Center for Arts and Technology Unveils New Cyber Hub
Wednesday, October 10, 2018
The new cyber hub is the fifth installment in the Michigan Cyber Range Network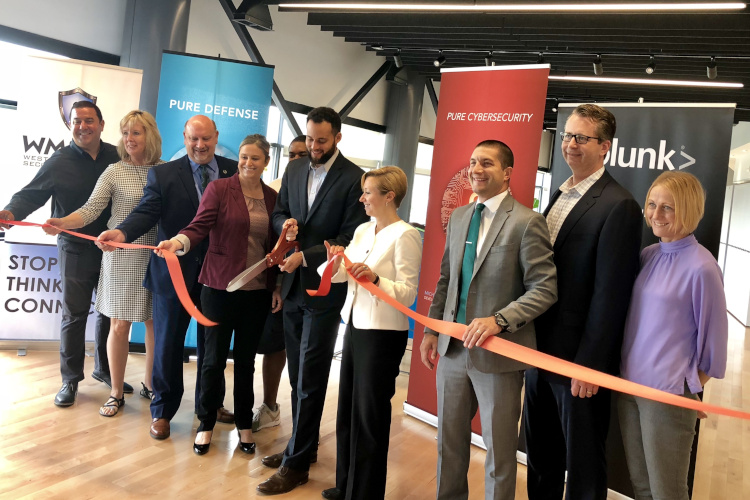 GRAND RAPIDS, Mich. – Today in Grand Rapids, West Michigan Center for Arts and Technology (WMCAT), Merit Network and the Michigan Defense Center, a branch of the Michigan Economic Development Center (MEDC), unveiled the latest addition to the Michigan Cyber Range. The WMCAT Cyber Hub grand opening included a tour of the new cyber range and a live, virtual Red vs. Blue (Paintball) cyber exercise with members of the West Michigan Cyber Security Consortium.

"WMCAT is excited to host our region's first, community-based cyber security hub," said Daniel Williams, president and CEO of WMCAT. "This will be a place where the cyber security sector can advance their skills, test products, and network. It will also be a place where community members can explore the cyber security field, sharpen their skills and prepare for new careers with opportunity for growth. We are proud to contribute to diversifying and growing the talent pipeline here in West Michigan."
"West Michigan Cyber Security Consortium (WMCSC) is excited to move our annual Merit cyber competition to WMCAT's new Cyber Range," said Barbara Hiemstra, Co-Chair of WMCSC. "It provides a great learning and exercise opportunity for our members and demonstrates to the WMCAT students that there are fun jobs in cyber. This is an awesome time for us with partners like WMCAT, Merit, and MEDC."
Cyber Range Hubs establish Michigan as the national epicenter for security training and workforce development, hosting events, exercises and training classes. Statewide hubs operate as a physical extension of the Michigan Cyber Range, the nation's largest unclassified cyber range. The hubs offer more than forty industry-recognized certifications, exercises and workshops aimed at qualifying individuals for positions and contracts in cybersecurity fields.
"In Governor Snyder's Protect & Grow initiative, the Michigan Defense Center is executing against one of the key objectives, which is to lead the nation in Department of Defense/State Cyber Operations Integration. The State of Michigan is without a doubt one of the leaders nationwide when it comes to integrating both the state and federal government in cyber operations. The opening of this sixth cyber range in Grand Rapids is just another example of Michigan leadership and dedication to making cybersecurity a priority," stated Sean Carlson, Executive Director of the Michigan Defense Center.
The expansion of the Michigan Cyber Range, powered by Merit, is a critical strategy included in the 2015 Michigan Cyber Initiative, spearheaded by Governor Snyder. As a state-run test program that hones security software and cyber defense skills, the Michigan Cyber Range offers cyber exercises, product testing, digital forensics, and more than 40 professional certifications based on the National Initiative for Cybersecurity Education (NICE) framework.
"The Cyber Range Hub at WMCAT gives its students and the community access to world class, hands-on cybersecurity education," said Dr. Joe Adams, Merit's Vice President for Research and Cyber Security. "Cyber Range Hubs serve as a magnet site for the cybersecurity ecosystem. This partnership is a great opportunity for Merit, Michigan, and WMCAT and I'm sure it will have an immediate positive impact on these students and the area's workforce."
"The establishment WCMAT Cyber Hub in Grand Rapids is an exciting development for our region," said Eric Icard, Senior Business Development Manager at The Right Place, Inc. "This is the first cyber range of its kind to be established in West Michigan, and this critical piece of infrastructure will be a strategically important asset for our growing technology, aerospace, defense and automotive industries."
Since 2015, the Michigan Defense Center/MEDC has provided funding for cyber ranges in Battle Creek, Macomb Oakland University Incubator in Sterling Heights, Pinckney Community High School, Wayne
State University and at the Detroit Arsenal with U.S. Army TARDEC. An expansion project is underway to bring new hubs to additional regions throughout Michigan. These Hubs serve as centers for the cyber ecosystem within their communities.
"Michigan has been focused on creating innovative solutions to prevent and respond to cyber threats, including building a holistic "cyber ecosystem" in which both the public and private sectors work collaboratively," said Sarah Tennant, strategic advisory in cyber initiatives at the MEDC. "This next installment in the range continues the development of a robust cybersecurity community focused on connecting the interests of the cyber, automotive, defense and aerospace industries."
WEST MICHIGAN CENTER FOR ARTS AND TECHNOLOGY (WMCAT)
(WMCAT) is a nationally-recognized non-profit organization whose mission is to provide a culture of opportunity for people to create social and economic progress in their lives and community. Through after-school and summer arts and technology programs, WMCAT engages high school students in creativity and civic engagement. WMCAT provides tuition-free career training in medical coding, medical billing and pharmacy technician to under and unemployed adults. WMCAT also has two social enterprise businesses: Ambrose, a commercial screen printing business that employs young adults as apprentices, and Public Agency, a design thinking consultancy. Learn more at www.wmcat.org
MERIT NETWORK
Merit Network is a non-profit, Member-owned organization governed by Michigan's public universities. Founded in 1966, Merit owns and operates America's longest-running regional research and education network in addition to the Michigan Cyber Range. After 50 years of innovation, Merit continues to provide high-performance services to the educational communities in Michigan and beyond.
ABOUT THE MICHIGAN DEFENSE CENTER
The Michigan Defense Center is an operation of the Michigan Economic Development Corporation focused on the support, protection and growth of Michigan's defense and homeland security missions and the Michigan businesses that support our nation's security and our military's safety. The Michigan Defense Center is the State of Michigan's lead voice on the defense and homeland security economy and guides the state's policies and programs to protect and grow this important sector of the economy.
About Michigan Economic Development Corporation (MEDC)