A small piece of Pure Michigan has arrived at the White House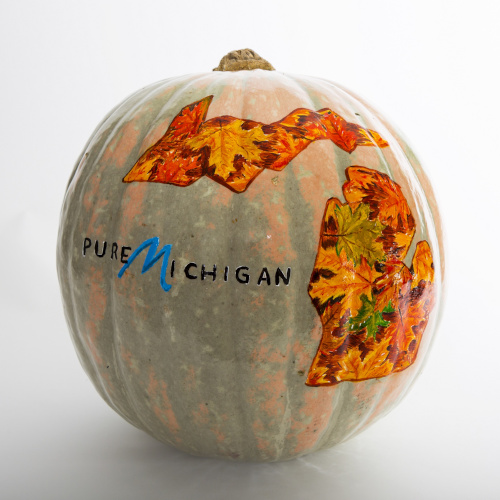 LANSING, Mich. – A small piece of Pure Michigan has arrived at the White House – a white pumpkin adorned with fall foliage in the shape of the state – to represent Michigan during The White House Halloween Party this weekend.
Michigan will be one of 42 destinations featured through pumpkins at the trick-o-treat event Sunday, hosted for approximately 4,000 children of military men and women stationed in the DC-Metro area.
"Fall is a magical time in Michigan," said Dave Lorenz, Vice President of Travel Michigan, part of the Michigan Economic Development Corporation. "As part of our #FallFilter campaign, our social community has been sharing amazing photos of the vibrant leaves throughout the state. This pumpkin highlights those colors for the nation to see."
The base for the artwork is a white 'ghost' pumpkin from 5-H Farms in South Lyon, Mich. The design was created with acrylic paints but the pumpkin itself was left natural, covered only with a medium gloss varnish.
Travel experts consistently rank Michigan at the top for Fall colors and experiences. In 2018, Michigan's Upper Peninsula won 'Best Destination for Fall Foliage' honors in USA Today's Readers' Choice awards.
Michigan is one of the nations's top nine pumpkin producing states. In 2016, Michigan produced 79 million pounds of pumpkins, primarily for processing and jack-o-lanterns.
About Michigan Economic Development Corporation (MEDC)