Global Cooperation: Australia and Michigan Sign Transportation MOU
Gov. Rick Snyder and Assistant Minister to the Deputy Prime Minister Andrew Broad of Australia have signed a Memorandum of Understanding to collaborate on high tech vehicle and road systems that will improve transportation safety.
LANSING, Mich. – Gov. Rick Snyder and Assistant Minister to the Deputy Prime Minister Andrew Broad of Australia have signed a Memorandum of Understanding to collaborate on high tech vehicle and road systems that will improve transportation safety. Michigan Department of Transportation Director Kirk Steudle was in Melbourne, Australia representing Governor Snyder and the state of Michigan during the ceremonial signing.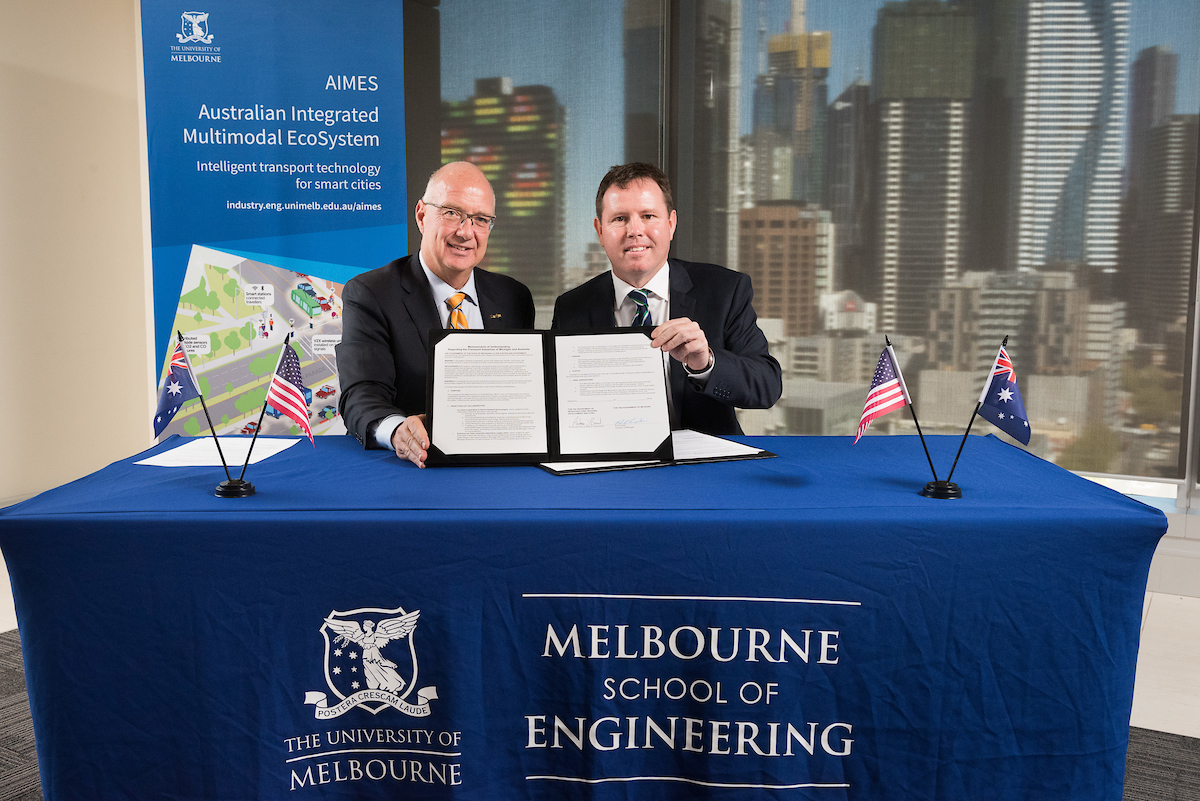 With connected and intelligent transportation systems operating in a global market, cooperation and collaboration between nations and states will be crucial to addressing the wide array of operating conditions and safety issues that apply to connected and automated vehicles. The MOU addresses cooperation on issues including education, research, testing standards, and operational organization logistics.
"This MOU builds on Michigan's leadership to accelerate the worldwide implementation and acceptance of connected and automated vehicle technologies," Snyder said. "This agreement establishes a great partnership through which we will share research and knowledge between Michigan and Australia in the development and deployment of intelligent vehicle transportation. We need to ensure technology and safety go hand-in-hand with progress."
Automotive testing is more dependent than ever on the environment in which the vehicle operates. Sharing what is learned and best practices from the unique and diverse environmental conditions each country or state offers provides robust information to ensure consistent standards for safety are set and met.
"Over 90 percent of crashes are estimated to result at least in part from human choices, so the potential benefits from sharing of expertise and experience between our two jurisdictions are enormous," said Deputy Prime Minister and Minister for Infrastructure, Transport and Regional Development Michael McCormack. "This is just one way the Government is promoting safer vehicles on safer roads, including for our regions where road crashes remain unacceptably high."
Additional benefits of the MOU include the sharing of experiences and lessons to accelerate the learnings needed to deploy complex technologies, an increased pool of qualified personnel to work on finding solutions to ensure the safety of autonomous vehicles and an increased awareness of potential development partnerships, supply chain assistance and testing capabilities between the Michigan and Australian automotive companies.
This MOU signing is an acknowledgement of a new and expanded industrial ecosystem growing up around highly-automated vehicles, with established and new players, fast-moving partnerships, collaborations, and acquisitions. These connected and automated technologies are being pursued world-wide because of their potential to save lives. The U.S. National Highway Traffic Safety Administration estimates 94 percent of serious crashes in the U.S. are the result of human choices. Additionally, mobility services, such as ride sharing, are having an impact on the automotive industry and mobility-on-demand is playing a crucial role in the development of smart cities.
"Ensuring the safety of connected and automated vehicles is paramount, and that will require a truly global approach to testing and validating the technology, as well as addressing the regulatory and policy environment those efforts operate in," said Director Steudle. "Michigan is proud to work alongside the world's transportation leaders to address these challenges and opportunities to help bring connected and automated vehicles to roadways around the globe."
Specific areas for possible cooperation identified within the MOU include:
Sharing scientific, technological, regulatory and policy data; co-hosting meetings, workshops and conferences between Michigan and Australia as well as other countries;
Sharing best practices in skilled trades and workforce development programs;
Developing new programs to address emerging technology needs;
The creation of a joint task force to provide advice on strengthening Michigan and Australian technology clusters and connecting key coordinating bodies.
The University of Melbourne played a central role in advancing the MOU between the governments of Australia and Michigan, primarily through AIMES (Australian Integrated Multimodal EcoSystem). The MOU supports links between, for example, AIMES, home to a live test bed on Melbourne city streets, and Michigan's Mcity and American Center for Mobility off-road facilities.
"The University of Melbourne is proud to play a key role advancing the transport technology agreement between the Governments of Australia and Michigan USA, through the Australian Integrated Multimodal Ecosystem (AIMES)," said University of Melbourne Deputy Vice Chancellor (Research), Professor Jim McCluskey. "The Melbourne test bed on city streets provides a valuable counterpoint to Michigan's off-roadway facilities. As the long-standing global centre of the automotive industry, Michigan is the leading state for research and deployment of connected and automated vehicles. This MOU expands the bandwidth of industrial and public sector automated vehicle efforts in both places. The accelerated development of crash-avoiding technologies will save lives."
Also present at the signing was Kevin Kerrigan, Senior Vice President of the Michigan Automotive Office.
This is the fourth MOU signed between Michigan and nations around the globe, including the United Kingdom, the Netherlands and The People's Republic of China. The state of Michigan has also signed MOUs with the Austrian State of Styria and the Canadian Province of Ontario.
# # #
Media Contacts
State of Michigan
Michelle Grinnell |517-241-0251 | grinnellm@michigan.org
Deputy Prime Minister Michael McCormack MP
Colin Bettles | +61 447 718 781
Dom Hopkinson | +61 409 421 209
Assistant Minister to the Deputy Prime Minister Andrew Broad
Tori Masters | +61 418 445 233
University of Melbourne
Prue Gildea | +61 466 473 741 | prue.gildea@unimelb.edu.au
About Michigan Economic Development Corporation (MEDC)