Community revitalization projects, support for entrepreneurial programs spur private investment, research and innovation across the state
Tuesday, September 25, 2018
MSF supports community projects in Flint, Detroit, Kalamazoo at final meeting of fiscal year 2018; MSF, MEDC support $7.2 billion in private investment, creation of 38,989 private-sector jobs*
LANSING, Mich. – Projects expected to generate more than $96.5 million in total investment and create or retain 267 jobs in Michigan gained approval from the Michigan Strategic Fund, the Michigan Economic Development Corporation announced today.
"Today's projects, including the redevelopment of the vacant YWCA in downtown Flint, as well as developments in Detroit and Kalamazoo, will serve as catalysts for further economic growth and ultimately bring more jobs to Michigan residents," said Jeff Mason CEO of MEDC, the state's chief marketing and business attraction arm that administers programs and performs due diligence on behalf of the MSF.
"These investments are the result of vital long-term relationships with public and private partners, and we're pleased to be a part of the collaboration to bring today's projects to fruition," he said.
310 East Third Street LDHA, LP plans to redevelop the former YWCA site on Third Street in downtown Flint into a walkable, urban mixed-use development that will include 92 residential apartments and retail space.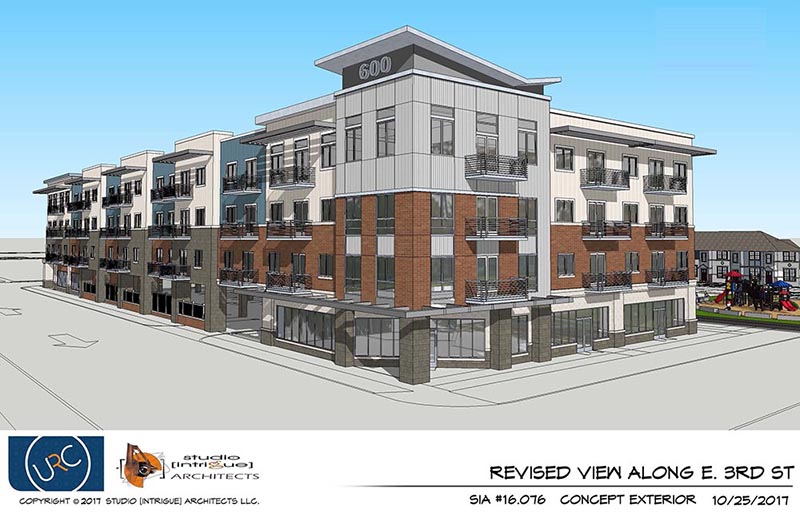 The project is expected to generate a total capital investment of $19.5 million and create 20 permanent full-time equivalent jobs, will bring new commercial and residential tenants to the downtown area, and will serve as a catalyst for additional development and growth. As a result, the project has been awarded a Michigan Strategic Fund other assistance $7 million performance-based loan.
The city of Flint is contributing a $250,000 loan from its HOME program and a Payment in Lieu of Taxes valued at six percent. In addition, the project is expected to receive a Low Income Housing Tax Credit equity investment of approximately $9.5 million.
The City of Kalamazoo Brownfield Redevelopment Authority received MSF approval of local and school tax capture valued at $1,549,178 for the rehabilitation of a vacant, historic former paper manufacturing building into office space in downtown Kalamazoo. The project will include the demolition of a non-historic section of the building to restore its to its historic state. The project is expected to generate a total capital investment of $9.2 million and create seven jobs as well as retain 160 jobs. The tax capture will be used to remediate brownfield conditions at the site, including removal of asbestos, preparing the site for development, and making infrastructure improvements.
Temple Group Holdings plans to historically rehabilitate the eight-story former Standard Accident Insurance Company building located in the Midtown neighborhood just blocks away from Little Caesars Arena in the city of Detroit.
The building will be rehabilitated into a mixed-use development that includes hotel, banquet, restaurant, and bar space, and residential apartments on the top three stories. The adjacent vacant lot will be turned into green space that will serve as an area for outdoor entertainment. The project is expected to generate a total capital investment of $67.6 million and create 80 permanent full-time equivalent jobs, resulting in a $5,697,000 Michigan Community Revitalization Program performance-based loan participation. The city of Detroit has approved an Obsolete Property Rehabilitation District valued at $13,221,355 in support of the project.
MSF also approved $4,957,402 in local and state tax capture for the City of Detroit Brownfield Redevelopment Authority to remediate brownfield conditions at the site.
MSF also approved the following:
Extension of the grant terms for the Michigan Venture Capital Association Venture Upstart III to Sept. 30, 2019 and allocate additional funding of $300,000.
An amendment to the Michigan Small Business Development Center grant to allocate an additional $5.67 million to support the continuation of its four key initiatives
Award of additional funds and extension of the grant for the BBC Entrepreneurial Training Corporation program, which awards grants and loans for basic research, applied research, university technology transfer and commercialization of products, processes and services to encourage the development of competitive edge technologies to create jobs in the state.
Allocation of fiscal year 2019 funds for the statewide Michigan Translational Research and Commercialization (MTRAC). The MTRAC program aims at the creation and operation for a program to accelerate technology transfer from Michigan's institutions of higher education to the private sector for commercialization of competitive edge and bioeconomy technologies.
An extension and additional funding for the University of Michigan MTRAC Life Science Innovation Hub. The funding will focus on four specific market segments: devices, diagnostics, therapeutics and healthcare IT.
For more information on the Entrepreneurial and Innovation projects, read the press release here.
An inducement resolution for the issuance of private activity bonds for Gerdau Macsteel, Inc. to make solid waste disposal and air emissions technology improvements at its Monroe facility.
An inducement resolution for issuance of private activity bonds Oakland Corridor Partners, LLC to make improvements to a 5.5-mile segment of the I-75 corridor.
Today's MSF meeting marks the final session in fiscal year 2018. From Oct. 1 through Aug. 31, MSF and MEDC have supported $7.2 billion in private investment and the creation of 38,989 private-sector jobs. Grants approved throughout the year supported a range of the state's traditional and emerging industries, including automotive and advanced manufacturing, agriculture, mobility, aerospace, defense and cybersecurity.
In partnership with the state legislature, and local and regional economic development organizations, MSF programs administered by MEDC have been a catalyst in supporting private investment in facilities, machinery and technology while creating jobs.
Highlights from the recent fiscal year include:
Support for the state's rapidly developing agribusiness industries, especially for dairy processing facilities in St. Johns, Greenville and Constantine (south of Kalamazoo).
Support for the brownfield redevelopment plans and a range of business projects, key to the ongoing transformation of downtown Detroit as a major attraction for private investment, community development and cultural renewal.
Support for the state's logistic-support industries, including assistance to establish the fourth Amazon fulfilment center (located in the last 18 months in Michigan), a major endorsement of the state's strategic logistical assets.
Timely support for Stryker Corp. and Pfizer, two of the state's high-profile corporations in the medical devices and pharmaceutical industries, respectively. Each corporation made major investments, provided long-term economic certainty and new jobs in Portage, and Kalamazoo.
Michigan Community Revitalization Program grants have been catalysts in developing and remaking communities' main streets and business districts across the state.
MSF support for Public Spaces Community Places has raised more than $6 million from donors along with more than $5 million in MSF matching grants for community projects, ranging from bike trails to boardwalks, community centers to farmers markets.
Pure Michigan campaign continues to promote a positive image of the state, which not only translates into revenue for the travel industry but fosters cultural pride in the Great Lakes state. Michigan's tourism industry has an economic impact of $23.7 billion on the state economy.
*Between Oct. 1, 2017 – Aug. 31, 2018
About Michigan Economic Development Corporation (MEDC)