Pure Michigan Teams Up with Detroit Artist Sheefy McFly to Install Murals in Chicago as Part of "Seek AuthentiCITY" Campaign
Detroit artist Sheefy McFly to install murals in Chicago as part of the Pure Michigan Seek AuthentiCITY campaign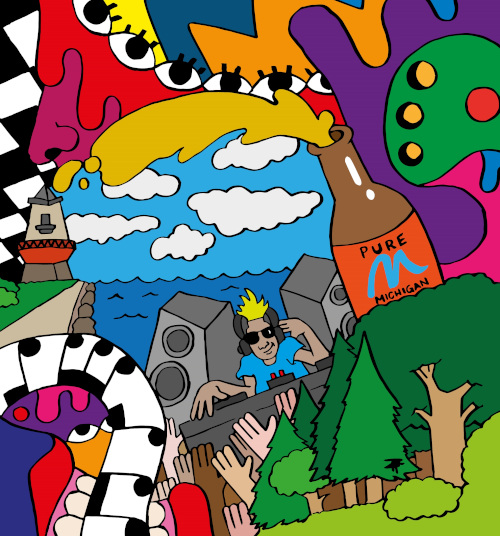 LANSING, Mich. – Pure Michigan is partnering with Detroit artist Sheefy McFly to install murals in Chicago as part of the Pure Michigan Seek AuthentiCITY campaign that showcases the unique cultures found in Michigan's largest cities. Aimed at encouraging Chicago residents to visit Michigan, the murals will be located in the Uptown and Wicker Park neighborhoods of Chicago.
Launched in June, the Seek AuthentiCITY campaign highlights the dynamic and authentic urban environments across the state. Michigan's downtowns offer vibrant art and music scenes, tastes that reflect global diversity and nightly entertainment that help visitors get to know the city.
"Using the idea of the Pure Mural, we are partnering with multi-talented, multi-dimensional artist Sheefy McFly to illustrate Michigan's vibrant downtowns," said Dave Lorenz, vice president of Travel Michigan, part of the Michigan Economic Development Corporation. "Sheefy's mural depicts the 'seek authenticity' concept of the campaign by highlighting the energy and uniqueness of our cities, while also incorporating Michigan's natural beauty. We hope these murals inspire travelers to come experience all that Michigan cities have to offer."
Sheefy McFly is an artist and musician whose murals can be seen at locations around metro Detroit including Eastern Market, the Lululemon store at the Somerset Collection in Troy, and Two James distillery in Detroit's Corktown. He was named the 2017 best artist by the readers of Metro Times, and won a grant in 2017 from the Artprize street art mural program.
McFly was chosen as the mural artist for the Seek AuthentiCITY campaign because of his authentic, colorful street style that can be appreciated by everyone, Lorenz said.
"But what makes his art special is that it also reveals something unexpected when viewed on a deeper level," he said.
The murals can be viewed at 4813 Ashland Ave. and 1555 N. Western Ave. in Chicago.
Aimed to inspire millennial travelers by highlighting the unique ecosystems that combine art and culture with people and foods, the Seek AuthentiCITY campaign utilizes influencers and video to introduce travelers to Detroit, Ann Arbor, Flint, Lansing, Kalamazoo and Grand Rapids, encouraging them to experience the global diversity and authentic urban environments across the state.
A key component of the campaign is a series of videos hosted by Detroit native and co-founder of Slow Roll, Jason Hall. The six-part series will take viewers on a tour of urban cores in Detroit, Ann Arbor, Grand Rapids, Lansing, Kalamazoo and Flint – telling each city's story through business owners and residents of these distinct destinations. The videos will be promoted in advertising and can be watched at michigan.org/cities. Hall's voice will also be heard on spots running on Expedia and Spotify as part of the Urban DNA campaign.
The campaign, with a budget of $1.2 million, seeks to attract and inspire visitors from key markets across Michigan and the Great Lakes region – including Chicago, Ill., Fort Wayne, Indianapolis and South Bend, Ind., Cincinnati, Cleveland, Columbus and Toledo Ohio; Green Bay and Milwaukee, Wis.; and Pittsburgh, Pa. – to take an overnight trip get to know one of Michigan's vibrant cities.
Visitors can use the hashtag #PureMichigan to share their experiences while enjoying the foods, cultures and arts that Michigan cities have to offer.
About Michigan Economic Development Corporation (MEDC)