Gov. Rick Snyder: $510-million private investment a major boost to Michigan's dairy industry
New St. Johns dairy processing facility projected to create nearly 300 jobs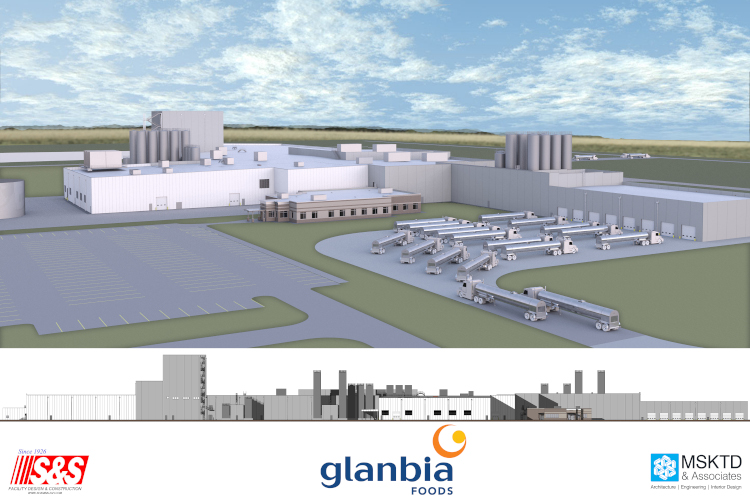 St. JOHNS, Mich. — Two new world-class dairy processing facilities are expected to dramatically improve the production, profitability and long-term prospects for one of Michigan's top agricultural products. Glanbia plc, a global nutrition group with a presence in 32 countries, has partnered with Select Milk Producers Inc. and Dairy Farmers of America to form Spartan Michigan LLC, which will develop a new $425 million, 146-acre dairy processing facility in St. Johns, which is expected to create 259 new jobs. The facility will process more than 8-million pounds of milk per day.
Proliant Dairy Michigan is investing up to $85 million in an adjoining facility, which will manufacture whey permeate products and employ 30 to 38 new workers. Construction for both facilities is expected to begin in September and be completed by December 2020.
"Once again, Michigan's national reputation as the best place to grow jobs is bringing new investments to our thriving agriculture sector," Gov. Rick Snyder said. "Michigan's dairy industry is an essential economic driver in our state, and this new investment elevates and expands our potential to rise even higher while bringing new jobs and opportunities to this region.
"I thank Glanbia, Select Milk Producers, Dairy Farmers of America and Proliant for choosing to invest in Michigan and look forward to watching our state's dairy industry continue to grow and thrive long into the future," he said.
When completed, the Mid-Michigan site will be among the largest dairy processing facilities in the country. Glanbia will oversee commercial, technical, and business operations to produce cheese and whey products at the campus.
"The support of local and state agencies demonstrates why Michigan is such a great location to invest," said Brian Phelan, CEO of Glanbia Nutritionals. "We are looking forward to getting up and running with our partners and farmers providing world-class dairy products while bringing jobs and economic development to the area."
The watershed project is supported by an estimated $27.6 million in grants and tax abatements from Michigan Strategic Fund, Michigan Department of Agriculture and Rural Development, and Michigan Department of Transportation.
"This project is vital to the success of the Michigan dairy sector," said Jeff Mason, CEO of Michigan Economic Development Corporation, the state's chief business development and attraction arm that administers programs and performs due diligence on behalf of the Michigan Strategic Fund.
"Michigan's dairy producers—already among the most efficient in the world—will now be even more competitive and prepared for the market challenges ahead," he said.
"This is tremendous news for the dairy farmers in our state," said MDARD Director Gordon Wenk. "Almost every dairy farm in Michigan is family-owned. It's been very difficult to watch so many hard-working people struggle unnecessarily."
"MDARD is proud to be a part of this project, and I'm grateful for all the incredible work our agricultural development and dairy teams did to help make this happen," he said.
The current plight of the state's cooperative-member dairy farmers is caused by depressed milk prices due to oversupply of milk and high transportation costs due to the current lack of milk processing facilities in the state. In 2017, the loss to Michigan milk producers was more than $164 million.
"We're pleased to continue our investment in Michigan's dairy industry," said Rance Miles, CFO/COO of Select Milk. "Our long and successful relationship with our partners and the support of local and state agencies are keys to building this world-class dairy facility."
Two dairy cooperatives—Dairy Farmers of America and Select Milk Producers—will supply milk to the processing plant, ensuring Michigan dairy farmers have a dedicated home for their milk. While not an investor in the new plant, Michigan Milk Producers Association is also expected to supply milk to the plant.
"Michigan is ripe for growth with a surplus of quality milk, so there's tremendous opportunity to not only benefit the dairy farm families in this area, but also the local economy and region," said DFA CFO Greg Wickham.
In Michigan, there are 1,747 farms, including 1,498 Grade A farms and 249 manufacturing grade farms. The average farm in Michigan has 176 cows and are 98-percent family owned. Michigan ranks fifth in the nation for total milk production, with dairy farmers contributing $15.7 billion to the state's economy.
The adjoining facility operated by Proliant will use byproducts from the milk processing facility to make whey permeate products for both human and animal consumption. By having a complementary facility located on the same campus, this virtually eliminates the cost of transporting byproducts to another state for processing.
"Proliant Dairy looks forward to expanding our business to central Michigan and developing a productive, long-term relationship with Glanbia, DFA and Select," said Mike Matter, Proliant Dairy president/CEO . "We appreciate the support from the state and local teams to make this project successful."
"This world class ag-tech project is going to dramatically re-strengthen the state's dairy farmers, while creating 300 jobs and over a half-billion in new private investment," said Bob Trezise, President/CEO, Lansing Economic Area Partnership.
"We are proud to have led this incredible partnership and thank Glanbia and its partners for choosing us over many other locations," he said.
"The City of St. Johns has strived for years to create a business-friendly atmosphere and specifically created the Business Park to showcase all that St. Johns has to offer," said St. Johns Mayor Dana Beaman.
"St. Johns' ideal location, friendly residents, and strong business community makes it an ideal location for any type of business," he said.
About Michigan Economic Development Corporation (MEDC)