PlanetM Launches grant program to support mobility startups
Derq, MDOT, Mcity announced as first partners of two-part program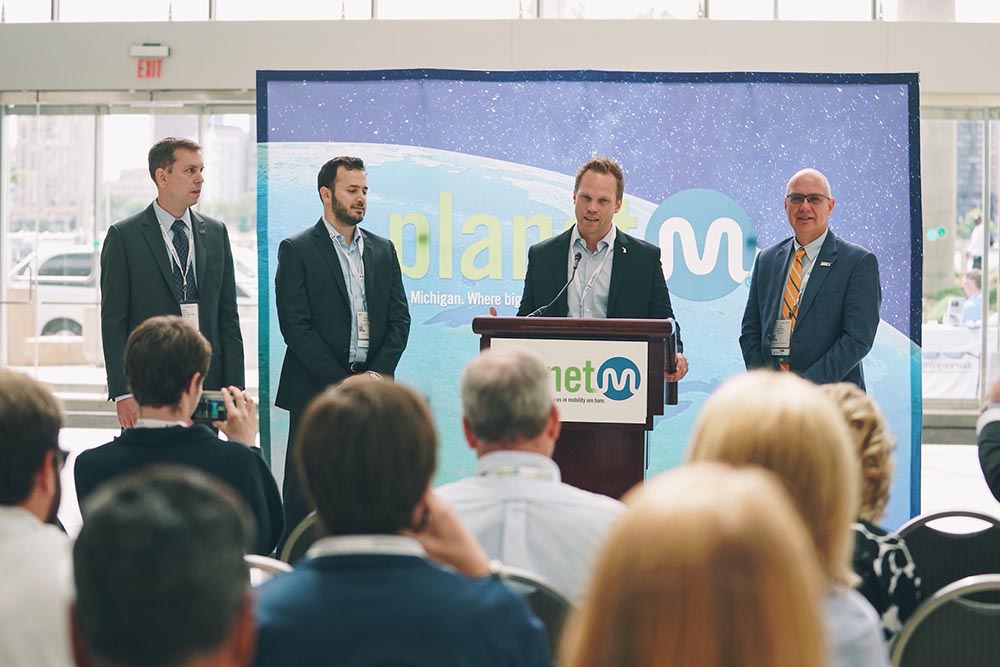 Detroit, Mich. — Mobility startups now have access to more than $1 million in grant funding, thanks to a new statewide PlanetM program announced today. The two-part program, one of the first of its kind, includes a PlanetM Pilot Grant and a PlanetM Testing Grant, was unveiled during the 2018 ITS America Annual Meeting held in Detroit, MI.
"The startup technology that is being tested and deployed here in Michigan will lead to real, and meaningful improvements in the quality of life and access to transportation solutions throughout the state," said Trevor Pawl, Vice President of PlanetM, the state of Michigan's mobility-focused brand and business development program. "We're constantly working to address the needs and challenges expressed by those actively engaged in the mobility community and we are taking it to the next level via testing and deployment."
The PlanetM Startup grants enable mobility startups to deploy and test their technologies on Michigan's roadways – within closed and real-world environments – with the goal of making transportation easier, safer and more affordable for Michigan residents.
"As the needs of residents change, we must develop creative solutions for addressing transit and infrastructure gaps that evolve with geographical shifts," said Kirk Steudle, director of the Michigan Department of Transportation. "Collaborative approaches, such as this, provide important opportunities to pilot the technology that will make our roads safer and demonstrate Michigan's continued leadership in the mobility sector."
Joining in the announcement were Derq, a Dubai- and Detroit-based traffic safety tech startup, and Mcity, an urban testing facility on the campus of the University of Michigan.
Derq, which develops software using patented artificial intelligence to predict and prevent car crashes, is the first company to take part in the Pilot Grant program. As part of the pilot, Derq is launching two advanced software applications for automated and connected vehicles (CAVs), and road infrastructure, in downtown Detroit at the intersection of Jefferson Avenue and Randolph Street. These AI-based V2X applications will focus on predicting vehicle and pedestrian-related risks around intersections, and proactively alerting fleets and vehicles equipped with Derq's technology.
"We are very excited to bring Derq's AI and V2X software capabilities to Detroit," said Dr. Georges Aoude, CEO and co-founder of Derq. "Coming from Dubai, we're thankful to have great partners like PlanetM and MDOT in both this pilot project, and in helping us to build our business in the U.S. We're proud to consider Michigan as our U.S. headquarters, and to be part of Michigan's evolution as the mobility state."
Mcity is the first advanced testing facility partner on the Testing Grant program, which will provide startups with a discounted fee for testing at Mcity.
"The cost to test can be a deterrent for many startups," said Greg McGuire, Lab Director at Mcity. "We're proud to work with PlanetM and MDOT to take action and provide funding to reduce these costs. This will allow startups to focus their resources on enhancing and demonstrating their technologies, and simultaneously works to deepen companies' ties to Michigan and our mobility ecosystem."
Today's announcement builds on the momentum of other recent pilot grant programs, including the Detroit Mobility Innovation Initiative and the $8 Million Michigan Mobility Challenge, an initiative announced last week by Governor Rick Snyder and state officials to address core mobility gaps for seniors, persons with disabilities and veterans across Michigan.
For more information on the PlanetM Startup Grant program, visit www.planetm.com/grants.
Editor's Note: Video highlighting the PlanetM Startup Grant and partners can be viewed at https://youtu.be/9eZVDFtg6gw.
About PlanetM
PlanetM is a partnership of mobility organizations, communities, educational institutions, research and development, and government agencies working together to develop and deploy the mobility technologies driving the future. Available to any mobility-focused company or investor, PlanetM is also a no-cost, concierge service that connects startups to Michigan's automotive ecosystem — the people, places and resources dedicated to the evolution of transportation mobility. Michigan has always been the leader of the automotive industry, and as vehicle and transportation technologies continue to evolve in amazing ways, Michigan is continuing to lead the way. Visit PlanetM.com to learn more.
About MDOT
The Michigan Department of Transportation (MDOT) is responsible for Michigan's 9,669-mile state highway system, comprised of all M, I, and US routes. MDOT also administers other state and federal transportation programs for aviation, intercity passenger services, rail freight, local public transit services, the Transportation Economic Development Fund (TEDF), and others. Visit michigan.gov/mdot to learn more.
About MCity
At Mcity, the University of Michigan (U-M) brings together partners from industry, government, and academia to develop the foundation for an ecosystem of connected and automated vehicles for moving people and goods. Such a system has the potential to dramatically improve safety, sustainability, and accessibility. U-M created Mcity to cultivate the diverse expertise and resources required to realize the potential of emerging mobility technologies, culminating in the implementation of a working system of connected and automated vehicles in Ann Arbor by 2021. Visit mcity.umich.edu to learn more.
About Derq
About Derq - Derq is on a mission to eliminate road accidents and save lives by using artificial intelligence and V2X technology. Through its proprietary technology Derq can predict and help prevent road collisions for both conventional and autonomous vehicles leveraging smart cities and connected vehicles ecosystems. Derq was founded in 2016. The company is headquartered in Dubai with offices in Detroit. To learn more, visit: https://www.derq.com and follow @DerqAI.
About Michigan Economic Development Corporation (MEDC)