Michigan tourism leaders gather in Flint to celebrate 2018 National Travel and Tourism Week
Community, government leaders gather to endorse economic benefits of tourism to state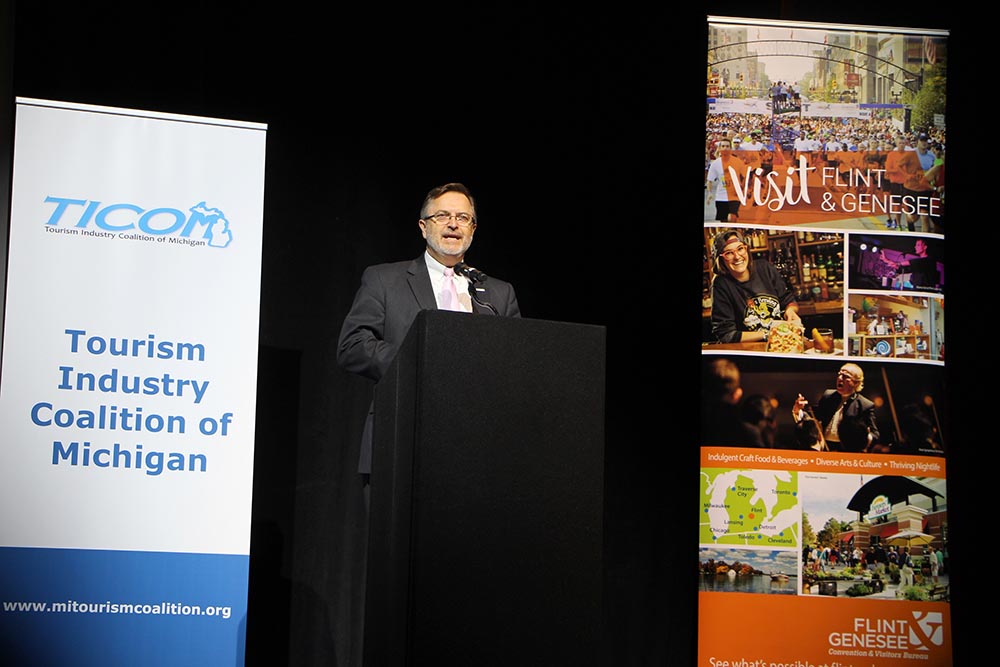 FLINT, Mich. –Michigan tourism officials and members of the Tourism Industry Coalition of Michigan (TICOM) joined together today to demonstrate the economic impact of travel to the state of Michigan. The event was held at the Capitol Theatre in Flint.
The event was part of the 35th annual National Travel and Tourism Week (May 6-12), which unites communities across the country to celebrate what travel means to American jobs, economic growth and personal well-being.
"Tourism plays a bigger role in the lives of Michigan residents than most people would realize. Not only does it produce more than 300,000 jobs, it also connects us with the world," said Dave Lorenz, Vice President of Travel Michigan, part of the Michigan Economic Development Corporation. "The more people who visit Michigan for leisure the more they get to see us as we really are – a state which features incredible natural spaces, authentic destinations and unique experiences. This breaks through outdated stereotypes and showcases Michigan as the perfect place to do business, for education and to live."
According to a study by Tourism Economics, visitor spending in Michigan grew by 3 percent in 2016 to reach $23.7 billion. That spending generated $40.7 billion in total business sales as visitor dollars flowed through the state's economy. A total of 337,900 jobs, with income of $11.6 billion, were sustained by the traveler economy in Michigan in 2016.
"TICOM is excited to work to collectively promote tourism in Michigan with Travel Michigan," said TICOM President Julie Pingston. "We know that according to U.S. Travel, in 2017, travel generated $2.4 trillion for the U.S. economy, directly supporting 8.8 million American jobs. Nationally, we know travel is the seventh largest employer and in Michigan, travel and tourism is ranked third."
Today's event was hosted by the Flint & Genesee Convention and Visitors Bureau at the newly-renovated Capitol Theatre in downtown Flint.
"Flint & Genesee is thrilled to be the host location for the Nation and Travel and Tourism week event. Not only does this allow us to showcase a wonderful new product in the Capitol Theatre, but it also allows us to show the industry's key partners and advocates that the Flint and Genesee area is a unique and thriving destination," said Flint & Genesee CVB Director Brandon Morgan. "From the world-renowned HAP Crim Festival of Races to the gorgeous campus of the Flint Cultural Center to our wonderful county park system, Flint & Genesee is vibrant, brilliant and playful."
In addition to its benefits for the local economy, travel can also have a positive effect on personal well-being for residents and visitors of Michigan. Numerous research studies have confirmed the positive health effects of travel and time off, from reducing the risk of heart disease to decreasing depression. Using time off to travel with family is good for everyone, especially children — kids who travel with their families are more likely to attend college and earn more as adults.
"Many aspects of the U.S. travel experience may have changed over the years, but one thing hasn't: our industry's enduring ethos of welcoming travelers from near and far," said Roger Dow, president and CEO of the U.S. Travel Association, the umbrella organization representing the U.S. travel industry. "This National Travel and Tourism Week, we're saluting travel's long history as an economic engine in our country, and calling on our nation's leaders to prioritize travel-friendly legislation, for the sake of millions of American workers."
According to new research by Project: Time Off, an initiative of the U.S. Travel Association, American workers took an average of 17.2 days of vacation in 2017. The "State Of American Vacation 2018" tracking survey reported that while this marks the highest level for American vacation usage since 2010, the majority of Americans (52 percent) left vacation time unused in 2017, and that nearly a quarter of Americans have not taken a vacation in more than a year.
About Michigan Economic Development Corporation (MEDC)