MSF board supports processing facility in Greenville; project to generate $57.9 million in capital investment, create 33 jobs; facility boosts Michigan's dairy industry ecosystem
LANSING, Mich. – A groundbreaking ceremony was held today for the new Foremost Farms dairy processing plant in Greenville, a project that is expected to generate a total capital investment of $57.9 million and create 33 jobs. State, local and elected officials joined company leaders to celebrate what is considered to be a major development in the support and long-term expansion of the state's dairy industry.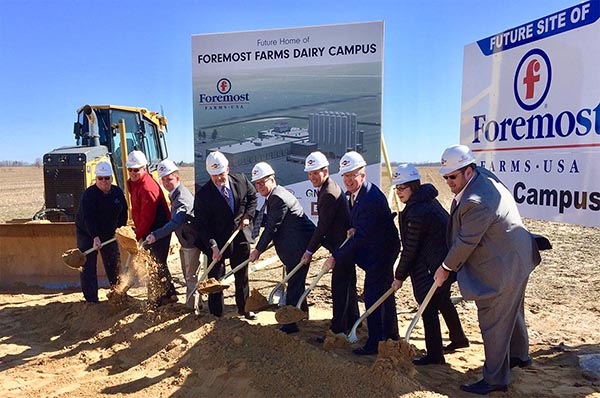 "Foremost Farms' new milk processing plant will increase capacity and accessibility for Michigan dairy farmers while elevating the profile and profitability of our state's dairy industry, and we're pleased to support this investment and the new jobs for area residents," said Jeff Mason, CEO of Michigan Economic Development Corporation, the state's chief marketing and business attraction arm that administers programs and performs due diligence on behalf of the MSF.
"Foremost Farms project is the result of a collaborative effort among the city of Greenville, Michigan Department of Agriculture and Rural Development, Michigan Department of Transportation, The Right Place, West MI Works! along with the MEDC. This project is a prime example of the great progress we make when we all work together."
Greenville Venture Partners LLC is a subsidiary of Foremost Farms USA Cooperative. Headquartered in Baraboo, Wisc., Foremost Farms is a farmer-owned milk processing and marketing cooperative with about 1,300 members and annual sales of $1.5 billion. The nation's eighth-largest cooperative and number 25 in annual sales among the Top 100 U.S. dairy processors, Foremost Farms focuses on the creation of tailored and innovative milk solutions that meet the needs of customers around the world.
Greenville Venture Partners plans to establish a 55,000-square-foot dairy processing facility in the city of Greenville that will help provide an outlet to process the current surplus milk supply in Michigan. MSF today approved a $412,500 Michigan Business Development Program performance-based grant in support of the project.
On Feb. 27, MSF approved a private activity bond inducement valued at up to $12 million that will facilitate private financing for capital expenditures at the project. The bond inducement is coordinated through MEDC's Capital Access team, which facilitates lending support for the small business community and provides administrative support for the inducement and issuance of bonds. Approval of the bond authorizing resolution is expected to take place at an upcoming MSF meeting.
"Foremost Farms is very appreciative of MSF approving the MBDP grant for Greenville Venture Partners," said Foremost Farms President and CEO Michael Doyle. "This grant along with the assistance and partnership with MEDC and MDARD has helped us be able in to a very timely fashion make this dairy campus project in Greenville a reality."
From an economic standpoint, the new facility will provide Michigan dairy farmers with a much-needed financial boost by expanding processing capacity in the state. Until now, a lack of in-state processing facilities caused dairy farms to spend more than $164 million to process milk at out-of-state plants, according to the Michigan Department of Agriculture and Rural Development. MDARD is supporting the project with a $500,000 grant from its Food and Agriculture Investment Fund, pending approval from the Michigan Commission of Agriculture and Rural Development during its next meeting on March 21.
"Being the second-most agriculturally diverse state in the country, Michigan is ideally positioned to use more of what we grow and produce to create another layer of economic value for the state," said Michigan Department of Agriculture and Rural Development Director Gordon Wenk. "Not only will this project work toward stabilizing the industry for milk producers in that region, but it also will create valuable jobs for people in a rural community. MDARD is very proud to support this project—and many others like it—throughout the entire state."
The city of Greenville plans to support the project with a 12-year property tax abatement valued at $2.33 million.
"The city of Greenville appreciates the opportunity to develop a relationship and subsequent partnership with Foremost Farms that is mutually beneficial for both the company and the community," said Greenville City Manager George Bosanic.
According to MDARD, Michigan ranks fifth in the nation for total milk production, with dairy farmers contributing $15.7 billion to the state's economy. Dairy cows in Michigan produced 10.9 billion pounds of milk. Michigan's 1,747 dairy farms, with more than 427,000 cows, produce more than enough milk to supply the entire state. Currently, more than 24 percent of Michigan milk production, or 2.65 billion pounds, is shipped out of state per year.
"Through the many evolutions this project has taken, there have been a number of quick responses needed from the many partners involved at all levels. The City of Greenville has gone above and beyond with their participation," said Kathy Jo VanderLaan, Business Development – Montcalm County, The Right Place. "The end result will be new jobs for people in our community, future growth opportunities, and relief for Michigan dairy farmers."
About Michigan Economic Development Corporation (MEDC)