Gov. Rick Snyder unveils study at Intelligent Transportation Systems World Congress in Montreal
MONTREAL, Québec – PlanetM, in partnership with Michigan transportation and mobility leaders, today released a new report, "Future Cities: Navigating the New Era of Mobility" that highlights the potential benefits of innovative mobility services and connected and automated vehicle technologies for communities in the state.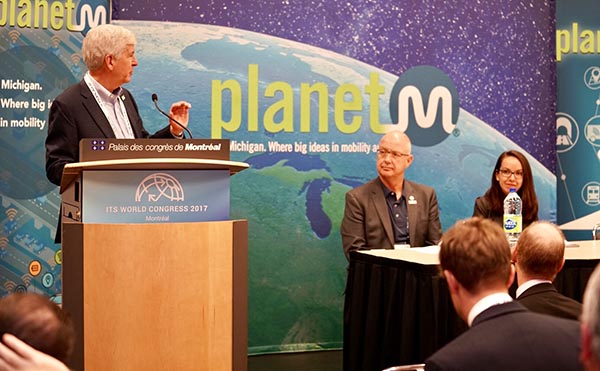 Gov. Rick Snyder unveiled the Future Cities report at a news conference in Montreal, where he is leading a Michigan delegation at the Intelligent Transport Systems (ITS) World Congress 2017.

"Nowhere else on the planet has the capabilities to lead the world into the next generation of mobility efforts like Michigan does," Snyder said. "With advanced manufacturing, technology and R&D, Michigan is paving the way for future generations through vehicle to vehicle and vehicle to roadway connectivity."

Snyder was joined at the news conference by Michigan Department of Transportation Director Kirk Steudle and one of the report authors, Adela Spulber, a transportation systems analyst from the Center for Automotive Research (CAR).

"Michigan is committed to embracing the future of mobility and understanding its societal impacts as connected and self-driving vehicle development evolves," Steudle said. "In order to ensure Michigan remains a leader in the connected and automated vehicle revolution, we must arm our communities with the knowledge they need to develop a vision for tomorrow's infrastructure, neighborhoods and transportation systems."

The Future Cities study examines the potential challenges and benefits of connected and automated vehicle (CAV) technologies for large urban communities, as well as small, rural regions. These technologies and services promise many benefits for Michigan residents, but in many cases, new infrastructure or policies, often provided by local governments and municipalities, are required to maximize their societal benefits and overall effectiveness.

Commissioned by PlanetM in conjunction with the Michigan Economic Development Corporation's Automotive Office and developed by CAR, the report also lays out recommendations and next steps for communities to ensure a successful implementation of civic systems that support CAV technology, as well as mobility services like car sharing and ride hailing.

"The application of connected vehicle technologies will have significant effects on transportation systems, land use and infrastructure investments for communities and local governments of all sizes," Spulber said. "As the study's guidelines show, municipalities that understand the potential challenges and benefits of CAVs and mobility technologies and services make wise capital investments, and based on that knowledge, will be more attractive to both companies and residents."

Gov. Snyder is in Montreal Tuesday and Wednesday at ITS, the world's largest conference dedicated to bringing together global leaders in intelligent and transformative transportation. Snyder will meet with business executives, Canadian government officials, and exhibitors at the conference, promoting Michigan's automotive sector and leadership position in autonomous vehicle technology.
On Monday evening, he met with a delegation from the Netherlands who will next travel to Detroit to explore mobility technology with Michigan companies.

On Wednesday, Snyder will participate in the Intelligent Vehicle Symposium sponsored by the Michigan Economic Development Corporation. The first-ever gathering of thought leaders to discuss the testing of connected and automated vehicle technology, the symposium will feature presentations and discussions by key leaders of testing initiatives and facilities from 10 countries.

For more information on the Future Cities study, visit here.
About Michigan Economic Development Corporation (MEDC)