Tourism is one of Michigan's 'big three' industries, supporting 214,000 jobs
LANSING, Mich. – Gov. Rick Snyder kicked off the first full day of his fifth investment mission to China with a walk on the Great Wall at Mutianyu, visiting one of the country's most famed, historic sites to talk about shared cultural and travel attractions and promote opportunities for Chinese tourists in 'Pure Michigan.'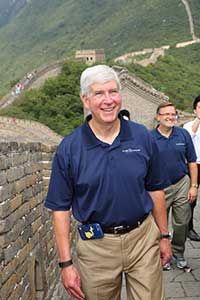 Snyder is leading a state delegation on an eight-day mission to build upon business and government relationships he established in prior visits that have brought job-creating business investments to Michigan, and promote tourism and harness new export markets for Michigan grown and manufactured goods.
With business and government offices closed on Sunday, Snyder used the day to appreciate China's cultural offerings and meet with journalists from China's leading tourism trade publications.
"The Great Wall is simply fascinating, going back 2,300 years and stretching for some 13,000 miles," Snyder said. "It's known around the globe. And Michigan also offers amazing opportunities for tourists like Pictured Rocks and Sleeping Bear Dunes, which was recently voted the most beautiful place in America."
Tourism is one of Michigan's "big three" industries, last year generating $22.8 billion in economic activity supporting more than 214,000 jobs. According to the U.S. Department of Commerce, 1.5 million Chinese visited the United States in 2012, up 35 percent from 2011. Chinese visitors spent $8.8 billion on their trips to the U.S. in 2013.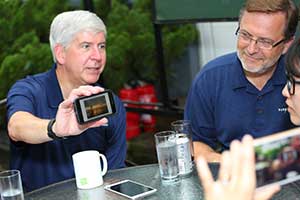 Snyder discussed with journalists Michigan's Great Lakes and beaches, Mackinac Island and activities in Detroit and Grand Rapids among other things to see and do in the state.
The Great Wall of China is a legendary series of fortifications made of stone, brick, tamped earth, wood, and other materials, generally built along an east-to-west line across the historical northern borders of China. It was built to protect the Chinese states and empires against the raids and invasions of the various nomadic groups. Several walls were built as early as the 7th century B.C. They would be later joined together, made bigger and are now collectively referred to as the Great Wall. It has intermittently been rebuilt, maintained, and enhanced; and the majority of the existing wall dates from the Ming Dynasty.
Snyder arrived in Beijing on Saturday and met with leading officials of the China Association of Automobile Manufacturers. Last year, Michigan Automotive Office signed a memoranda of understanding with CAAM and the automotive section of the Chinese Council for the Promotion of International Trade to further cooperation between Michigan and the Chinese automotive industry. The two organizations are regarded as the most important in that country's automotive space.
During his mission, Snyder will make numerous company visits and meet with business leaders and senior government officials in Guangzhou, Shenzhen, Hangzhou, and Shanghai in addition to Beijing.
Other missions led by Snyder or Lt. Gov. Brian Calley have included Japan, South Korea, Canada, Germany, Italy, the Netherlands, Brazil, Mexico, Israel, Chile, and Columbia.
Follow the governor's trip on social media at #InvestInMI. Additional photos are also available here.
# # # #
Pure Michigan is a brand representing business, talent and tourism initiatives across Michigan. These efforts are driven by the Michigan Economic Development Corporation, which serves as the state's marketing arm and lead advocate for business growth, jobs and opportunity with a focus on helping grow Michigan's economy. Currently, there are more than 94,000 jobs listed on MiTalent.org.
About Michigan Economic Development Corporation (MEDC)