Comedy Central's pilot set in Detroit receives film incentive
Comedy Central arrived in Detroit last week to film the pilot for its comedy series "Detroiters"
LANSING, MI – Aiming to add to its lineup of cutting-edge comedies, Comedy Central arrived in Detroit last week to film the pilot, "Detroiters," a comedy series that follows the travails of two small-time ad men producing low-budget, off-beat commercials with an eye on a bigger prize.
"Detroiters" is eligible to receive a $445,620 incentive from the Michigan Film Office based on a projected spending of over $1.2 million with state-based vendors and 89 anticipated cast and crew hires – 74 of whom will be residents, equating to 10 full-time employee positions.
The proposed series, set amid a gritty and hip urban landscape, is attracting wide attention. "Detroiters" is executive produced, created and written by Sam Richardson, Tim Robinson, Joe Kelly and Zach Kanin, and is executive produced by "Saturday Night Live" creator Lorne Michaels' Broadway Video and Jason Sudeikis.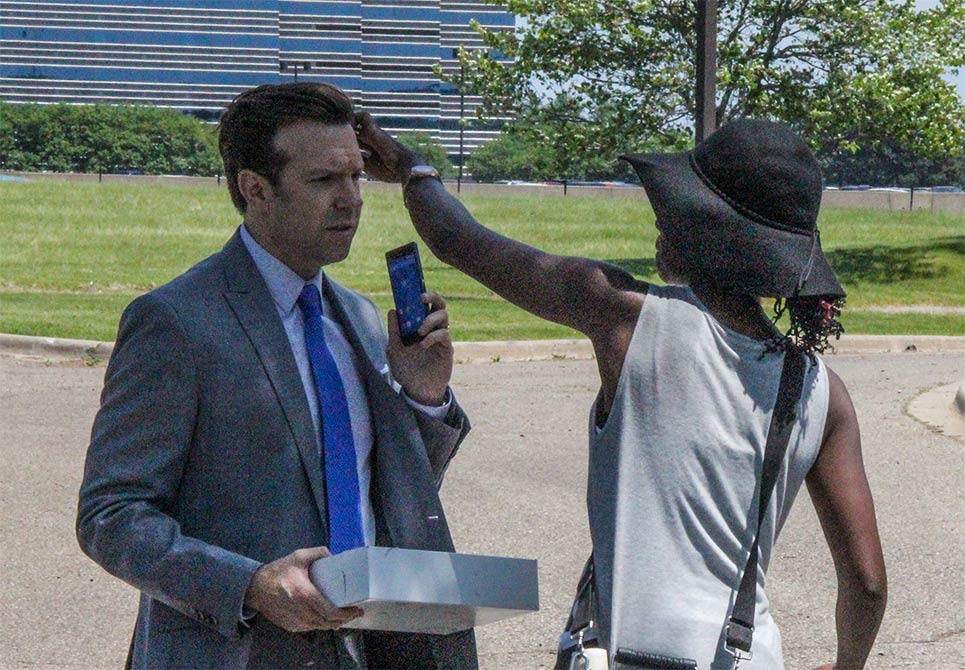 The pilot features SNL writer Tim Robinson (below photo, left) and former "Second City" member Sam Richardson (below photo, right) from HBO's "Veep." Robinson and Richardson, have deep ties to the state. Robinson is a 2000 graduate of Clarkston High School, and Richardson grew up in Detroit. Both are excited about the opportunity to pay homage to the city they know and love.
"It's like the third character is the city of Detroit – why put (the series) anywhere else?" Richardson told the Detroit Free Press in mid-January.
"Again, we are seeing talented Michiganders returning home to draw on the state's highly capable production community," said Jenell Leonard, commissioner of Michigan Film Office. "This series along with the range of other films shooting in Michigan reflect the diverse range of sites and locales, which presents filmmakers with a variety of choices."
Comedy Central's "Detroiters" is the latest of approved incentive projects from the Michigan Film Office. Recently announced projects include "My Soul to Keep," "Swish Master," "Golem," "The Pickle Recipe" and "Bug Bites."
Total approved incentives, including "Detroiters," amounts to $3,046,793. Of that amount, a projected $8,712,375 is estimated to be spent collectively in Michigan by the four productions with an anticipated 350 workers to be hired and 66 full-time jobs created. Disbursement of state funds by the Michigan Film Office is contingent on verified documentation of spending submitted by the production company.
By its nature, the film and video production industry is distinct from many of the industries that make up the Michigan economy. The workforce consists of a range of self-employed and freelance workers in diverse fields, including production designers, actors, sound engineers, graphic designers, talent agents, equipment rental operators, extras, carpenters and electricians along with other skilled-trades workers.
The Michigan Film Office was established in 1979 to assist and attract production companies and promote the growth of Michigan's film industry. The office administers the incentive (cash rebate) program for film, television and other digital media production in the state.
# # # #
Pure Michigan is a brand representing business, talent and tourism initiatives across Michigan. These efforts are driven by the Michigan Economic Development Corporation, which serves as the state's marketing arm and lead advocate for business growth, jobs and opportunity with a focus on helping grow Michigan's economy.
About Michigan Economic Development Corporation (MEDC)