National Lighthouse Day: Celebrating Beacons of Light and Maritime Heritage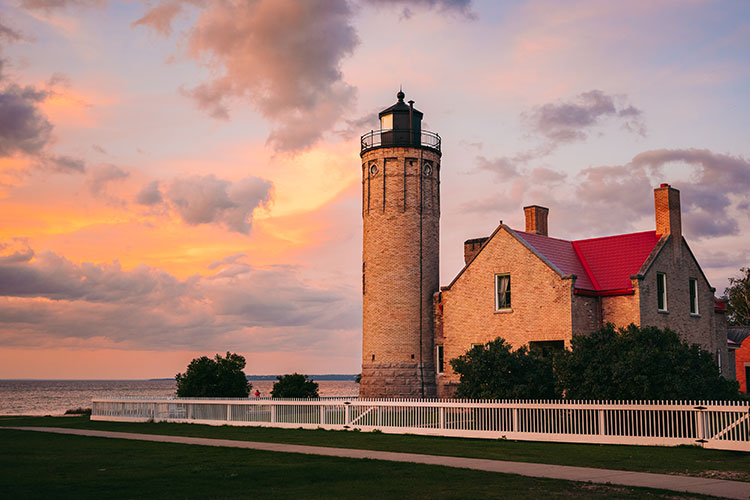 August 7 is National Lighthouse Day, an annual celebration of lighthouses and the commitment and service of those who tended America's lights for generations. With more than 120 lighthouses standing sentinel along Michigan's 3,200 miles of shoreline, Michigan has more lighthouses than any other state in the country. What better way to celebrate National Lighthouse Day than to visit one – or several – of Michigan's iconic coastal landmarks?
"Lighthouses are iconic symbols of the Great Lakes State. I can't think of a better way to appreciate how our state connects with the water around it than with the view from a lighthouse," said Deputy State Historic Preservation Officer Martha MacFarlane-Faes. "Lighthouses present opportunities for tourists to discover off-the-beaten-path destinations and also serve as important points of pride in their respective communities."
Tall and elegant or short and utilitarian, beautifully restored or lying silently forgotten, the majestic beacons scattered up and down Michigan's coasts are worth a visit. Climb Ludington's Big Sable Point lighthouse, one of Michigan's tallest, for sweeping views of Lake Michigan. Boat around Lake Huron's Thunder Bay Island for glimpses of its red-and-white lighthouse. Visit Lake Superior's Big Bay Point Lighthouse for a rare opportunity to overnight in a historic light. Learn about Great Lakes shipwrecks and the keepers who tried to prevent them at lighthouse and maritime museums in Mackinaw City, South Haven, Ludington and Whitefish Point.
Many of Michigan's lighthouses are open for tours in the warm weather season. Others are home to bed and breakfast lodging or museums. Many lighthouse beacons are still active aids to navigation, but the buildings themselves are owned and maintained by a nonprofit organization or local unit of government. A few are privately owned or in remote locations, inviting admiration from afar. See a map of all the historic lighthouses in Michigan here.
"Every year, National Lighthouse Day pays tribute to the iconic structures that have stood tall along the coasts, guiding ships safely through treacherous waters for decades. More than just a reminder of our maritime history, Michigan's lighthouses hold a symbolic significance as beacons of hope, guidance, and resilience," said Dave Lorenz, vice president of Travel Michigan, a division of the Michigan Economic Development Corporation and the state's official agency for promotion of tourism. "I encourage everyone to get out and visit one of our coastal landmarks this summer for a multi-sensory trip into the past. Climb the circular steps on the same path lightkeepers did over generations. Listen to the waves lap the shoreline below. Breathe in the fresh lake air. Take a moment to consider what daily life was like to tend a light over 100 years ago."
Lighthouse Preservation
As a result of enduring decades of harsh weather, lighthouses require constant maintenance and attention. The Michigan Lighthouse Assistance Program was established to assist in the preservation, rehabilitation, and protection of historic lighthouses in Michigan. Administered by the Michigan State Historic Preservation Office (SHPO), the Michigan Lighthouse Assistance Program is intended to help lighthouse stewards restore and repair their historic lighthouses, which in turn helps keep them open and an active part of local economies around the state as tourist destinations. Through this program, the SHPO awards matching grants to help repair and restore these iconic structures for years to come.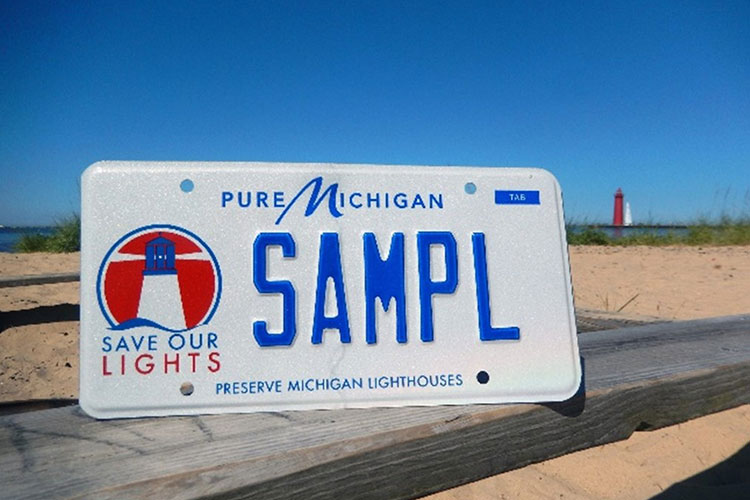 Funding for this program comes solely from the sale of specialty Save Our Lights vehicle license plates available from the Michigan Secretary of State. To date, SHPO has awarded over $2.8 million in matching funds to help rehabilitate and preserve dozens of lighthouses stretching from the Detroit River to Isle Royale on Lake Superior. To learn more about lighthouse preservation in Michigan, visit michigan.gov/saveourlights.
"Through the license plate and our lighthouse preservation program, every Michigan driver can help restore these beacons, preserving their beauty and keeping them shining bright for years to come," said MacFarlane-Faes.
Grant Projects Keep the Lights Shining Bright
As Michigan's economy continues to grow stronger, several lighthouse preservation projects are underway in 2023 using Michigan Lighthouse Assistance Program (MLAP) grant funds. We catch up with each of them in this brief progress report.
Fort Gratiot Light, Port Huron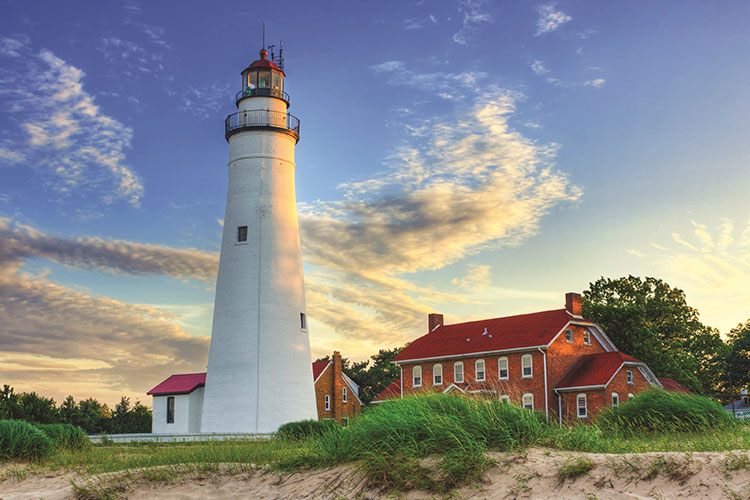 The lamp at Michigan's oldest lighthouse was first lit in 1829, and additional work in the 1860s gave the lighthouse its present form. It is now under the care of St. Clair County Parks and Recreation and open to the public in partnership with Port Huron Museums. This MLAP grant hired a preservation consultant to rehabilitate the watch and lantern rooms at the top of the tower, including repairs to the interior and exterior metalwork, painting, caulking, and installing new glass in window openings. The work concluded earlier this spring.
In 2010, the Fort Gratiot Light Station was transferred to St. Clair County. Since that time, thousands of visitors have visited the light, bringing in tourist revenue to the local community of Port Huron. Partners aid in the efforts to preserve and operate the light. The grounds are free to visit, while guided tours are provided through a partnership with the Port Huron Museums. The Port Huron Museums operate a giftshop and provide guided tours for a fee, which includes a tower climb at the end of the tour. The nonprofit Friends of the Fort Gratiot Light was established in 2010 when the county acquired the Fort Gratiot Light Station. Since that time, the Friends have supported numerous projects, through grant matches and outright donations to fund restoration efforts. On average more than 20,000 visitors from all over the U.S. and other countries come to the station, with 8,500 paid tours exploring the site.
"We have been fortunate to work with individuals that have backgrounds in historic preservation, historic site management and restoration," said St. Clair County Parks Director Dennis Delor. "We are halfway through a 25-year restoration plan, and while we have completed a lot, we still have much to do. Our vision for the site is for it to be Eastern Michigan's premier Lighthouse, Coast Guard and Maritime attraction. Each year we add new projects and elements that change the dynamic of the site, which brings visitors back for another look. A complete rehabilitation/restoration of the site is the goal, so that when visitors walk the site, they get the true feel of life at the station in the 1930s."
Grand Haven South Pierhead Light, Grand Haven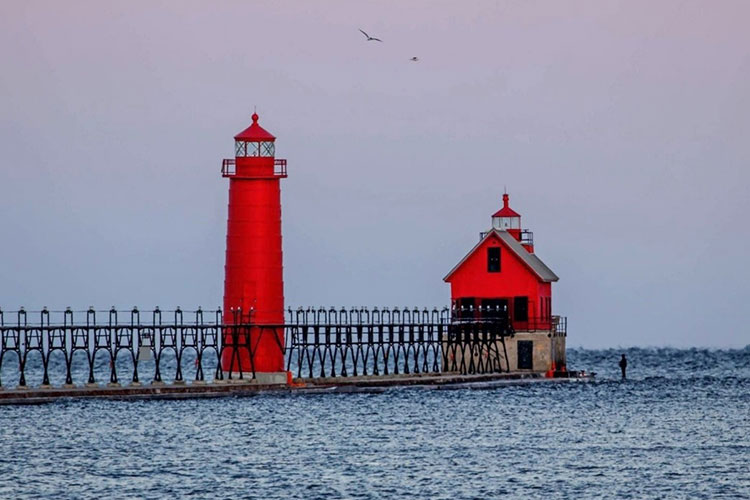 A pair of "range" lights have marked the entrance to the Grand River at Grand Haven for over 100 years. The outer light, at the end of the pier, takes the brunt of what Mother Nature throws, requiring regular maintenance and repair. With this MLAP grant, the City of Grand Haven hired specialists to repair of the exterior concrete wall and deck surfaces; restore the exterior concrete stairs; restore the concrete curb and install new metal flashing. This work will complete another phase in their effort toward eventually opening the lights to the public.
St. Helena Island Light, just west of the Mackinac Bridge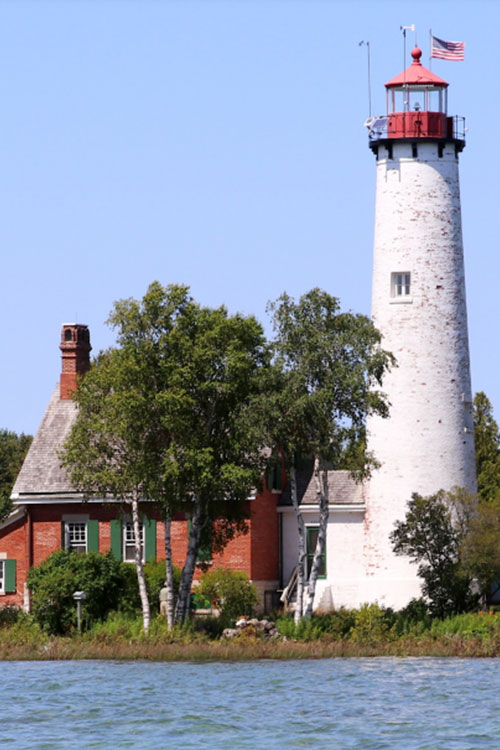 Built on a small island five miles west of the Straits of Mackinac in 1873, the St. Helena Island Light was automated in 1922 and fell into extreme disrepair. The nonprofit Great Lakes Lighthouse Keepers Association (GLLKA) began work in 1986 to restore the light to its early 1900s appearance. Their MLAP grant hired contractors to remove all existing paint from the lighthouse tower, replace deteriorated mortar and brick, clean all masonry and stone surfaces, replace sealant around openings, rehabilitate the lantern to be watertight, and repaint the entire tower.
"St. Helena Island Light is one of two lighthouses operated by GLLKA. MLAP grants have been crucial to the restoration efforts at our lighthouses," said Great Lakes Lighthouse Keepers Association Co-President Mark Siegman. "The grants have provided the base funding needed to accomplish many of our restoration efforts. Once a MLAP grant is awarded it provides credibility to the project that makes our job of raising the grant match much easier. Our light stations are staffed in the summer by volunteer keepers who are more than happy to provide tours. The St. Helena Light Station is accessible by boat while our Cheboygan River Front Range Light is accessible by car on the mainland. GLLKA also works with Shepler's Mackinaw Island Ferry by narrating special cruises to see offshore lighthouses in the Straits of Mackinac."
GLLKA captured a three-minute time-lapse video over the 12 days of summer 2023 project work at the St. Helena Island Light. Watch the video here: https://youtu.be/CbifxpAvpWU.
Crisp Point Light, Luce County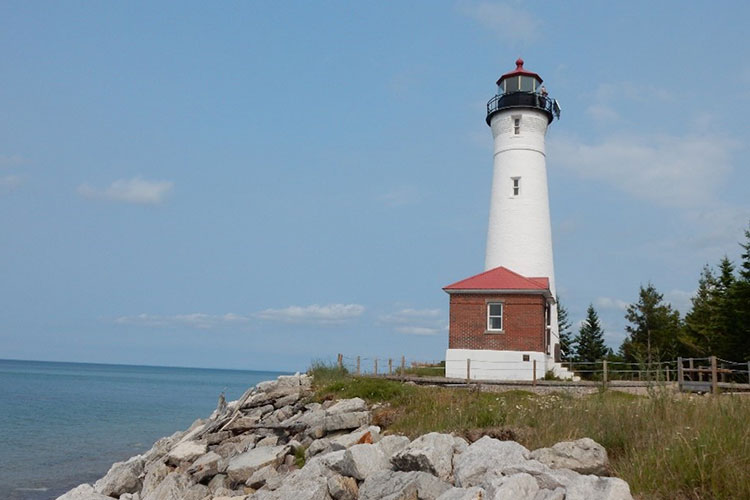 The remote Crisp Point Light was built in 1904 to aid ships sailing between Whitefish Point and Munising on Lake Superior. Standing just at the water's edge, today the light is under the care of the Crisp Point Light Historical Society which opens the light for visitors in the summer months. This MLAP grant hired specialists to remove existing tower paint, replace deteriorating mortar and brick, and apply appropriate sealant coatings to the exterior and repaint. This Crisp Point Light is shown as the feature lighthouse on the 2023 Save Our Lights poster, in a stylized graphic depicting the lantern room against a background of stars and the Northern Lights over Lake Superior.

Eagle Harbor Light, Eagle Harbor
The present brick lighthouse at Eagle Harbor was built in 1871 and is located near the tip of the Keweenaw Peninsula. Cared for by the Keweenaw County Historical Society (KCHS), the building is open as a museum while the light above is still an aid to navigation. This year's MLAP grant will rehabilitate the lighthouse tower, including the replacement of deteriorated brick and selective repointing, repairing damaged plaster on the tower interior, roof and wall water diversion, and deck and lantern room repair. Work is scheduled to begin in mid-August.
KCHS offers self-guided tours of the Eagle Harbor Light Station Complex, which includes the Lighthouse, Maritime Museum in former Foghorn Building, Keweenaw History Museum and Commercial Fishing Museum. It is open in mid-June and closes the second Sunday in October.
Tours of the lighthouse and museum are an $8.00 admission with children under age 16 free. Last year, the lighthouse had approximately 8,000 visitors tour the museums and they are on pace to surpass that number this year. As one of the most photographed lighthouses in Michigan, the lighthouse has additional visitors who stop by year-round to tour the grounds.
"The Keweenaw County Historical Society is a nonprofit organization that relies on grant dollars, like the MLAP, to carry out our mission to preserve historic properties, including the Eagle Harbor Lighthouse, still an operating light," said Keweenaw County Historical Society Vice President Karen Hintz. "In 2019 we received an MLAP grant to rehabilitate the wood windows and improve the interior ventilation system. With this year's MLAP grant, we will continue lighthouse tower rehabilitation to prevent moisture infiltration and repair exterior and interior masonry and walls. The project will be using different methods and products, which meet historic preservation guidelines and have worked at other lighthouses with similar issues."
Michigan's iconic lighthouses truly offer something for every traveler – from lighthouse enthusiasts, to history buffs, to curious tourists looking to get out there and experience one of Pure Michigan's many gems. Travelers interested in exploring Michigan's lighthouses can learn more here.
Contact Us