Michigan Boasts an Array of Aerospace Excellence
Diversified, deep engineering talent and collaboration stand out in Michigan
However, they considered moving closer to home after the birth of their first child in 2005.
"When we started looking to come back, we thought, 'wow, there's actually a lot of aerospace in Michigan,'" Howard explained. "And it's grown tremendously over the last 10 years. There's so much opportunity now."
Equally, there is venerable energy between Michigan's universities and the rocket science industry.
Michigan Technological University, in the state's Upper Peninsula, has about 100 undergraduate students designing, building, launching and operating small satellites. The school's Aerospace Enterprise group created the Oculus satellite, funded by the Air Force Research Laboratory, which is scheduled to be launched on a SpaceX rocket in December.
Rocket science has been such a huge success here that Professor L. Brad King co-founded Orbion Space Technology two years ago in Houghton, Mich.
"We build plasma thrusters for small satellites using robots and assembly-line techniques" borrowed from the automotive industry, said King, adding that Orbion works closely with Atlas Space Operations Inc. in Traverse City, which is working to cover the globe with antennas that can communicate with satellites.
Also strengthening the Great Lakes State's aerospace potential are:
Higher student science, technology, engineering and math scores than California, Illinois or Ohio, according to act.org/STEM
Community college and corporate training programs developing technicians to maintain new technologies
Deep technical knowledge borne of the automotive industry
A better standard of living at a lower cost. (The median home value in Michigan is $143,900 vs. $539,800 for California, per Zillow.com.)
Stacy and Howard Paul worked for an engineering services company in Grand Rapids for 11 years, but their dreams of working more closely with NASA were never far away.
So, in January 2018, they founded Array of Engineers to bring more space-related opportunities and jobs to Michigan. The Grand Rapids-based company provides practical, skillful engineering services and talent, working collaboratively with clients in aerospace, heavy equipment and medical sectors. For example, they helped verify and validate one client's software updates and reverse-engineered a medical device's circuit board for another client after its supplier went out of business.
Array of Engineers' 15-member team of electrical, aerospace and computer science engineers, "brings lots and lots of experience to the table as well as a variety of different skill sets," said CEO Stacy Paul. To do that, she said, they must stay on the leading edge of rapidly evolving technology.
"We have different backgrounds in engineering; but even with similar backgrounds, we have different expertise," said COO Howard Paul. "That expertise allows us to offer more to customers, both creatively and efficiency-wise. We're actively in discussions with many people we've networked with and the NASA centers to rekindle that relationship with the space industry."
An elegant resource solution
Parker Hannifin Corp. didn't have enough engineers on staff with the necessary skills when the Kalamazoo, Mich.-based Hydraulic Systems Division of its Aerospace Group began working on a software testing project for the Airbus A350.
So, the company relies on Array for engineering talent to supplement its own and to manage its need for surge capacity, explained Project Manager Rod Carnes.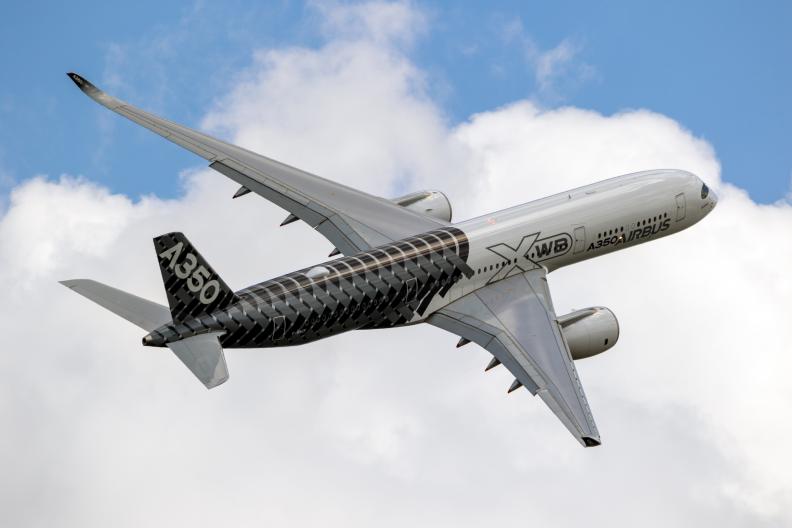 Parker Hannifin's relationship with Array of Engineers has been, "fabulous without exception," Carnes said. "It's really an elegant solution. We've got this big project, (but) our engineers also have other projects to work on. If we hire Array (talent) for nine months, we can finish this project. Then Array goes and helps other companies (and) we're back to our baseline. They're a big part of our success."
It's difficult to tell the difference between Parker's engineering staff and Array engineers, thanks to their product knowledge and expertise, he said, adding, "Almost any way you look at it, it's an ideal scenario."
Everyone wins when competitors collaborate
That level of collaboration is yet another advantage for aerospace companies located in Michigan, where businesses operate with Midwestern values.
The 2018 Pure Michigan Aerospace Summit, sponsored by Pure Michigan Business Connect, at Detroit's Little Caesars Arena matched smaller suppliers with large manufacturers and buyers. And Array of Engineers had up to eight meetings in one day.
"Ten years ago, that wouldn't have been possible for a company their size," said John Bedz, manager of Entrepreneurship and Defense for the Automation Alley Defense Office in Troy, Mich. "When it comes to the, 'Oh, I know a guy who can do that for you,' people want others to succeed. The big companies know the best innovations are coming out of small companies right now."
Even fiercely competitive companies collaborate when the time is right.
When Kalamazoo's Parker Hannifin was engineering software for Boeing that ran on a computer GE Aviation Systems in Grand Rapids was building, Parker teamed up with GE to make it work. Since the two teams were 45 minutes apart, they could meet in person to connect software to hardware.
Michigan industry groups, business accelerators and government entities also collaborate with businesses to drive growth in the aerospace sector.
The Michigan Aerospace Manufacturers Association in Sterling Heights lists 150 members, while the recently formed Aerospace Industry Association of Michigan in Rochester has more than 60 members. Each unites competitors to provide insight, education, future intelligence on trends and purchase needs. And the Procurement Technical Assistance Center Offices of Michigan, a public-private nonprofit funded by the Defense Logistics Agency (DLA), the Michigan Economic Development Corporation (MEDC) and others, provides one-on-one counseling, proposal assistance and bid-match services to help companies successfully compete for government contracts.
On top of that, Automation Alley, one of Michigan's 20 designated SmartZones or technology business accelerators, works with members to increase revenue, reduce costs and think strategically amid accelerating technological changes.
On Wednesday mornings, Automation Alley hosts "Tech Takeovers," attracting about 100 representatives from member companies who present a product relating to robotics, additive manufacturing and advanced materials, cybersecurity, artificial intelligence, the industrial internet of things and more, Bedz said.
Accelerating technological changes
Automation Alley recently completed an Industry 4.0 Assessment, now called ACT 4.0, for Array of Engineers. The assessment, open to companies of all sizes, assesses corporate strategy and direction for companies that want to grow or need technical assistance.
"We make recommendations about how emerging technologies are going to change their business (so they're) ready for anything that changes technologically," Bedz said, adding that the recommendations lower chances of expensive surprises in the future.
"Array of Engineers is a smart group," Bedz added. "They picked up on it quickly."
While manufacturing is still a huge component of the Michigan aerospace industry, software, hardware, machine learning and analytics all represent growing opportunities, according to the Pauls. They hope Array of Engineers will receive a National Science Foundation Small Business Innovation Research (SBIR) grant for its work on Artificial Intelligence.
"We're very interested and excited about learning new cutting-edge technologies and then applying them to different projects," Stacy Paul said.
The SBIR grant would help her team design a custom, neural-network model capable of performing image recognition (IR) and object detection (OD) on embedded hardware.
While working on the new design, they quickly realized they would need custom hardware.
"We have since begun development of that custom hardware, along with a custom API to access our model from the cloud," Howard Paul explained. "The custom hardware gives us far more processing power than was previously available and allows us to do a lot more things with our IR/OD model."
Array's goal is to integrate the new technology with current internet-of-things products to boost productivity and quality control at aerospace manufacturing plants.
"We know that's the future," Paul said. "We want to help our customers be more efficient."
Editor's Note: This article was originally published in Crain's Detroit Business in October 2018.
Contact Us