Michigan and Quebec strengthen their partnership in pursuit of the next generation of mobility technology during the delegation's three-day visit to Michigan.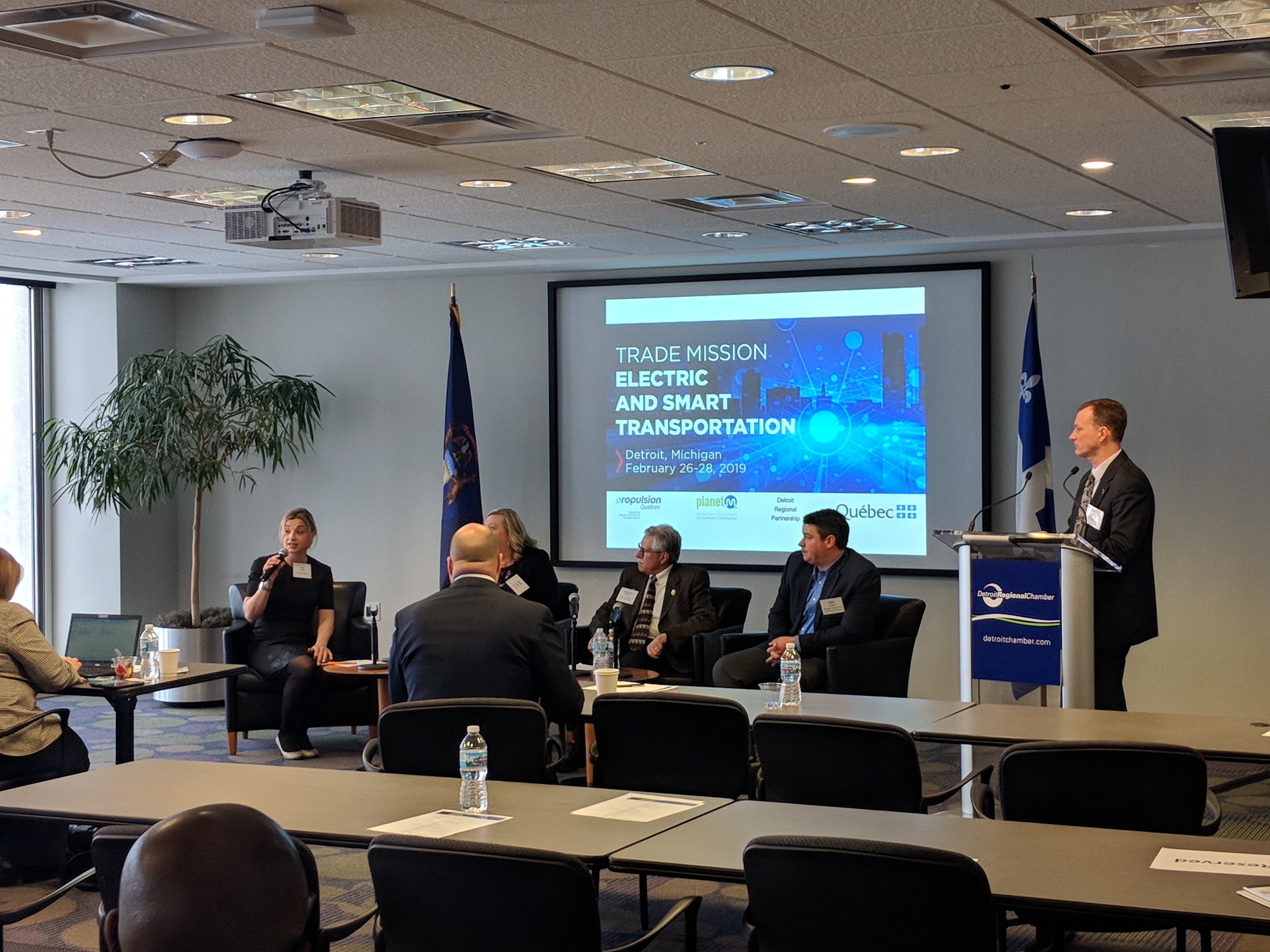 Across the globe, public and private sector partners are working to identify and react to evolutions in transportation and advances in mobility. Putting the importance of collaboration at the forefront of this next transportation revolution, a delegation from Quebec recently came to Michigan to discuss how strengthening ties between Michigan and Canada can advance the opportunities to attract and grow new technologies and industries that will develop the future of mobility. The delegation included Nadine Girault, the Minister of International Relations and La Francophonie, Eric Marquis, Deputy Under Minister for the United States, Sarah Houde, CEO of Propulsion Quebec and Economic Affairs Attache for Transportation, Cyril Gauchet as well representatives from seven Quebec-based companies.
More than a century ago, Michigan revolutionized transportation, becoming the Automotive Capital of the World. Today, Michigan continues leading the next revolution in mobility as the home to more than 2,200 facilities that conduct 76 percent of North American auto research and development.
Yet as technology continues to evolve and transportation options grow, it is more important than ever for mobility leaders around the world to collaborate and bring the industry together. Future transportation powered by autonomous, connected and electric vehicles will be safer and more effective for all as the result of cooperation and shared ideas between international partners like Quebec and Michigan.
Michigan's transportation ecosystem was on display during the delegation's time in the state, including tours of the PlanetM Landing Zone, the American Center for Mobility Mcity, and Navya – a French electric shuttle company that recently established North American operations in Saline. The benefits of global collaboration and awareness of successful ecosystems include the sharing of experiences and lessons to accelerate the learnings needed to deploy complex technologies; an increased pool of qualified personnel to work on finding solutions to ensure the safety of autonomous vehicles; and an increased awareness of potential development partnerships.
The conversations and connections made throughout this three day event, which included participants from the Automotive Office at MEDC, the Michigan Department of Transportation and the Detroit Regional Chamber, build on international mobility partnerships cultivated in the last year, including memoranda of understandings (MoUs) between Michigan and the Netherlands, the United Kingdom, the Austrian State of Styria, The People's Republic of China and Australia.
Michigan is continuing to solidify its leadership, accelerating the worldwide implementation and acceptance of connected and automated vehicle technologies.
To learn more about the people, places and resources dedicated to bringing the future of transportation and mobility to fruition, reach out us at michiganbusiness.org or PlanetM.com.
Contact Us