Snyder completes final foreign trade/investment mission; legacy features $1.2B Chinese ventures into Michigan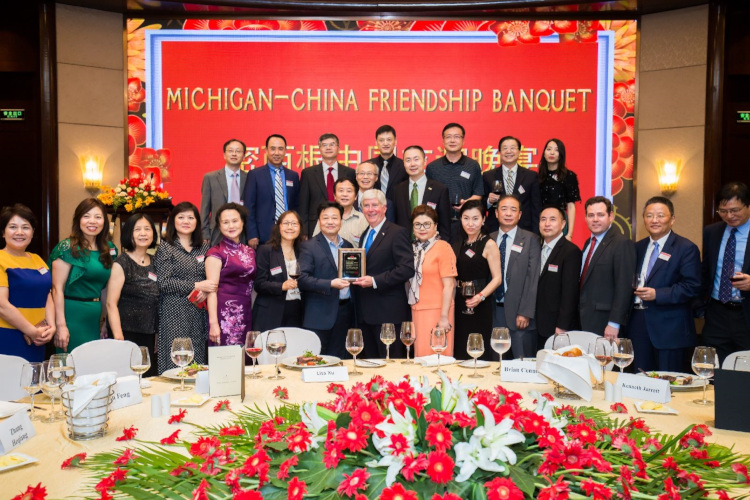 If Gov. Rick Snyder's 30 foreign direct investment and trade missions taken over the last eight years offers a lesson, it would be this: Michigan must continue to engage with countries throughout the world and promote the state as a leading and willing partner the unfolding 21st century global economy.
On Sept. 22, Gov. Snyder returned home after a week-long mission to China, marking his eighth trip to the Asian country and his final official trip abroad. Since taking office in 2011, representatives of the Snyder administration have also traveled to France, Japan, South Korea, Canada, the Netherlands, Brazil, Mexico, Latvia, Israel, Chile, Colombia, India, Switzerland, Germany, Italy, Ireland, Austria, Denmark, and the United Kingdom.
For his commitment to extend investment opportunities in Michigan to Chinese businesses, Snyder received the Friendship Ambassador Award. During his final mission, Snyder met with 35 Chinese companies interested in investing in Michigan. (Snyder made more trips to China than any other Michigan governor.)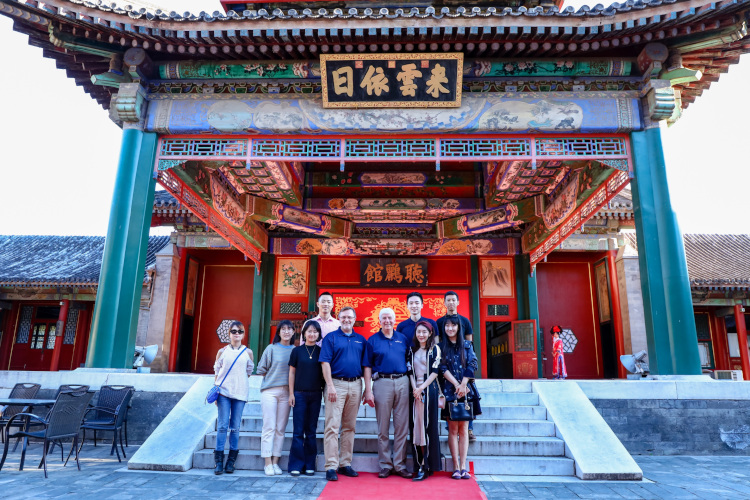 While the dividends from trade and investment missions are difficult to precisely measure since benefits of improved diplomatic and economic relations take many forms, there's no looking past the governor's trips to China have had a resounding financial wallop for the state. During Snyder's tenure, Michigan has received $1.21 billion in new investment from China, resulting in 6,304 jobs for residents.
"These missions are proof that productive dialogue and cooperation with other nations ensure we are partners rather than competitors," said Snyder.
The value of building relationships with other nations cannot be overstated.
Michigan has benefited immensely from partnerships strengthened during foreign investment. Overall, 406 foreign direct investment projects have been created since 2011, generating more than $12.71 billion in total capital investment, and creating 51,596 jobs in Michigan. By matching industries with foreign companies that have similar goals, Michigan has established partners rather than competitors in manufacturing, mobility and agricultural technology.
The Michigan Pitch
During missions over the past eight years, Gov. Snyder promoted Michigan's robust automotive industry, industrial landscape, world-class R&D assets and collaborative atmosphere. In terms of opportunities for Michigan businesses in mobility, the pitch has been direct: Just as Michigan put the world on wheels, the state today stands at a historical threshold as the preeminent place for automakers, auto suppliers along with entrepreneurs and innovators at the vanguard of the mobility revolution.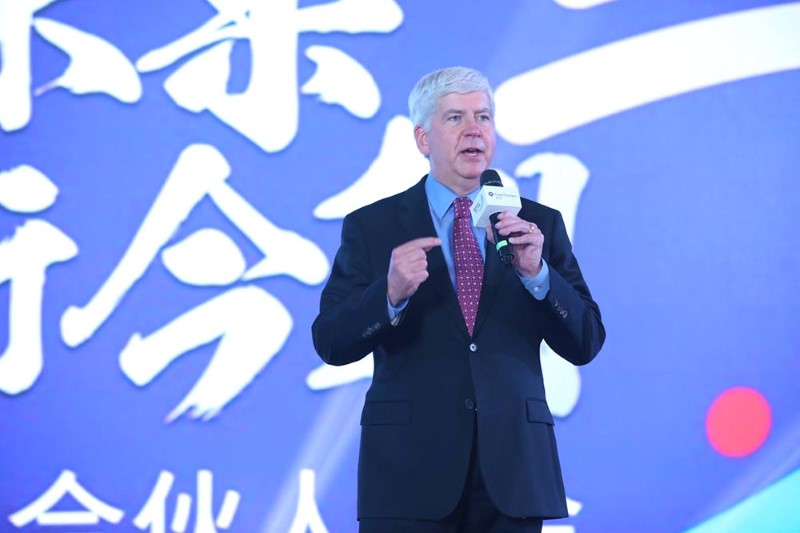 In the last few years, Michigan has invested heavily in developing facilities for testing and certification for mobility technologies at the American Center for Mobility and Mcity, a testing site on the University of Michigan campus.
Developing those testing facilities are vital steps toward ongoing support to foster public infrastructure for the practical use of autonomous vehicles; the state already has the largest deployment of vehicle-to-infrastructure technology in U.S. with plans for more than 350 miles wired by the end of 2019.
In addition, Michigan has taken steps to support autonomous-vehicle innovations by building dynamic entrepreneurial climate, a leading reason Detroit ranks in the top ten North American cities for corporate innovation, according to Innovation Leader (May 2017).
Forefront of innovation
In a region where facilities make up more than three-quarters of all North American automotive R&D, southeastern Michigan is a hub of innovation for mobility technology firms and advance manufacturing companies drawing on the resources such as the Institute for Advanced Composites Manufacturing (IACM), and Lightweight Innovations for Tomorrow (LIFT), a government-funded consortium reimagining manufacturing.
Across industries, R&D and capital expenditures are increasing rapidly to keep pace and support the technological and manufacturing advances in mobility. These investments will lead to revolutionary inventions that will have profound impact beyond the automotive industry.
Autonomous vehicles, designed within the mobility ecosystem where technology, advance manufacturing and communications coalesce will create a safer and exciting world of transportation.
With an emphasis on "safe," the state of Michigan is in the forefront of developing cybersecurity defense strategies for public computer infrastructure, and is actively recruiting companies at the forefront of cybersecurity breakthroughs.
After eight years as serving as Michigan's ambassador abroad, Snyder's legacy might best be remembered for the path he paved for foreign investment into the state that will have an impact long into the 21st century.
Contact Us