Collaboration key for city's long-term growth, Mid-Michigan economic development
Resiliency is the backbone of Flint's economic DNA, from its automotive manufacturing heyday to the ongoing reinvention of the city's economy.
Today, nowhere is the city's perseverance and drive more apparent than the entrepreneurial incubator in the seven-floor, historic Ferris Wheel building in downtown Flint, home to the Ferris Wheel Innovation Hub/100K Ideas.
The renovated seven-story Ferris Building, and the development of an entrepreneurial infrastructure is fostering new business in Flint, from idea to financing to opening the doors.
"The arching goal for this incubator is to be the epicenter of entrepreneurial activity in Flint and mid-Michigan, and provide inspiration and expertise to facilitate ongoing innovations that lead to investment and jobs," said Jeff Mason, CEO, Michigan Economic Development Corporation.
Since November, 39 new businesses have taken up office space in the building. Businesses include Yoga Loft, Choice Office Products, (furniture dealer) MarxModa, NorthGate, Pop Mod Photography, Caudill Thornquist Group and State Bank.
Funders of Ferris Wheel Innovation Hub/100K Ideas include the Michigan Strategic Fund, Skypoint Ventures, C.S. Mott Foundation, University of Michigan-Flint, Flint Downtown Development Authority, and Huntington Bank.
The Michigan Strategic Fund, administered by the Michigan Economic Development Corporation, support includes $1.5 million to establish the Ferris Wheel Innovation Center Business Incubator Grant, and an additional $1 million through the Michigan Community Revitalization Program for the redevelopment of the Ferris Building.
Collaboration the key
In many ways, the new entrepreneurial endeavors have created an emerging symbol for Flint as an entrepreneurial center, and a city with promise as 21st-century urban center.
For that to happen, collaboration is the key.
Recent successful developments built on collaboration give many reasons to feel like the team approach to economic development will pay more dividends in the years ahead. Indeed, MEDC is committed to collaborate with policymakers, economic development advocates, Flint officials, Flint and Genesee Chamber of Commerce along with the broader Genesee County business community and Mott Community Foundation.
Collaboration, open dialogue and productive relationships with all stakeholders have proven to be a winning formula in addressing the long-term, underlying challenges that must be faced in order for Flint to have a sustainable economy long into the future.
An emerging city
Despite negative national perception in some quarters, the city has created positive momentum and is attracting businesses, private investors and visitors.
With last fall's opening of the Capitol Theater and success of the Farmers Market as among Mid Michigan's most popular attractions, downtown Flint is emerging as a destination place. Other notable sites include Whiting Auditorium, Flint Institute of Arts, Michigan State University College of Human Medicine program, Hurley Pediatric Clinic, Genesys PACE Center and an urban park.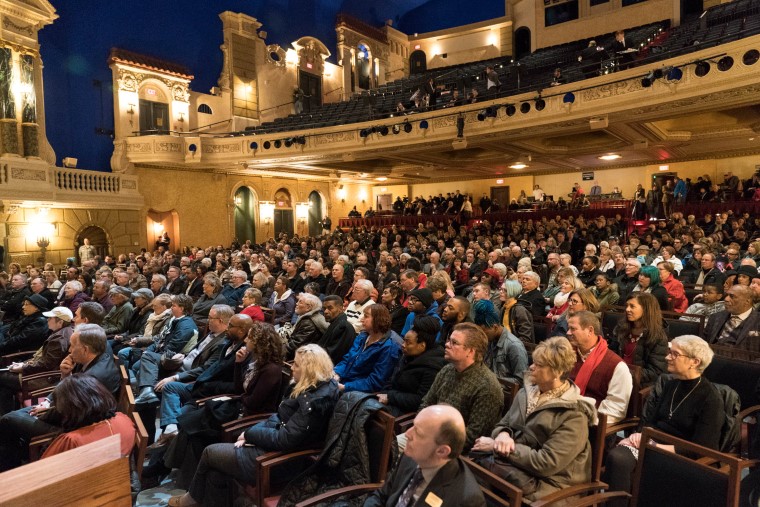 In the last several years, Flint has become known as an international college town. The city is home to Kettering University, University of Michigan Flint and Mott Community College. In fact, more than 34,000 students are pursuing degrees at Flint-area colleges and universities, which includes over 700 international students at UM-Flint—the largest number ever.
Creating jobs
Throughout Flint's economic development, the MEDC is a partner in supporting the ongoing effort to transform the city and build a hopeful future.
Quantitatively, the impact can be measured in the 2,918 jobs (from March 2016 to April 2018) MEDC helped to create with the assistance of MichiganWorks!, Community Ventures, community and business development grants, and training.
Lear's construction of a 160,000-square-foot building at the location of the former administration building at Buick City, north of downtown Flint. The investment creates 435 manufacturing jobs, and stands as a symbol of the positive future for the reuse of that historic site.
Through a Michigan Community Revitalization Program investment, MEDC played a vital role in restoring the Capitol Theatre in downtown Flint to its former glory. The venue is expected to attract up to 80,000 patrons per year.
Other notable investments in Flint include Huntington Bank's investment of nearly $5.4 million in the heart of downtown to renovate and expand its call center, which created 60 new jobs; more than $450,000 in grants from Michigan Council for Arts and Cultural Affairs; and, Pure Michigan Micro Lending program that provided loans to Flint's small business community.
Most recently (June 26), the Michigan Strategic Fund provided a grant to renovate the former site of Coolidge Elementary School on the city's west side. Plans call for converting the former school into 54 mixed-income apartments and first-floor commercial space.
Josh Hundt is executive vice president and chief business development officer at the Michigan Economic Development Corporation.
Contact Us