Ferris Wheel, 100k Ideas opens in downtown Flint; spurs entrepreneurial growth in mid-Michigan
In the city that came to international manufacturing prominence as one of the auto-industry's hometowns, Flint is now recasting itself as a home for innovation. With the opening of the Ferris Wheel, Flint is staking claim as an emerging center that fosters entrepreneurial projects with an eye toward transforming the economy of Genesee County and mid-Michigan.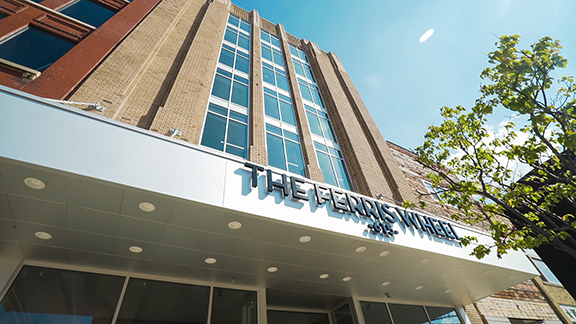 On Monday (Nov. 6), Gov. Rick Snyder and Lt. Gov. Brian Calley joined Skypoint Ventures, and Flint city and economic development executives for the grand opening of the Flint Ferris Wheel Innovation Center, commonly referred to as Ferris Wheel. The venture is the latest of the city's developments that collectively demonstrate Flint's never-say-die spirit and its path to economic resurgence.

"Flint's entrepreneurial spirit is flourishing, and this initiative will continue to help strengthen economic growth in the city and throughout mid-Michigan," said Snyder. "By inspiring and supporting innovators and entrepreneurs, we can ensure industry and workforce development in the area continues to thrive."
Over the past few years, the Michigan Strategic Fund has supported a range of city projects that are redefining the Flint cityscape, including the Farmers Market, Health & Wellness District, Mott Community College's culinary school, and the Capitol Theatre. Not far from downtown, MSF supported Lear Corporation expansion project at Buick City. The Capitol Theatre is expected to open later this fall.
Ferris Wheel, a project spearheaded by Skypoint Ventures with support from the MSF, is located in the renovated Ferris Building, a historic site named for Ferris Fur business that occupied the seven-story building. In late October, Ferris Wheel received the National Development Council Academy Award, a prestigious honor that highlights the dynamic community and economic impact of the project.
The idea behind Ferris Wheel is to help entrepreneurs at all stages of the business cycle. An entrepreneur that visits the Ferris Wheel would enter a vibrant, co-working space that features business hospitality services, including offices, conference rooms, WIFI, printers and phones.
Through 100K Ideas -- a nonprofit organization started by the founders of the Ferris Wheel initiative and supported by the Charles Stewart Mott Foundation -- innovators with a product, software, service or social venture can receive help with idea validation, concept ideation, product development, prototyping, capitalization, market development, operations management and business formation.
"At the heart of Ferris Wheel and 100K Ideas is advancement through collaboration," said David Ollila, president and chief innovation officer of Skypoint Ventures. "Innovators and industry specialists continue to work together using their unique skills, ideas and resources to support innovation and spark entrepreneurism in Flint and throughout the state."
MEDC supported the project with a $1.5 million Michigan Business Development Program grant for 100K Ideas, as well as a $1 million Michigan Community Revitalization Program performance-based grant toward the building rehabilitation. Additional financing partners included Skypoint Ventures, C. S. Mott Foundation, University of Michigan-Flint, City of Flint, and the Flint Downtown Development Authority.
"Ferris Wheel puts a new spin on the way inventors and entrepreneurs approach the startup process. We encourage all local entrepreneurs to take advantage of this 'one-stop-shop' that will support them from concept to commercialization," said MEDC CEO Jeff Mason.
For more information about the Flint Ferris Wheel, visit www.ferriswheelflint.com.
Ferris Wheel is located at 615 South Saginaw Street, in downtown Flint.
Contact Us