At ITS gathering in Montreal, innovative thinkers from around the world imagine futuristic scenarios that are not so far off; welcome mat extended to visit PlanetM
It began with creating a language to discuss the latest innovations in autonomous vehicle technologies.
Then, to make room for all the people speaking the language of intelligent transportation technology, a new planet was created.
And now, a "Residents Wanted" sign is up in the search for the ideal inhabitants – whom some affectionately refer to as nerds.
The planet – entitled "PlanetM" with "m" standing for mobility and Michigan – is not just a state of mind, it's a destination.
In late October, the Intelligent Transportation Society (ITS) held its annual world congress in Montreal. The multilingual, cosmopolitan city was an ideal backdrop for an international conference that attracted innovative minds around the world. The gathering is a smorgasbord of personalities, cultures and languages, from the Copenhagen booth to the Singapore kiosk, to the Michigan PlanetM exhibit.
Of course, the nerds were plentiful.
And, not just any nerd. These nerds are in demand.
Many of their conversations at the congress began with "In the future…"
That future may be sooner than we know when it comes to connected and autonomous vehicles becoming a reality.
The image that often comes to the mind when pondering intelligent transportation technology is that of a self-driving utopian society, where an on-demand egg-shaped vessel smoothly takes you to work while you read the news on your tablet. We tend to fixate on tangible productivity solutions, but often forget the massive hurdles that prevent catastrophe inside this daydream. How do those eggs not run into other eggs? What happens if a person walks in the path of a high-speed egg?
When considering this egg-filled future, we might not fully consider logistics involved. Attendees of ITS World Conference, however, clearly understand that providing safe mobility is a prerequisite to catching up on "Game of Thrones" on the way to work.
The collection of provocative thought-leaders and decision-makers includes a range of considers all forms of transportation infrastructure. Imagining the future of transportation range from U.S. state departments of transportation exploring highway safety technology to small businesses searching for ways to make stoplights smarter.
State of Michigan strategy is to unite public and private mobility initiatives. When this happens, collaboration leads to many planned and unexpected breakthroughs. In other words, the whole of PlanetM is greater than the sum of its partners.
Michigan's delegation in Montreal included Michigan Department of Transportation's director, Kirk Steudle, described as a godfather and a rock star of the conference, and, Gov. Rick Snyder, an entrepreneur-turned-CEO- turned-governor, visited many booths at ITS.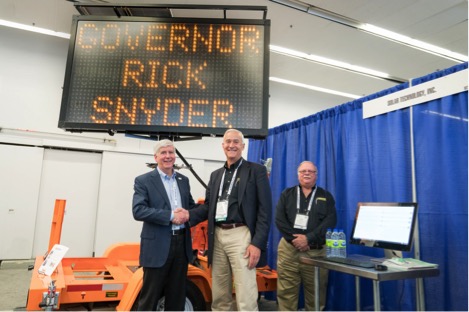 A self-described nerd, Snyder often impresses business owners with his knowledge of how technology and entrepreneurship come together in the 21st century economy. His probative questions and curiosity often inspire in-depth conversations about how mobility experts in Michigan can grow their business. With that future in mind, Snyder's aim is to make Michigan the global center of the mobility revolution.
The networking at this year's ITS World Congress underscores the collaborative philosophy of the state of Michigan, which currently leads the nation in automotive research and development centers. In the spring, American Center for Mobility, which is the largest testing center in North America, is scheduled to open in Willow Run (located in southeast Michigan near Detroit Metropolitan Airport).
While the ITS World Congress won't return to North America until 2020, the conversations surrounding how vehicles, infrastructure and people interact with each other is ongoing and nothing short of revolutionary.
And the nerds are at the center of those conversations.
Next year, the U.S. chapter of ITS will hold their annual meeting in the heart of the global automotive industry – Detroit.
Nerds welcome.
Contact Us