Hip on 7Liv
Wednesday, November 29, 2017
Mixed-use project boosts prospects for investment in improving Detroit neighborhood
A new mixed-use development is being built in the Avenue of Fashion district of Detroit with support from the Michigan Strategic Fund, the Michigan Economic Development Corporation announced Nov. 27. The project, 7.Liv, aims to bring additional development to the area while attracting residents to an emerging neighborhood in Detroit.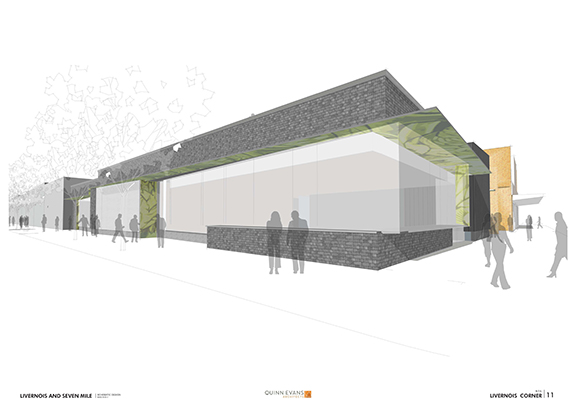 MSF approval of a $1.3 million Michigan Community Revitalization Program performance-based grant will contribute toward the total capital investment of $8 million. When completed, the project is expected to create 30 full-time equivalent jobs.
"7.Liv will bring life back to the heart of Detroit's Avenue of Fashion district and serves as a promising sign of the continuing redevelopment of Detroit, especially beyond the core downtown areas," said Jeff Mason, CEO of MEDC, the state's chief marketing and business attraction arm that administers programs and performs due diligence on behalf of the MSF. "We look forward to the momentum of this project and the additional investment it will encourage in other Detroit neighborhoods."
Bagley Forest Properties LLC plans to rehabilitate the former B. Siegel department store building in Detroit's Livernois and Seven Mile Avenue of Fashion district into the 7.Liv project. The project will include demolition of two additional adjacent structures and construction of a new structure that will complement the existing department store building. The completed project will provide necessary housing for nearby University of Detroit Mercy and Marygrove College staff and students, and will include retail space and underground parking.
The project will bring back the former anchor of the district to productive use and is expected to add density to the neighborhood, generate additional investment to the area, and attract residents to an improving neighborhood in Detroit.
Developer Matt Hessler, owner of Bagley Forest Properties, is a longtime resident of the historic Sherwood Forest neighborhood that is adjacent to the Avenue of Fashion district. He bought the parcel at Livernois and Seven Mile in 2016 with the goal of helping spur a resurgence in the area.
"With the assistance of MEDC as well as Capital Impact Partners, Invest Detroit, and the Detroit Economic Growth Corporation, the 7.Liv project will restore the B. Siegel building and add a new 10,000-square-foot retail building on the corner," Hessler said. "As a handful of new retailers and restaurants have begun to open storefronts on the avenue, 7.Liv will replace the blighted structures on the corner of the two main thoroughfares with a vibrant new mixed-use development. Adding an anchor restaurant and retail businesses to the corridor, 7.Liv will serve as a catalyst, allowing businesses to fill in along the avenue and create momentum for a new walkable shopping district along the old Avenue of Fashion."
In addition, City of Detroit Brownfield Redevelopment Authority received approval of $989,765 in local and school tax capture to perform brownfield remediation activities at the site.
"Public/private partnerships like the 7.Liv project further redevelopment of Detroit's neighborhood commercial corridors," said Detroit Economic Growth Corporation Director of Real Estate and Financial Services Kenyetta Bridges. "DEGC is proud to work with the city, lending institutions, developers like Matt Hessler, the MEDC and other stakeholders committed to economic transformation. As a result, the 7.Liv project will offer new and exciting neighborhood amenities that complement the existing developments throughout the Avenue of Fashion."
Contact Us