At the vanguard of automotive industry's next stage
Ford's modernization of Flat Rock, Romeo and Wayne facilities at leading-edge of autonomous-electrified vehicle revolution
As another compelling example that the state is the preeminent location for the global automotive industry, the Michigan Strategic Fund board approved today performance-based grants and State Essential Services Assessment Exemptions to support Ford Motor Company's investment of approximately $2 billion in the automaker's Flat Rock, Wayne and Romeo facilities.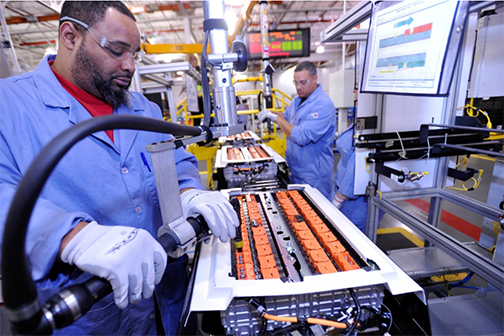 As part of the agreement, Ford will create approximately 700 jobs at its Flat Rock Assembly Plant and approximately 100 new jobs at Romeo Engine Plant, while securing approximately 3,600 jobs at its Michigan Assembly Plant in Wayne.
"It's great news that Ford has chosen Michigan as its innovative home for their fully electric and autonomous hybrid vehicles," said Gov. Rick Snyder. Michigan continues to be a global leader in mobility because of job providers like Ford continuing to demonstrate their confidence in our state and our people."
Ford plans to invest approximately $1 billion at its Flat Rock complex to build a data center there and transform the plant into a manufacturing innovation center capable of producing electrified and autonomous vehicles in addition to the iconic Ford Mustang and Lincoln Continental.
Ford expects to begin producing the first of these vehicles in 2020, including an all-new fully electric small SUV engineered to deliver an estimated range of at least 300 miles and its first fully autonomous hybrid vehicle for commercial application. The company will invest $1 billion in its Romeo and Wayne facilities, primarily to support Ford Ranger and Ford Bronco production.
Overall, today's MSF-based incentives, assessment exemptions and Ford's capital investments include the following:
FLAT ROCK ASSEMBLY PLANT
Creation of up to 700 new jobs
Ford's combined capital investment of approximately $1 billion for construction of a new data center building and plant transformation
$10 million performance-based grant from the MSF
An estimated $10.4 million State Essential Services Assessment Exemption (SESA) over 15 years
ROMEO ENGINE PLANT AND MICHIGAN ASSEMBLY PLANT
Creation of approximately 100 jobs
Ford's combined capital investment of $1 billion for new equipment at Romeo and Michigan Assembly.
$2 million performance-based grant from the MSF
An Alternative State Essential Services Assessment Exemption of $1.3 million over 15 years for investments in Romeo
An estimated State Essential Services Assessment Exemption of $7.25 million over 15 years for investments in Wayne. The combination of incentive and investment will secure approximately 3,600 jobs at Michigan Assembly Plant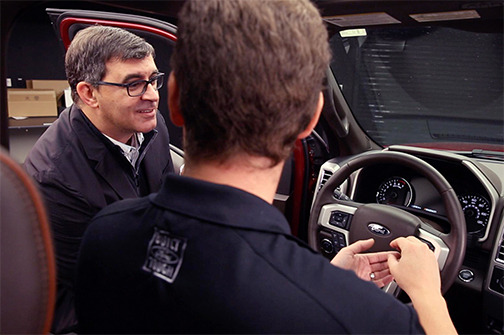 New jobs at the Flat Rock plant, which currently employs approximately 3,200 people, could begin as early as 2018 with the majority of new jobs coming in 2020.
"Our leaders in Michigan have continued to shape the right conditions for investment and job creation, and we greatly appreciate their support of our continued growth in the state," said Joe Hinrichs, Ford president, The Americas.
Last April, the Dearborn-based automotive company announced a $1.4 billion capital investment and the addition of 500 new jobs in its Livonia Transmission Plant, refitting the expansive factory along Plymouth Road to manufacture a new 10-speed rear-wheel drive transmission.
Michigan is home to 27 assembly plants, and 63 of the top 100 North American auto suppliers. The state is the largest producer of vehicles in the United States—at 19% of total production. More than three-quarters of automotive research is conducted in Michigan's 375 research-and-development centers.
Since 2009, Michigan ranks first in the U.S. in new automotive-related jobs with more than 200,000 through December 2016, according to the Center for Automotive Research.
Along with Ford, other automakers and auto suppliers have invested more than $30 billion in the state from 2009 through third quarter 2016, according to the Center for Automotive Research at the University of Michigan.
"The state's strong economic growth, emerging manufacturing and leading-edge facilities for autonomous vehicle testing provide an attractive infrastructure for automakers," said Steve Arwood, CEO, Michigan Economic Development Corporation, the state's business marketing and attraction arm that administers and performs due diligence on economic development programs on behalf of MSF.
"As the automotive industry adapts to the realities of the global marketplace and the autonomous future, it is clear Michigan provides an unmatched research-and-development community, proximity to a diverse supplier base and public support that collectively fosters a distinct competitive advantage," said Arwood.
Contact Us