Mcity's automated vehicle research attracts investment, points to future of mobile transportation
"Because of the competitiveness of this industry, companies will be able to come here, test (their product) and get it to market sooner." –-Emily Collins-Hamel, business attraction manager at MEDC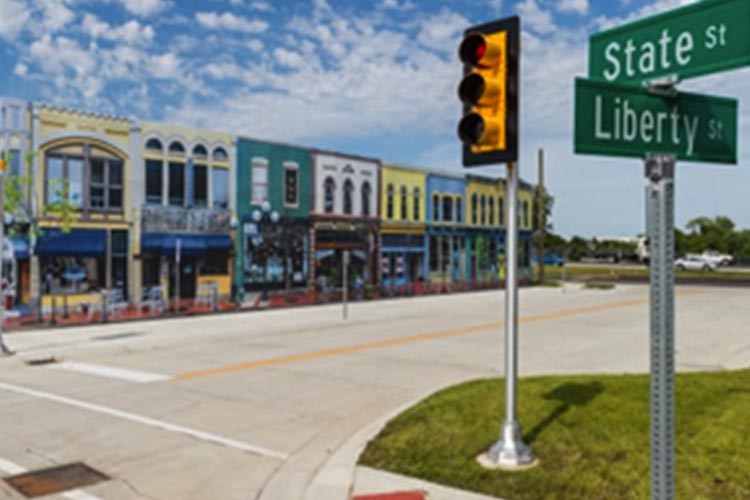 Mcity's roads lead to the future of transportation.
Located on the University of Michigan's Ann Arbor campus, Mcity was unveiled in July to a critical audience of elected officials, transportation experts and onlookers from the automotive industry.
"The transformation to connected and automated mobility will be a game changer for safety, for efficiency, for energy and for accessibility," said Peter Sweatman, director of the University of Michigan's Mobility Transformation Center (MTC). "These technologies truly open the door to 21st century mobility."
The $6.5 million outdoor testing facility features a network of roads, intersections, roundabouts, traffic signals and signs, simulated buildings, sidewalks, streetlights, pedestrians and construction barriers. The mobility center is among the state's 330 research-and-development facilities.
The partnership with the Michigan Department of Transportation (MDOT) is an ambitious public/private effort to build a viable ecosystem of connected and automated vehicles.
"We're building the global center for automotive design and research and development leading to automated mobility, said Kevin Kerrigan, senior vice president of the automotive office for the Michigan Economic Development Corporation, the state's non-profit economic development agency. "The key is to bring together experts and technologies from universities, industry researchers and the public sector to make sure innovation and public policy complement each other."
MEDC is actively attracting connected and automated technology businesses.
"Because of the competitiveness of this industry, companies will be able to come here, test here and go to market sooner, which makes Michigan the epicenter of the advanced mobility industry," said Emily Collins-Hamel, business attraction manager at MEDC.
Along with the U.S. Department of Transportation, MOT is gathering research on connected vehicles on a 125-mile stretch of interstate highways.
"There is a huge economic development component to this because southeast is in the home of where all that technology is happening," saidKirk Steudle, director of the Michigan Department of Transportation. "This is the place that puts the world on wheels and will be the place that reinvents how the world moves."
"There is a huge economic development component...This is the place that puts the world on wheels and will be the place that reinvents how the world moves." --Kirk Steudle, director of the Michigan Department of Transportation
Contact Us