A Whole New Worldview: Mark Hendel of IMPCO
As Global Sales Director for IMPCO Microfinishing, a Lansing-based machine tooling manufacturer, Mark Hendel is injecting a new energy and vision into the 86-year-old company
For the last 10 years, Mark Hendel has worked as the global sales director for IMPCO Microfinishing, a Lansing-based machine tooling manufacturer. The company was founded as Industrial Metal Products Corporation back in 1937, making small tools, dies and fixtures with six screw machines and a small staff of tool and die specialists.
IMPCO developed the world's first automated crankshaft Microfinishing machine in 1947, and since then continues to set the standard in microfinishing process quality and system development. As a transplant from the United Kingdom now living and working in the Lansing area, Hendel is taking IMPCO into new territory.
What brought you from the U.K. to live and work in the Lansing area?
I'm from the U.K., I graduated with a degree in Mechanical Engineering many years ago and stayed in my lane a little bit in terms of fine finishing. I've always been involved in this side of engineering as opposed to industrial or commercial buildings. It's more mechanical and more on the finer side of surface finish and geometry, with the finer critical features or components. So that's the lane I've stayed in and that's been great for me.
I came over to the United States 10 years ago. We were licensees to IMPCO in Europe, so I was selling IMPCO product throughout Europe. We had a U.K. company, but the owner group of the company did a reverse purchase of IMPCO. I automatically came over to head up the sales and growth, build a new, young team and look for new opportunities. An 86-year-old company always needs a new injection of energy, vision, and ideas. I was able to do that and continue to do that every day.
We've heavily been involved in internal combustion engines. Now we're helping to transition IMPCO from ICE business to EV business. We've secured quite a bit of EV work, and we continue to do that every day. Our territories are global. Our headquarters are based in Lansing, but from here we've touched many areas of the world. I can get a call from Brazil, Europe multiple times a day just trying to find new opportunities and working with the network of agents that we've got established. With IMPCO, although based in Lansing, we're able to wrap ourselves around the world with a great network of agents.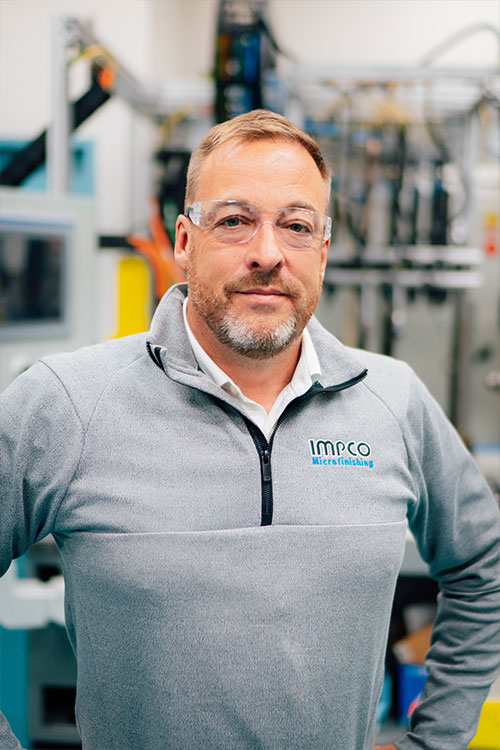 What was that transition like?
People have said to me, 'why moved to Michigan?' Well, I didn't need to have a Plan B. Once someone purchases a company, I can't think of a Plan B about not wanting to be involved in it. You spend your whole career working towards that type of opportunity. When it comes up and you've built it to that level, it's like you're either in or you're out. So, once this came up, and we were 100% into this, my position was, it's now in the States.
After living here for 10 years, I'm very happy that I'm in Michigan and not the other states. They're a warm group of people, all having a common focus on growth and how we can make things better. 'What can we do today to make things better for tomorrow?' The energy and the vision that you get from working with likeminded people allows you to develop and grow the ideas that you have.
What are the barriers to IMPCO's growth and how are you working through them?
Where I see issues today is with talent. 'Where is the talent?' I can energize people and share my great ideas. But I need other people with energy to come in and surround me to keep that movement going forward. And it's keen to find the right type of talent. It's not a Michigan thing. It's a global thing.
I have been working with Cindy Kangas at the Capital Area Manufacturing Council (CAMC). I like to get involved with the local community, the local schools, to go and switch the lights on with these young people to say that there are jobs out there. This is the type of work you could be doing. And you get paid for it. You can get paid to get trained with an apprenticeship. That's what a lot of kids are trying to look for. We've all been through that little loop. CAMC has involved us in the local school area. We just want more of that – the more young talent that we can get to coming through, the better off we are going to be in five years' time.
How has Michigan been a place of opportunity for you?
The automotive capital of the world was Detroit, and if you're involved in automotive or a vehicle manufacturer, then Detroit is where you need to be. There's been a talent pool in the area from generation to generation. And that's been indoctrinated with people as they start living their lives. IMPCO set up 86 years ago in Lansing, and since then, have maintained their position in the local automotive scene, but now we've been able to take our business to that global platform and become the world reference for what we do: microfinishing.
The activity in Europe is European activity. When you come over to the U.S., you can times that by 10 in terms of the volume of activity. That's the powerhouse that America is, that Michigan is, and I've seen that in projects alone. Why wouldn't I want to be involved in something that's that powerful? When you look at it, the automotive scene is so concentrated in Detroit. You've got to be in this area. It's got to be Michigan.