Out-of-state company Waupaca Foundry chose to make the Western Upper Peninsula its latest home for opportunity thanks to Michigan's wealth of manufacturing know-how and a work ethic that is second-to-none.
In 2018, the Western Upper Peninsula faced a tumultuous future as the region's largest employer closed its doors, creating economic uncertainty for Gogebic County's more than 15,300 residents. At the same time, Wisconsin-based Waupaca Foundry found itself facing workforce availability challenges in the city of Waupaca.
Luckily, Gogebic County not only has the capacity to support the company's manufacturing and iron casting processes, but it is home to a robust talent pool that would be able to get the job done for Waupaca Foundry in exchange for the company fortifying the region's economy and creating new high-wage jobs.
Cue the Michigan Economic Development Corporation (MEDC), which helped facilitate a connection between the company and the community.
Waupaca Foundry was established in 1955 and is headquartered in Wisconsin. The company was purchased in 2014 by Hitachi Metals Group and has more than 4,500 employees at seven locations in the United States. In 2018, the company realized it needed to expand in order to process castings, including cleaning and finishing, as a means to meet increasing demand — all in a location where there is sufficient labor supply.
"Like many employers across the nation Waupaca Foundry is finding ways to overcome low unemployment and a shortage of skilled workers," said President, COO and CEO Mike Nikolai. "There simply are not enough workers to fill the open positions we have so we explored expansion in regions that had a solid base of talented workers."
Facing a shortage of skilled talent in Wisconsin, Waupaca began looking outside of the state for opportunities to expand — and thanks to support from the MEDC, it found its home for opportunity in Ironwood, Michigan.
A major factor in Waupaca Foundry's decision for a new location was proximity to a pipeline of highly skilled talent. The company's leaders conducted exploratory job fairs, which ultimately led them to identify a strong pool of motived, talented workers in the Gogebic County region. That is why in December 2018, MEDC awarded the company a $1.2 million Michigan Business Development Program performance-based grant in return for the company expanding into Ironwood — marking its first Michigan location — where it is expected to generate an investment of $4.3 million for the region and create 61 new high-wage jobs.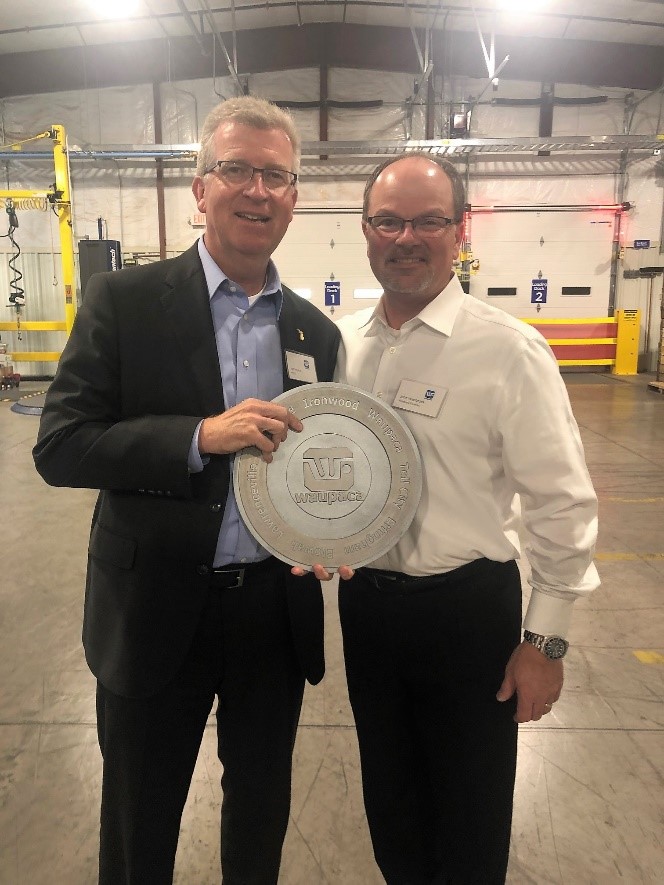 Waupaca Foundry celebrated its grand opening in Ironwood in July 2019, where company executives expressed an eagerness to continue growing and expanding right here in Michigan.
"It's really great to do something for the U.P.," said Waupaca Foundry Executive Vice President John Wiesbrock. "I told them at the grand opening, 'Watch us grow!' We don't have anything firm right now, but I definitely foresee the need for additional finishing services there in the future."
As the company settles into its new home in Michigan and begins looking at future opportunities to expand, it can rest easy knowing that it has a home in Michigan, where a manufacturing expertise runs in its employees' veins — and it knows that MEDC will be ready to help support its expansion along the way.
To learn more about the services available through MEDC, go to michiganbusiness.org.