As a certified Redevelopment Ready Community since 2020, the Village of Cassopolis in Southwest Michigan has implemented a new vision for their community with the support of the MEDC
The village of Cassopolis in Southwest Michigan is a small but mighty community that has undergone a major transformation over the last several years. Since 2019, the village has been working hard to implement a transformational and holistic vision for their community, successfully obtaining nearly $20 million in grant funding and becoming a certified Redevelopment Ready Community (RRC) in 2020.

As an RRC participant, the village of Cassopolis received a comprehensive assessment that measured current community and economic development practices compared to RRC Best Practice standards. The program evaluates and certifies communities that integrate transparency, predictability and efficiency into their economic development practices. Certification status is a compelling indicator that a community has removed development barriers and streamlined processes to be more competitive and attractive to investors.
To reach certification, the village of Cassopolis undertook several notable projects, including adopting a comprehensive master plan in 2019, developing an economic development plan in 2018 and establishing the "Imagine Cass" campaign – a community-wide marketing strategy aimed at changing residents' perceptions and unlocking the village's potential.
The Village administrative team, including Village Manager Emilie LaGrow, knew Cassopolis had the power to be small, rural and exceptional, and developing plans was essential to the future success of the village. "We aren't doing this to put pretty pictures on paper – this is an action plan," said LaGrow.
Looking to assuage doubts from the community about plans for growth, the village staff conducted robust public engagement opportunities. Because it can be difficult for people to imagine change, they asked them to think about what they wanted in their community if money was no object.
Cassopolis worked to improve upon numerous policies and processes, such as establishing an online guide to development and developing flowcharts that clarify the steps in each of the village's development review processes. The village's efforts have produced high-quality documents and processes that will continue to generate value.
The successful development and implementation of its plans led to increased public confidence that when promises are made by village leadership, they will make good on those promises. "If we invest in ourselves, others will invest in us," said LaGrow.
Working with the Michigan Economic Development Corporation, the village of Cassopolis has been successful in obtaining funding through a variety of programs, including three rounds of Match on Main grants, four Optimize Main Street grants and RRC Technical Assistance funds for their website. Alexis O'Flynn was Providing the Cassopolis community support as a CEDAM Community Development Fellow, Alexis O'Flynn brought so much value that she was hired full time as the village's Community Development Coordinator.
"If there is a resource, Emilie is going to make sure we capitalize on it," said O'Flynn. Cassopolis also worked with the MEDC's Redevelopment Services Team on pre-development assistance and redesign buildouts.

Cassopolis has successfully layered funding sources from both MEDC and other partners to bring its projects to fruition, including: Community Development Block Grant funding for a streetscape project; a Congestion Mitigation and Air Quality grant; Department of Natural Resources grants for the trail projects; a Michigan State Housing Development Authority neighborhood enhancement program grant; an MSU Sustainable Built Environment Initiative grant; rural task force funds for their roads; a CEDAM Community Development Fellowship; realtors association for their mural projects; Neighborhood Enhancement Program funds for its skate park and dog park; Department of Housing and Urban Development funding for their SMART Park; and more.
Once Cassopolis began the process of reaching out to statewide partners for help on these projects, the relationships formed at the MEDC and other partners lead to more opportunities for funding. Cassopolis has also expressed interest in hosting a pilot for the Pattern Book Housing project MEDC helped launch with the Michigan Municipal League in 2022, which will help expedite housing development across the state.
Cassopolis has completed almost every goal project that was included in the 2019 Master Plan and thanks to its RRC certification, Cassopolis plans to utilize funding through the RRC program for technical assistance to develop a new master plan that will help them imagine the next five years. By having a concrete document with implementable projects and goals, the community has been able to track its progress and stay the course for their vision.
In October 2022, the village of Cassopolis' Imagine Cass Project earned the Community Excellence Award from the Michigan Municipal League, besting 13 other projects from across the state.
"What we really wanted to do was transform the community, stop the decline and really unite under the premise that 'if you invest in yourself, others will invest in you,'" said LaGrow at the time of the award. "It is great to see this community rewarded for the hard work and dedication over the last couple of years to really transform themselves into a vibrant, rural, sustainable, connected community."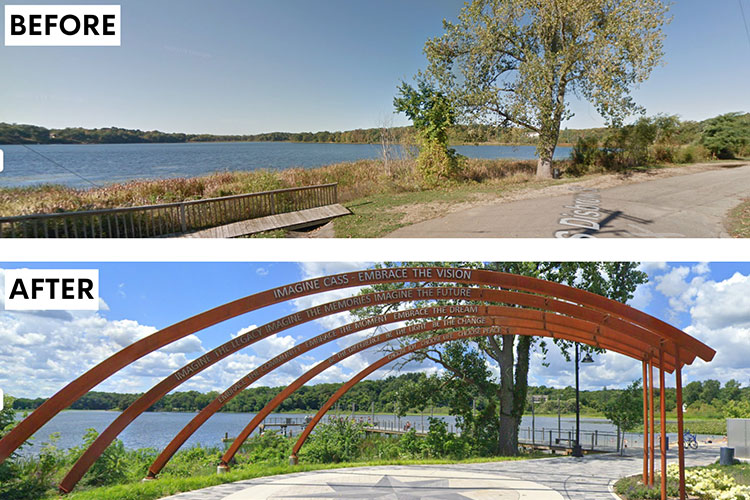 Thanks to its efforts, Cassopolis has also attracted new investments, including Hydro Aluminum Metals USA, LLC. In 2022, the global aluminum producer announced plans to construct a new facility in the village, bringing a new product line to support the electric vehicle market as well as other applications. The company's parent, Norsk Hydro ASA, is one of the largest aluminum companies in the world. The project is expected to generate a total capital investment of $150 million and create up to 67 new jobs, supported by $1.5 million in Community Development Block Grant funds.
In April 2023, LaGrow was recognized by the Michigan Municipal League for her leadership, accepting a Special Tribute award from Gov. Gretchen Whitmer at the 2023 Michigan Municipal League Capital Conference. Gov. Whitmer recognized LaGrow and Cassopolis for embodying the underdog spirit and true Michigan grit.
Imagining the possibilities has led to this moment in time for Cassopolis, with the village preparing for new residents and businesses. Looking toward the future, the village will look at expanding its team's capacity to keep the momentum going. Thanks to its recent successes, the village of Cassopolis and its community aren't slowing down any time soon – instead, Cassopolis is continuing to push themselves out of their comfort zone and into the growth zone.
Learn how the MEDC provides support and resources for communities across Michigan to grow and thrive at https://www.miplace.org/.