After more than a decade of support from MEDC and regional partners, The Mackinac Technology Company is advancing and commercializing its innovative window energy management systems (WEMS™) technology.
What began as research on an insulated shipping technology, eventually led to the development of an award-winning, patent-pending, multi-layer window attachment providing innovative insulation technology—all here in Michigan.
Heat gain and heat loss through windows is not uncommon for many residential and commercial buildings. The Mackinac Technology Company—founded by John Slagter in 2009—set out to change this, by developing an innovative, thin-film coating technology that is highly transparent to visible light, but highly reflective to infrared heat energy. The retrofit product—polymer panes that are tough and durable —are installed like a storm window to the interior of an existing glass window, making it energy neutral, meaning the window is insulating almost as well as a wall, but without reducing visibility. The product can be produced at lower costs than conventional replacement window technologies.
With funding, research support and resources from the Michigan Economic Development Corporation (MEDC), the Michigan Department of Environment, Great Lakes, and Energy (EGLE), the Michigan Small Business Development Center (SBDC), NextEnergy, Michigan Alternative and Renewable Energy Center (MAREC), KODE Labs, Fraunhofer USA Center for Coatings and Diamond Technologies at Michigan State University and others over the last decade, The Mackinac Technology Company has been able to advance its research with the intention to commercialize its WEMS™ product by 2022.
"We saw a need in the market and the MEDC was there to provide us the tools and resources necessary to take our window technology from the ideation stage to soon-to-be commercialization," John said. "Our team is grateful for the funding and support we've received throughout the years. Michigan is a great place for home-grown startups looking to expand into the global market, and our success and relationship with MEDC is a testament to that."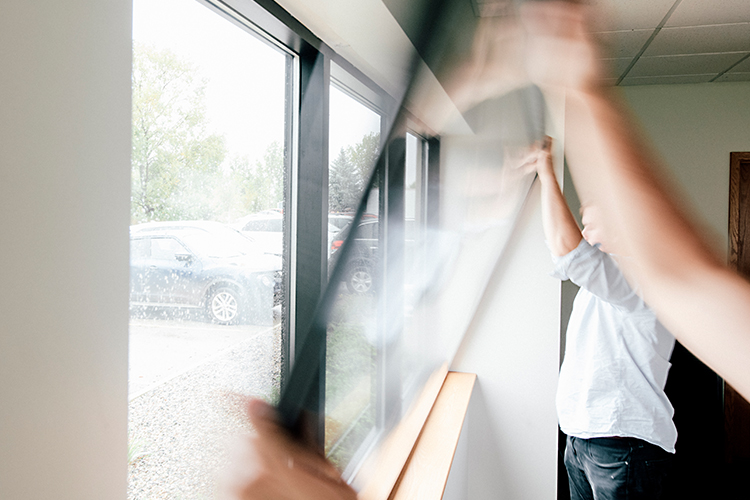 In 2011, John and his team—Chief Scientist David Tsu and Chief Operating Officer Amy Richards—won first place and $25,000 in the Advanced Materials Category at the Accelerate Michigan Innovation Competition. These funds came at a critical time, providing John and his team the initial seed funding they needed to start building out their company.
The company additionally received a $25,000 Business Accelerator Fund grant in 2012, which enabled the team to hire Fraunhofer USA to help produce proof-of-concept samples. Data from these experiments were critical to putting The Mackinac Technology Company on the map for federal grant funding considerations.
In the years that followed, The Mackinac Technology Company continued to grow, attracting interest and funding from additional MEDC, statewide and national organizations, including $300,000 total in MATch Energy grants—a $100,000 award in 2015 and $200,000 in 2020.
Over the next several years, The Mackinac Technology Company received STEP grant assistance totaling nearly $25,000, which allowed John to join a China Trade Mission in 2017 with state leaders. The grants also provided the company with the tools and resources to do market research in Europe, attend international trade shows, design international branding for Europe and create marketing materials for an exhibition at Tsingtao Sino-German Ecopark in China.
As a result of his work on the China Trade Mission and the company's growing global recognition, John was an "Innovator of the Year" finalist in the 2016 Michigan's Governor's Energy Excellence Awards, which recognizes energy efficiency programs statewide.
While the product is geared toward residential and commercial buildings, Mackinac has also attracted and received funding from the U.S. military and has been awarded a $2.5 million contract from the U.S. Department of Energy's Advanced Research Projects Agency-Energy (ARPA-E), which funds innovative technologies that display promise for both technical and commercial impact but are too early for private-sector investment. Mackinac was one of 41 projects—out of more than 4,000 applicants across the country—to receive funding. The company has additionally been accepted into the Department of Defense's Environmental Security Technology Certification Program and the General Services Administration's Proving Ground Program.
What started in West Michigan has grown globally thanks in part to the support and resources provided by the MEDC. That support, coupled with John's expertise and passion, has positioned The Mackinac Technology Company for continued success in the years to come.
Every day, the MEDC is helping high-tech entrepreneurs and startups like the Mackinac Group take their innovative ideas to market. For more information on MEDC and how to access capital resources, please visit www.michiganbusiness.org/pure-partnership/