Houghton-based health tech company founded by Michigan Tech faculty taps into talent pool with help from Michigan STEM Forward internship program
Internships provide students with meaningful career experience while allowing companies to tap into a diverse and eager talent pipeline. Launched in 2021 by the Michigan Economic Development Corporation (MEDC) and Ann Arbor SPARK, Michigan STEM Forward is a statewide program that matches students attending Michigan colleges and universities with internship opportunities at the state's leading innovative companies. The program places 425-450 STEM students into STEM-focused internships throughout Michigan annually.
One of the program's earliest adopters is StabiLux Biosciences, a Houghton-based health tech company founded by Michigan Technological University faculty. StabiLux has developed proprietary, high-brightness fluorophores – or dyes – for biomedical applications, particularly for biomedical researchers using multi-color flow cytometry. Their technologies allow researchers to detect what was previously undetectable while enabling existing equipment to be used to its fullest potential without the need for additional parts or new software.
In the year since the Michigan STEM Forward program was introduced, StabiLux has hired 11 interns; the company has been intentional about identifying and hiring talent from a variety of local higher education institutions such as the University of Michigan, Michigan Tech University, Washtenaw Community College and Eastern Michigan University.
For small companies like StabiLux, access to new, high-caliber talent from the program's pool of over 1,400 students wouldn't be possible without the Michigan STEM Program and its financial incentives. The program pays 50 percent of the intern's wages for the internship period, up to $3,000 for a full-time intern and up to $1,500 for a part-time intern; interns are paid at least $15 an hour. The financial match allowed StabiLux to hire more interns than they otherwise might have, leading to an uptick in productivity.
StabiLux CEO Steve Tokarz says the company would have struggled to hire as many interns as they would have liked without the Michigan STEM Forward program and is motivated by the enthusiasm of the students.
"It's been a pleasure to see the Michigan STEM Forward grant create a statewide program to help companies find, recruit and hire STEM students from across the state," said Tokarz. "We at StabiLux Biosciences have been able to hire interns – 11 total and counting, male, female and persons of color – for both our Houghton location at Michigan Tech University as well as our Ann Arbor facility. Our interns are budding chemistry, biochemistry, physics and math students trying to gain first-hand experience of what STEM is all about. Some of our interns have gained newfound motivation to pursue careers in sciences. Without the program none of this would have occurred and, at best, we would have struggled to support this many students."
Thanks to the support from MEDC and Ann Arbor SPARK, the Michigan STEM Forward program has been a gamechanger for companies like StabiLux and its student interns, who find their experiences to be valuable and rewarding.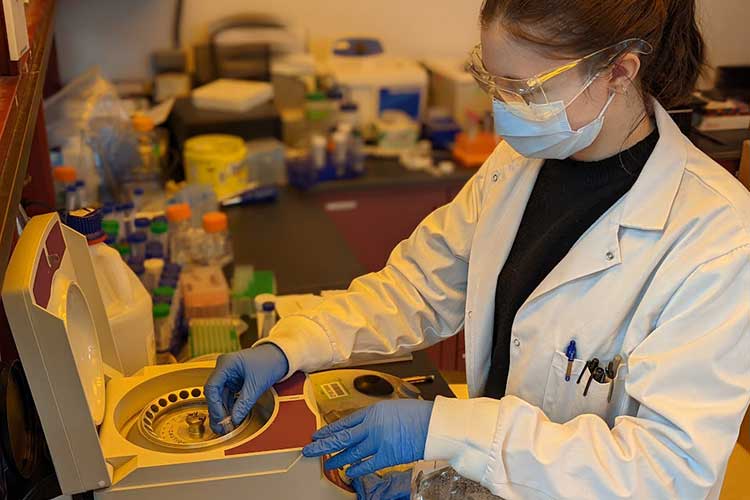 "My internship through Michigan STEM Forward has been an invaluable time that has expanded my knowledge and laboratory experience much further than I believed an internship would," said Catherine Pilon. "Not only am I learning laboratory skills, but my coworkers are always happy to explain the experiments – and necessity of the experiments – in further detail so I have a deeper understanding of the projects I am participating in. I also gain a better understanding of the materials I learn in class through hands-on experience. I also have had more opportunities to collaborate with other scientific companies and make valuable connections with scientists in other laboratories. I'm excited to continue learning and growing as my internship continues."
The MEDC Entrepreneurship & Innovation team helps Michigan's high-tech startups and entrepreneurs find the programs, services and expert counsel needed to grow and succeed. Find the entrepreneurial support right for you at https://www.michiganbusiness.org/services/entrepreneurial-opportunity/.
Plus find out how you can tap into Michigan's STEM talent with the Michigan STEM Forward internship program at https://annarborusa.org/stem-forward/.