Atomic Object builds innovative tools for the future of business. Aiming to reach a century of success crafting software, Atomic's benefitted from MEDC support at pivotal moments during its first 19 years in business. It looks forward to 81 more.
In 2001, Carl Erickson set out to disrupt the status quo of the software development industry. He saw the need for a company that could build software people actually wanted to use. From a network of students he met while teaching at Grand Valley State University, Erickson forged Atomic Object. His new company focused on putting the human element back in software development and honoring it as a craft.
Though it was a fledgling company, Erickson envisioned growing Atomic into a 100-year-old firm. His plan worked well. After enjoying Atomic's first decade of measured growth, its leaders sought outside resources to continue making the right business moves.
In 2011, the company received support through the Michigan Economic Development Corporation's (MEDC) Second-Stage Growth Solutions program. The program (then known as Economic Gardening) offered market research, internet and social media strategy, and geographical information systems support for identifying markets in other states. These resources helped Atomic connect its services with new clientele across the country.
During these years, Erickson was mentoring Atomic's next generation of leaders. Mike Marsiglia and Shawn Crowley served as Atomic's Vice Presidents, and they would become Atomic's co-CEOs years later. In 2013, the growing firm saw an opportunity to expand to the east side of the state and acquired SRT Solutions in Ann Arbor. When Atomic's leaders decided to renovate the new office, they again engaged the MEDC.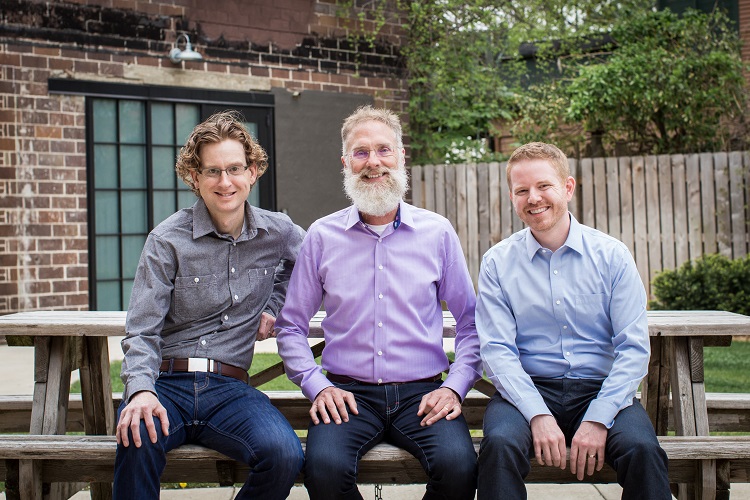 "The tech industry is incredibly competitive," said Marsiglia. "We knew if we wanted to make it to our hundredth year, we'd need to create places where bright people enjoy coming to work. Offices where people feel comfortable and safe helps build a culture of trust."
A performance-based grant from the Michigan Business Development Program helped Atomic create 25 new, well-compensated tech jobs in Grand Rapids and Ann Arbor; increase the space of its Ann Arbor location by 50 percent; and continue strategic growth across the state.
As it reached its 18th year in business, the firm enjoyed demand for their services from clients and demand for interesting jobs from graduating Computer Science students.
Then COVID-19 hit.
The outbreak thrust Atomic into the same financial uncertainty felt across the economy. Within weeks, millions of dollars in opportunities vanished from the company's sales pipeline as demand contracted and clients canceled projects. Though the company had committed to hiring six recent graduates to begin working in summer 2020, Atomic's ability to support them was in question.
That March, company leaders acted quickly to protect their employees' health and income. Atomic's workforce began working from their homes to limit exposure. The company applied for support through the federal Paycheck Protection Program (PPP) to shield its nearly 75 employees' wages and jobs.
Within weeks of receiving more than $1.3 million in PPP funds, Erickson, Marsiglia, and Crowley realized demand for services and cash on hand were stabilizing. With relief, they realized the company could meet payroll without the loan. So they decided to return the money in full.
"While there was a lot of uncertainty during that time, we realized there were other companies that needed those funds to survive the pandemic far more than we did," said Marsiglia.
Today, Atomic Object continues to expand its workforce. The company kept its commitment to the six Computer Science graduates it had offered to hire before the pandemic emerged, and it even brought on three more.
Meanwhile, as the state continues to move toward economic recovery, the company knows that Michigan will always be its home for opportunity, thanks to organizations like MEDC helping it grow and thrive.
"The foundational support MEDC provided showed us they believed in Atomic and what we set out to achieve," said Crowley. "We knew they had our backs along the way."
Every day, the MEDC commits to helping companies like Atomic Object unlock new opportunities by investing and growing their business in Michigan. To learn more about the programs and services offered by the MEDC and how businesses around the world can benefit, go to michiganbusiness.org/services.
Images featured were captured in 2019, courtesy of Atomic Object