How MEDC Can Help
Programs & Services
How MEDC Helps Michigan Businesses
MEDC offers a wide variety of resources to companies at all stages. These include funding, connections, workforce support and more.
Contact a Specialist
Michigan: Pure Opportunity
Michigan's economy thrives thanks to our bold entrepreneurs and strong communities. Add in our state's business and community resources paired with our eagerness to get to work, and you've got the recipe for Pure Opportunity. No matter what stage your business is at, the industry you're in, or your community needs, MEDC's many programs and local and regional partners have resources to help you.
Services
How Can MEDC Help You?
Not Sure Where to Start? We Can Help With That, Too.
Michigan is split into 10 Prosperity Regions, and each has a robust team of business and community development managers that live and work in your area. These guides are here to help you understand all the advantages and resources available to support your businesses and local community.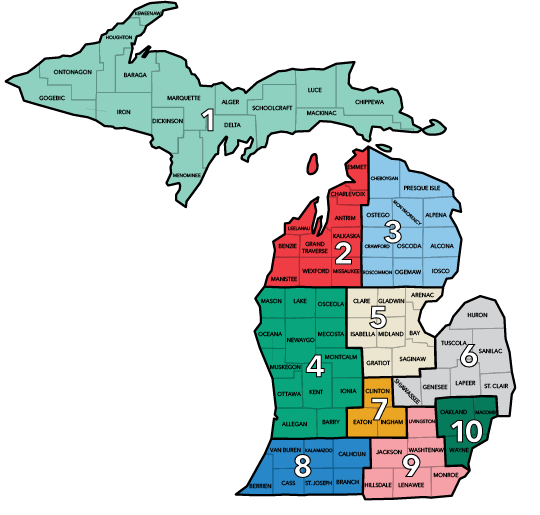 Matt McCauley, Senior Vice President, Regional Prosperity
mccauleym3@michigan.org | (517) 281-4356
Vicki Schwab, Managing Director, Region 1
schwabv@michigan.org | (906) 235-9208

Tino Breithaupt, Managing Director, Region 2 and 3
breithauptt@michigan.org | (231) 620-1565

Sarah Rainero, Managing Director, Region 4 and 8
raineros@michigan.org | (517) 242-5480

Charles Donaldson, Managing Director, Region 5 and 6
donaldsonc2@michigan.org | (810) 241-6658
Paula Holtz, Managing Director, Region 7 and 9
holtzp@michigan.org | (517) 243-5689
Nicole Black, Managing Director, Region 10
blackn@michigan.org | (248) 766-5794
Additional Resources
There are a wealth of other MEDC programs and strategic partners that you can look to for a variety of tools and resources within the state. Some include:
Michigan Cyber Range
Cyber exercises, product testing, digital forensics and professional certifications are available at five publicly accessible cyber range hubs across the state.
Michigan Defense Center (MDC)
The businesses that focus on Michigan's defense, aerospace and homeland security industries can get support from the MDC to help strengthen the safety of our state, nation and military.
Testing Centers and Tracks
Michigan offers a number of world-class, real-world connected and autonomous vehicle research and testing facilities and on-road-vehicle technology deployments. Join government, industry and academia researchers at the American Center for Mobility, Keweenaw Research Center at Michigan Technological University, GM Mobility Research Center at Kettering University, Mcity at the University of Michigan and Michigan Unmanned Aerial Systems Consortium.
Michigan State University (MSU) Extension Product Center
Entrepreneurs and businesses passionate about the food, ag and bioenergy can get customized help to develop new products and services through the MSU Product Center. Business planning, market analysis, and scientific and technical support are all available, and part of a network of university, business and government partners.
Automation Alley
Your business can embrace advanced manufacturing technologies and systems through industry, education and government partnerships with the Industry 4.0 nonprofit hub Automation Alley.
Local Economic Development Organizations (EDOs)
Local EDOs exist to support the growth of companies and the creation of jobs in their region of Michigan. EDOs offer a variety of resources including business incubators, mentoring, connections, funding, talent recruitment and more.
Pure Michigan
Tourism and quality of life are vital to Michigan's economy. MEDC's travel and tourism department, Travel Michigan, offers a variety of opportunities to share communities, small businesses and events with the millions of travelers within and beyond the state.