Outdoor economy surges in Michigan; Outdoor Recreation Industry Office's leader elected to national position
Thursday, November 10, 2022
Outdoor Recreation Industry Office moves to MEDC to strengthen efforts to attract and develop innovative outdoor recreation businesses and products, build on key investment in vibrant communities and outdoor recreation amenities in Michigan
LANSING, Mich. – The U.S. Department of Commerce's Bureau of Economic Analysis (BEA) has released economic data for 2021 exhibiting outdoor recreation's powerful and positive economic impact on the U.S. economy. The outdoor recreation economy in Michigan grew an impressive 15.4 percent from 2020 to 2021, according to the BEA Outdoor Recreation Satellite Account. This year's report shows that outdoor recreation creates $10.8 billion in value added for Michigan, and includes nearly 110,000 jobs in a wide range of occupations and skills, including design and manufacturing, retail sales, and hospitality.

This is the largest recorded measure for Michigan since the BEA started calculating the size of the outdoor recreation economy in 2012.

Michigan also continues to grow its leadership in the outdoor recreation industry with the election of Brad Garmon, Executive Director of the Michigan Outdoor Recreation Industry Office, to chair the national outdoor industry Confluence of States coalition for 2023. This national leadership position comes on the heels of the Michigan Outdoor Recreation Industry Office's move to the Michigan Economic Development Corporation to continue to strengthen the state's outdoor recreation businesses and products.

The Confluence of States is a national nonpartisan coalition of states working together with outdoor recreation industry to support four pillars identified as critical to the future of the outdoor economy: conservation and stewardship; education and workforce training; economic development; and public health and wellness. Outdoor recreation industry leaders from around the country gathered at the Outdoor Media Summit in Nevada this week to elect organizational leadership, discuss key issues affecting outdoor recreation, and strategize about the continued advancement of the outdoor economy.

"Michigan is home to some of the world's best natural resources and one of the nation's strongest outdoor recreation industries," said Governor Gretchen Whitmer. "Supporting Pure Michigan is a bipartisan priority, and I am proud that we have worked across the aisle to make the largest one-time investment in our parks and public lands ever in the Building Michigan Together Plan earlier this year. The investment will support tens of thousands of good-paying jobs and hundreds of local communities, and build on our ongoing, statewide economic development efforts to attract more businesses and opportunities to Michigan. I want to congratulate Brad for his election to this national outdoor industry coalition, where I am confident that he will bring lived experience and technical expertise to grow the national outdoor recreation industry with customary Michigan grit and innovation."

The Michigan Office of Outdoor Recreation Industry was created by Governor Whitmer in 2019. Michigan signed on to Confluence of States later that year.

"The outdoor recreation economy is a powerful, unifying force for better health, good jobs and private sector investment all across the country," Garmon said. "I'm honored to work with leaders in the Confluence of States and with our outdoor industry partners over the next year to develop and refine the range of programs and tools that our states use to enable more outdoor businesses to prosper and empower more families and communities to discover, love and support our nation's rich endowment of parks, trails, lands and waters."

Michigan has long been a key part of the national outdoor economy, not only as quality of life and tourism destination, but as a home of major national brands such as Merrell footwear, Carhartt, and Stormy Kromer. It has also been a vital piece of the industry's constant innovation, including the invention of snowboarding in Muskegon and early patents on pop-up camping tents in Ann Arbor.

Michigan's importance in supporting outdoor recreation innovation will continue to grow as outdoor recreation vehicles such as boats and off-road vehicles follow the auto sector into an electrified future.

In recognition of importance of Michigan's outdoor recreation economy, which the federal government pegs at nearly $10 billion annually, the administrative home of the Michigan Outdoor Recreation Industry Office was recently moved into the MEDC through a revised Memorandum of Understanding between MEDC and the Michigan Department of Natural Resources.

"The state of Michigan is blessed with outstanding natural resources along with critical capabilities in design, engineering and advanced manufacturing that make it a great fit for innovative outdoor recreation companies," said MEDC CEO and Michigan Strategic Fund President and Chair Quentin Messer, Jr. "We are excited to welcome the Outdoor Industry Office to MEDC to continue building on our shared goal of promoting Michigan's outdoor recreation industry, attracting talent, creating jobs, and strengthening local economies. We are grateful that we will continue to work closely with the Department of Natural Resources as Team Michigan out-hustles and out-competes for more opportunities in this sector."

As part of MEDC, the Outdoor Recreation Industry Office will continue to develop, promote, and enhance targeted sector support for Michigan's outdoor recreation industry, which includes the natural assets, outdoor businesses and healthy lifestyles supported by outdoor gear design, testing and manufacturing, outdoor retail trade and wholesale, and access and enjoyment of the outdoors.

Under the revised MOU, MEDC and the DNR will continue to collaborate on strategies, programs and policies that will grow outdoor recreation business growth and success, expand and support outdoor participation, and undertake talent development recruitment that support Michigan's economy. MEDC will also support Michigan's outdoor lifestyle industry through its various programs as well as research, marketing, and communications initiatives. The DNR will assist with educating and empowering Michigan residents and visitors on the importance of a healthy environment, outdoor recreation and a vibrant economy.

"Brad Garmon's election as chair of the Confluence of States recognizes his national leadership role in outdoor recreation and the centrality of our state's natural resources to Michigan, both as an economic driver and as a way of life," said DNR Director Dan Eichinger. "We are excited to continue this work with Brad and the Michigan Outdoor Recreation Industry Office through our ongoing partnership with the MEDC."

"Michigan's visibility nationally is growing and we have made the outdoor economy a regional focus industry for the state that will help us continue to create economic opportunity in our communities," said Crystal Mountain President Chris MacInnes, who serves on both the MEDC Executive Committee and as a co-chair of the Michigan Outdoor Recreation Advisory Council, which will continue to advise the office in its new home. "With MEDC's economic and community development programs, as well as the hugely successful Pure Michigan campaign, this puts us in a strong position to grow and diversify the outdoor recreation economy and provide more well-paying jobs in Michigan."

Confluence of States
The Confluence of States Accords were developed in 2018 to promote and advance best practices for all states to sustainably grow their outdoor recreation economies. Visit their website for more information.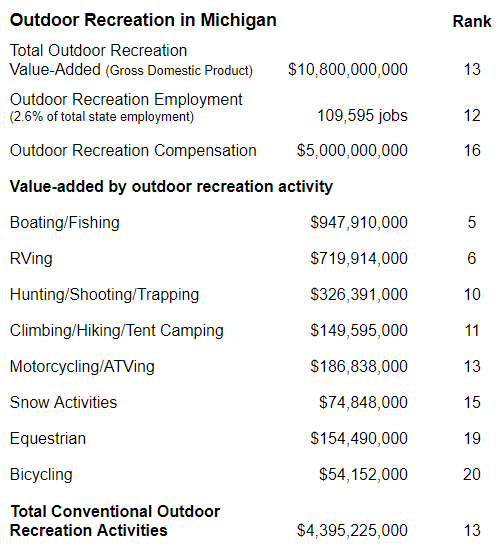 Michigan offers more than 8 million acres of publicly accessible lands, 12,000 miles of state-designated trails, and enviable Great Lakes, rivers and streams. These resources provide nearly endless opportunities to get outdoors and enjoy nature, and also provide a rich opportunity to research, test and design the gear, accessories and vehicles that get people outdoors.

Learn more about Michigan's Office of Outdoor Recreation Industry here.
About Michigan Economic Development Corporation (MEDC)