Nyshell Lawrence of Socialight Society
Nyshell Lawrence is capturing the attention of book lovers – including Oprah – with Socialight Society, a shop celebrating Black women and literature
Born and raised in Lansing, Nyshell Lawrence grew up with a love of reading and writing. It's a passion she has continued to cultivate and nurture as an author, poet and creative entrepreneur – not to mention, as the mother of four girls.
In 2021, Nyshell founded Socialight Society, a part-concept shop and part-creative space celebrating Black women. The shop curates classic, contemporary and children's books predominately from Black women authors, providing a space for representation not typically found in traditional bookstores. In just two years, Nyshell's passion has gained a strong following in the Lansing community and captured the attention of key figures in the book scene, including Oprah's Book Club.
Often rocking her signature color green, Nyshell is bringing creativity, joy and new life to Mid-Michigan's book scene from her welcoming Lansing Mall space.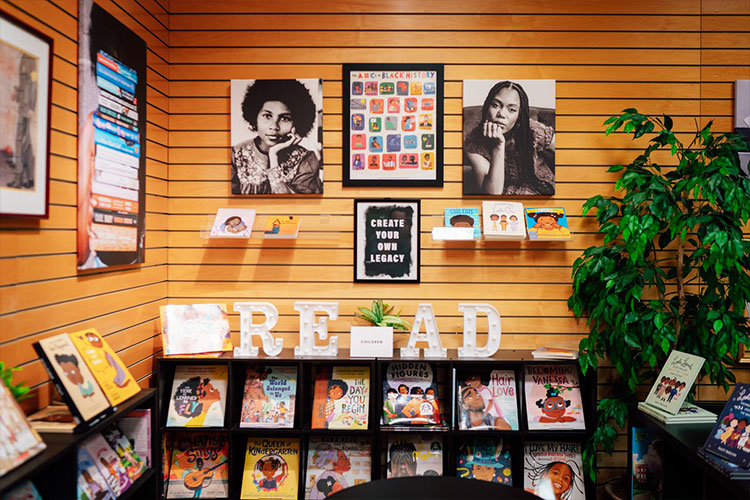 "I'm a native of Lansing. I grew up here, went to the Lansing School District and graduated from Sexton High School. Lansing has always been my home. It's been a great place to raise my children and to start my family, and so absolutely when it came to time to decide on where to have a business, Lansing was the place.
I have always loved reading or writing. Growing up, I wrote poetry, and books have always been a thing. My husband had this great idea: 'We're going on a date, we're going out to dinner, let's stop at the bookstore beforehand.' So, I had researched these books that I wanted to pick out. I figured I'd buy them in person this time instead of online. And we walked into this huge bookstore, and I went to the section that was labeled Women of Color. And it was obvious that a woman of color had not been consulted for that section. It didn't bring me any joy. I left very disappointed.
He and I just spent the rest of the evening talking about how I could create a space that would help to celebrate Black women and Black literature. Oftentimes, when we walk into spaces, we are considered the minority, if you will. And I imagined what it would be like to, for once, be the majority when we walked in somewhere.
It's something that I thought I would do much later in life when my children were older and able to care for themselves more, and I imagined I would be this cute little old lady sitting behind the counter of my bookstore. But some things opened up here in Lansing.
I was a part of the first Lansing Built to Last competition, where I initially pitched the idea. Although we did not win that, we came in the top five and the community really rallied behind the idea. People kept saying, 'well, when's it gonna happen?' And I figured this is something that we need now, sooner than later.
We started out with the book club online. After that, we started doing pop-ups at various events around Lansing. Then I had the opportunity to share space with another Lansing business. Unfortunately, after being there for a few weeks, I found out that that business would be closing. But that's how we ended up pivoting and making our transition to the Lansing Mall space.
It means absolutely everything to have daughters that can look and say, 'well, mom had this dream, and she went out and did it.' And I hope that from it they can see no matter what it is that they imagined – that they want to do, that they want to achieve, that they want to create – they won't be afraid to get out there and try.
My youngest daughter, she spends the most time here out of all of them. And to know that she's five and how close she is to the inventory, and she can tell whenever a new book comes in and will go somewhere else. It's just like, 'oh mom, you have that book at the store.' Knowing that she's paying attention and she's getting little nuggets and she's learning things, right now it just seems like a great place for her to come in and to play. But I know that as she grows up, this is going to have a lasting impact on her.
I think the biggest barrier was believing that I could do it and just going out and getting it done right. Once I was brave enough to put the idea out, the community really rallied behind it. From of course asking, 'when's the grand opening?' before I even had an idea there was going to be a grand opening, to chipping in when it was time for crowdfunding.
The Lansing community has wanted this space to be here. Once I'd made up my mind that this was doable, and this was something that I was capable of tackling, I wouldn't say that it's been smooth sailing, but the obstacles have been easy to overcome knowing that I have a supportive community. The support has been unreal. To know that anyone can come up with an idea and that people will get behind that and they'll back it not just with their words, but also financially.
"As a small business owner in Lansing, I do my absolute best to make a positive impact in the community."
We try to be involved as much as possible, whether that's attending different events or collecting books and donating them to local children and things of that nature.
Knowing that our community backs us in all those endeavors, we don't have to try to pull that weight alone. Just as excited as I am to be able to support other causes and to support other businesses in the Lansing community, knowing that there are folks willing to do the same thing for Socialight Society is great.
We are very big on creating space for authors and artists, and especially if we can find someone that is local, whether to Lansing or to Michigan in general. We receive lots of inquiries of local authors that would like to have their book on the shelf, and typically we offer to do a signing here in the store, which is always a great event. And then we feature their books on the shelves. We've had things range from a children's book about girls for medicine on up to poetry collections from local artists.
I say all the time that I've been a lot of women over the course of my life, and somehow, they all come together to create what Socialight Society is. Whether it's hosting a creative event, or how I do all of our branding and marketing because that's part of my background, I'm able to take all of my creative outlets and put them together to make this space and make this brand what it is.
I received a direct message on Instagram from someone from Oprah's Book Club. There were a couple pictures that they had found on our feed, and they wanted to know if they could repost them. 'Yes, of course you can!' It became real though when I received an email and I saw that the end of their email had part of Oprah's name in there. And I said, 'Oh, this is legit.' One of our customers has coined us as Oprah's Favorite Bookstore, and so we're believing that to be true."