Javier Fortoso of Torti Taco
Javier Fortoso followed his heart to Michigan — and found a love for craft tacos that became his passion
Javier Fortoso, owner of Torti Taco, has been serving up authentic Mexican cuisine in Battle Creek since February 2016. From its award-winning tacos – besting the competition in the 2018 Taco Showdown Competition in Detroit – to a robust salsa bar, Javier's restaurant has been a welcome addition to the downtown, adding a layer of culture and enriching the welcoming feeling within the heart of Battle Creek.
While Torti Taco's offerings come from special family recipes, blending the flavors of Cuernavaca, Mexico and San Diego, California, Javier's journey to becoming a restaurant owner in Battle Creek wasn't something he could have imagined.
Turns out, all you need is love – and tacos – to make a dream come true.
What brought you to Battle Creek?
I was actually born in New York and moved to Mexico when I was young. I lived there until I was 16, then moved to San Diego which is where I learned English and worked as a painter. I met my girlfriend Yanira there (now my fiancé), who is a teacher in the Battle Creek school system. I moved here in 1994 to be with her and painted houses in the area before opening Torti Taco. I have three children – a daughter who lives in San Diego and two sons who both work for the restaurants.
What led you to transition from painting to opening a taco restaurant?
I got tired of painting houses and knew I always wanted to own a taco shop. Torti Taco started as a small, family-owned restaurant in 2016 in a Battle Creek strip mall featuring authentic Mexican food that is made from scratch using fresh ingredients, also offering a unique concept of a salsa bar. In 2018, I was talked into taking part in a taco competition in 2018 at the Eastern Market. Not only was ours the only non-Detroit restaurant to take part, but we also won first place. Several months later, we took part in a taco showdown in Kalamazoo and won first place in that, too.
How did you end up opening the second location, Torti Taco Bar & Grill?
In 2019, the local economic development organization Battle Creek Unlimited (BCU) sought proposals for downtown restaurants in Battle Creek. We proposed the Torti Taco Bar & Grill and won a grant. We moved into an existing building that previously housed a sandwich shop, and the restaurant opened in February 2022.
In 2021, we received a $25,000 grant from BCU through MEDC's Match on Main program that assisted the restaurant in opening the second location in the heart of downtown Battle Creek.
This funding really came at a crucial time. Everyone thinks it's easy to start a business, but it's not easy at all. The lack of capital is a major factor, and this grant helped us get the second location going.
We have gotten so much support from the community and our customers. We are so grateful, we love being part of the community and by expanding to downtown with outdoor seating, adding cocktails, and being part of the new State Street Commons Social District, we're attracting new customers all the time.
What sets your restaurant apart?
Well, we have a unique concept of two bars: a cocktail bar and a fusion oyster/sushi bar. My cousin, who we affectionately call "Chef Tio," was a sushi chef in Seattle for years. He joined the business and has brought his creativity to the restaurant. The oyster bar offers a variety of ceviche and Mexican-style sushi, sushi tartare, and shrimp cocktail, as well as craft cocktails.
We participate in many local activities such as Cinco de Mayo celebrations and Día de Los Muertos events. And we are big believers in giving back to the community. During the COVID-19 pandemic, we provided meals to the local schools and bands. We have also collaborated with Voces, a Battle Creek area Hispanic support group.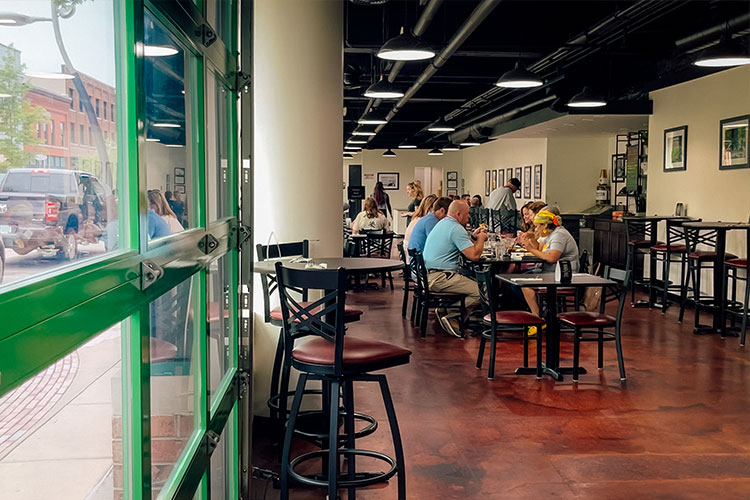 Have you faced any roadblocks for growth?
Our biggest challenge right now is that there's not enough foot traffic in downtown Battle Creek, but the city is working on new projects for downtown Battle Creek including bringing New Holland Brewery to the downtown, and we hope that will help fill the downtown buildings with new tenants. Our main goal is to keep working hard and keep expanding the business.

What do you see in the future for Torti Taco?

Torti Taco isn't afraid to experiment and pivot to meet the needs of our customers or to flex with the market shifts. We understand the need and value to collaborate with fellow restaurateurs, merchants, community groups and local boards and commissions to achieve shared goals for increased vibrancy and investment downtown. Our relentless enthusiasm is contagious, and our food is delicious. Last year was a launching year for Torti Taco Bar and Grill, and 2023 will be a growth year. We look forward to expanded capacity to serve outside, more fiestas, and for the rest of Battle Creek and SW Michigan to discover them.