Cliff Cameron of KM International
Cliff Cameron has always had a vision for the road ahead; taking KM International from a small business in a pole barn to industry hall of fame.
A lifelong Michigander, Cliff grew up in Leonard, Michigan before joining the United States Air Force in 1981, serving for over 20 years – 22 years, one month and one day, to be exact. While in the service, Cliff kept in touch with childhood friends Greg Keizer and Carl Morris, who started a small business specializing in asphalt repair. When he returned to Michigan in 2003, he began working at Keizer-Morris Inc. as a salesman.
Nearly 40 years later, the small business that began in a pole barn in Leonard has grown into KM International, with the asphalt maintenance equipment manufacturer moving to a facility in North Branch and increasing its sales from $750,000 in 2003 to more than $20 million today.
As president of KM International, Cliff is focused on building the future of his company and community, from hiring and training employees to expanding its product line and reach – to that end, KM International has sold its asphalt hotbox machines in 48 different countries and all 50 states.
Cliff himself has also received accolades: in 2020, he was named to Pavement Magazine's Hall of Fame, celebrating his decades of dedication to the industry.

What first got you interested in this industry?
A couple of friends and I stared started making odds and ends in a two-car garage and eventually got into asphalt maintenance service work. We recognized fairly quickly that the equipment available at the time was lacking any real innovation or practicality, so we decided to make our own. I left the company to join the USAF and when I returned the company had grown over the years and they were looking for a salesman, so I came back onboard in that aspect. I recognized pretty early on that the asphalt industry, specifically asphalt maintenance, we really in its infancy so there was room for substantial growth.
From a pole barn to the facility in North Branch, KM International has experienced growth in size, staffing and global reach for its products. Can you talk about the company's beginnings and trajectory in the years since?
Like any business the infancy and growth were always a struggle. When I returned to Keizer-Morris in June 2003, it was very hard to build the organization due to the lack of cash flow and budgets. We never had the extra money that it takes to run a great marketing campaign. But slowly with focus I finally got a budget, and we kept reinvesting in the processes that worked and fortunately we were quick to recognize and abandon those that did not. In 2003, I was basically the only salesman on staff. At that time, I was an employee but as I grew, I would always tell the owners along the way, 'you may own the company, but this is my company.' Eventually the opportunity came for me to become a principal. From the start in 2003 at about $750,000 gross to now over 600 units and $20 million, we continue to focus on growth through distribution and our employees. We built our current location in 2007 with expansions in 2014 and 2021. Our visions lead us to a recent purchase of three buildings and six acres around the corner. We will operate with our partners on a sand blasting operation and powder coating along with bringing more manufacturing capability and new jobs to the community.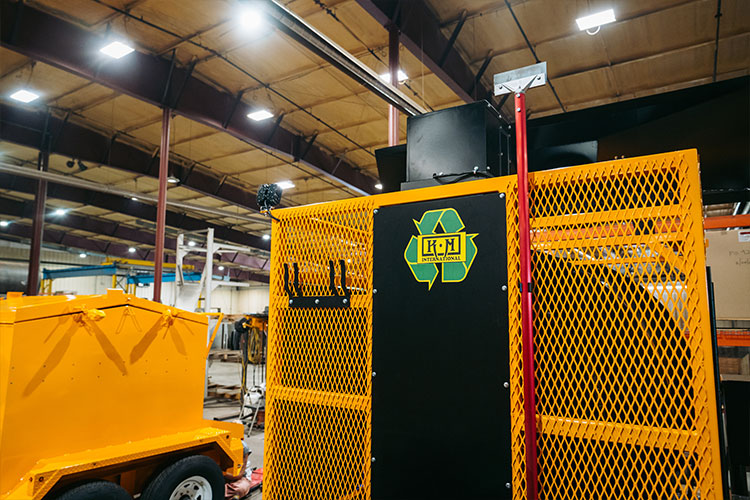 KMI hires unskilled workers and trains them on the job. How does this help elevate your local community while supporting the growth of your business?
We believe that it is our responsibility as business owners, along with other community leaders, to retain and grow the community's workforce by offering well-paying job opportunities with room for future advancement within the company. KM International works with local vocational schools through co-op programs to give opportunities to local students to practice their trades in a real-world business environment with the hopes that when they graduate, they will become a full-time employee. We are willing to train on the job and encourage all employees to be cross trained across different jobs within the facility.
What qualities set Lapeer County apart from the rest of the state?
Lapeer County is big enough to have everything we need, but small enough to not get lost in the mutter of everyday hustle. North Branch and the people embraced us, and we continue to strengthen our relationships to put North Branch on the map while maintaining our small-town appeal. Lapeer County and North Branch are evolving. We are growing in the right direction. We as Michiganders must keep Michigan strong, put "Michigan First" and continue to find solutions to make Michigan the best place to live.