Clay McAndrews of Bright Walls
As a lifelong Michigander from Jackson, Clay McAndrews made his community more colorful with the Bright Walls Mural Festival
Before getting married, Jackson native Clay McAndrews and his then-girlfriend Leslie enjoyed traveling to different cities across the United States. One of their favorite activities was finding colorful murals that could serve as backdrops for their photos together. "This created lots of great memories for us, and it was fun to look forward to new towns to explore," Clay said.
When Clay knew he wanted to propose to Leslie in September 2017, he couldn't think of a better way than to do it than in front of a mural. He planned a trip to Boston and proposed in front of a mural that said, "LOVE."
Several months later, the couple was sitting in a Jackson Young Professionals organization meeting – Clay was the marketing chair and Leslie was the president – when Clay shared how it would be great to have a mural in Jackson for people to come visit and take photos in front of, like how he and Leslie created memories in other cities.
That bright idea went from one mural into a festival of more than a dozen murals; the Bright Walls Mural Festival was born.
"Bright Walls is a passion project for me and all my team members. We all live and/or work in Jackson and knew this event would make a positive and lasting impact on our community. Our first year was a tremendous success, but it took tons of work from everyone on our team. And it's important to note, none of our team members make any money hosting Bright Walls. We are all volunteers and have full-time jobs."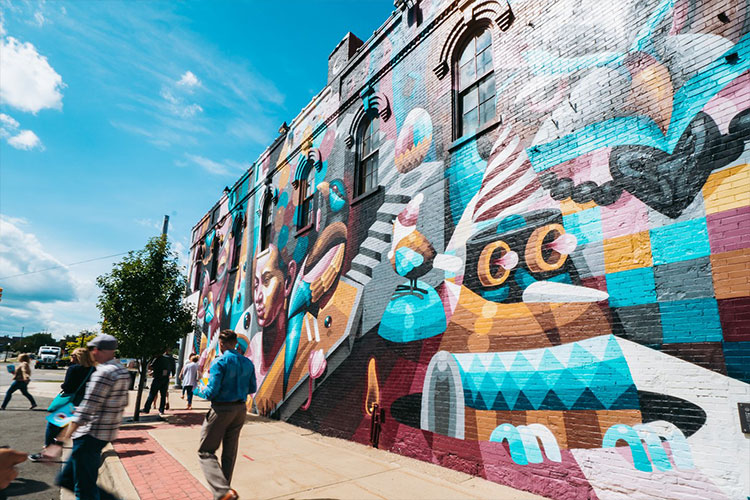 Planning for the inaugural Bright Walls Mural Festival began in January 2018. The biggest barriers Clay and his team had to overcome related to the murals themselves. Since a mural festival had never been done before in Jackson, the community didn't understand how it would work. Clay's team of volunteers poured hundreds of hours into meeting with building owners, businesses, city officials, sponsors and more to ensure all pieces of the festival would align.
Then the team had to scout and recruit artists to come paint. "The first year was difficult because we didn't have any successes to show artists," Clay said. "And most mural festival artists will choose to paint in a city based on the roster of other artists booked."
That's when Clay thought back on his proposal to Leslie in front of the LOVE mural in Boston. He reached out to the artist, Cey Adams, who he soon learned was known as "The Godfather of Street Art." Adams was the creative director for Def Jam Records and designed dozens of the best rap album covers, including ones from Jay-Z, Notorious B.I.G., Mary J. Blige, Beastie Boys and Public Enemy.
"He was honored to come paint in Jackson our first year, and his status helped us recruit several other key artists to come paint."
Firmly believing you get one shot to make a good first impression with new events, Clay knew the first year of Bright Walls had to be a home run. The festival kicked off in October 2018, with 14 featured mural artists from around the world and six days of free activities for the community, showcasing the artists' talents as they painted giant works of art alongside local artists, businesses and musicians. He says it was a huge success, and from the first year the momentum grew.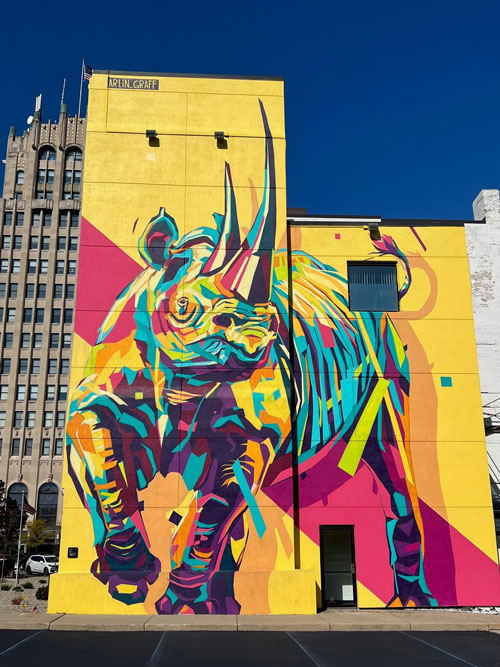 The Bright Walls team knew they wanted to do the festival again, utilizing another block in downtown Jackson. But to make the event bigger and better, they had to increase their budget to match. To help Bright Walls reach its goal of $320,000, the Michigan Economic Development Corporation's (MEDC) Public Spaces Community Places program partnered with Patronicity for a matching grant. If the public raised $50,000, the MEDC would match that donation.
The support from the MEDC and other sponsors helped make the second festival, held in September 2019, an even bigger success. Bright Walls more than doubled their attendance, bringing in about 32,000 visitors to downtown compared to the estimated 12,000-14,000 in 2018.
While Clay and his team planned for the festival to end after three years in 2020, the pandemic sidetracked its finale. The event was pushed to 2021, but ongoing international travel restrictions made planning difficult. In 2022, the Bright Walls team hosted its final festival – Clay says it was "a true grand finale."
Throughout the years of the festival, Clay and the Bright Walls team focused on curating a diverse artist roster. The 75 murals on buildings throughout downtown Jackson were painted by artists from countries across the globe, including Australia, Belarus, Brazil, Canada, England, France, Greece, Italy, Mexico, The Netherlands, Puerto Rico, South Africa, and the United States. Artists from around the U.S. represent California, Colorado, Florida, Indiana, New York, Oregon, Pennsylvania, South Carolina, Texas and, of course, Michigan. Featured Michigan artists traveled to Jackson from Detroit, Fennville, Flint, Grand Rapids, Jackson, Lansing, Oak Park and South Haven.
"I've always felt Michiganders are proud of our state, and even more proud of their individual communities."
Clay says the festival was a transformational event that all ages could enjoy.
"I think part of our success is the uniqueness of a mural festival in Jackson. While mural festivals have been done before in larger cities across the globe, there has never been one in our community. Our community members saw the positive impact the mural festival had on Jackson, and it grew more support each year."
And even though the festival itself is over, Clay has seen first-hand how the murals will continue to make a positive and lasting impact on Jackson for the years to come.
"There have been countless instances where I've met someone who has never been to Jackson but decided to take a trip here specifically to see the murals," Clay said. "And, while they were here, ate at our local restaurants and shopped in our downtown stores. The murals are boosting the economy of Jackson by drawing in new tourism. As a member of the community, I'm extremely proud to know the murals are not only making our city brighter and more colorful, but it's helping local businesses, too."
He also says there have even been a few instances where he's met someone who chose to relocate to Jackson because they came for the murals but fell in love with the other things Jackson has to offer. "For me, that's a huge win."
So, what's next for Clay? Enjoying parenthood – and relishing the lasting impact of Bright Walls in his community.
"As for 'what's next?' I am focusing on being a dad of two kids. Among my team members, there have been 12 kids born since the first Bright Walls Mural Festival. We have a lot less free time than we did five years ago!"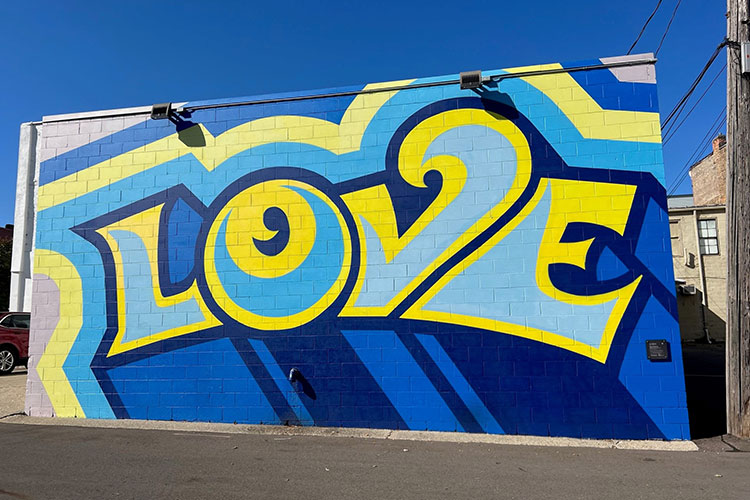 Clay is often asked about his favorite mural. He says there are two of them.
"They are my favorite because they have the most meaning to me. Both murals were from our first festival in 2018. One mural is flowers painted by the Detroit artist, Ouizi. It was our very first 'preview' mural for Bright Walls. And it also served as the backdrop for our wedding photos. We have become good friends with Louise (Ouizi), too. The second one is the 'LOVE' mural by Cey Adams. This is because it was the same artist who painted the Boston mural I proposed to my wife in front of and now we have our own 'LOVE' mural in Jackson. It brings our whole story full circle."