Brandee Cooke-Brown of 100K Ideas
Brandee Cooke-Brown knows the power of a good idea. As Executive Director of 100K Ideas, a Flint-based non-profit that helps to promote entrepreneurism, she works each day to uplift aspiring business owners in the Flint community
Brandee joined the organization as a project manager shortly after it launched in 2016; since then, she has taken the helm and launched new initiatives to further engage and expand its reach into Flint's neighborhoods.
With support from the Michigan Economic Development Corporation and other organizations including the Ruth Mott Foundation and the Community Foundation of Greater Flint, 100K Ideas is providing Flint residents with the opportunity to grow their kernel of an idea into a business success story.
A proud and native Michigander, Brandee was recognized in Flint & Genesee Group's 40 Under 40 in 2022; thanks to her drive, the sky's the limit for Brandee – and the innovators of Flint.
Can you share your experiences growing up in the state – and Lansing area in particular – and what led you to want to pursue your education and future in Michigan?
Lansing is where I will always consider home. I definitely took for granted that I grew up in the state's capital city, but in reflection it really helped influence my love for the state. Between the parks, the library, and being able to visit the Capitol, these were awesome experiences. While I decided to go to U-M to get a little distance from my hometown, Lansing is what convinced me to stay after college. I got a position supporting students at my high school alma mater and really got to experience Lansing in a completely new way. This is also when I began traveling across the state and seeing how amazing it was, so Michigan became the only place I truly saw myself building a life.
What was your journey to joining 100K Ideas and what led to you becoming its Executive Director?
I joined 100K Ideas in December 2017. Previously, I was working at a consulting firm in the Lansing area. I was not interested in looking for a new position, but everything seemed to align, and I made the leap to start working for the organization. 100K Ideas is built on the premise that everyone has or has had an idea for business, but many lack access to resources or opportunities for pursuing these ideas. Instead, starting a business seems to only be for certain people and that is absolutely not the case. We were created to remove these barriers and provide equitable access to entrepreneurship for Flint residents. This is accomplished through direct client services, workshop programming, pitch competitions, youth engagement and much more.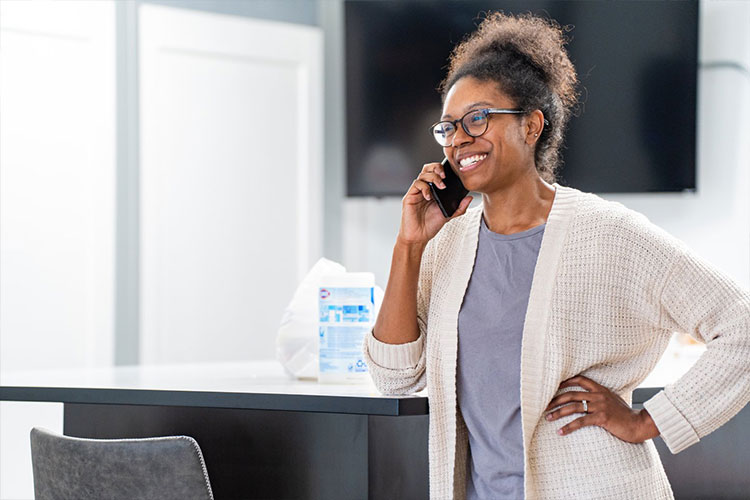 When I initially joined 100K Ideas, I came on as the Senior Project Manager to support the clients coming through the process and to also ensure our processes made sense. Eventually I was promoted to Director of Community Engagement. I showed a knack for engaging with the community and developing partnerships. When leadership changed at the organization, I was presented with the opportunity to step into the leadership role and, while a little nervous, I accepted. I was officially named Executive Director in 2020.
How is 100K Ideas supporting the entrepreneurial ecosystem and innovative spirit that lies in Michigan?
100K Ideas strives to be the starting point for any entrepreneur, regardless of their background. There are many amazing resources in our ecosystem, but not many start at the "idea" stage. We have become a place where someone can walk in with an idea and receive support. Michigan has a long history of innovation, and we are proud to be an organization that encourages and helps facilitate this spirit that is innate in so many Michigan residents.
In your TEDxDetroit talk, you told the story of getting called out for not having enough awareness and presence in Flint's surrounding neighborhoods. What did you learn during that process of pivoting and refocusing efforts, and how did that experience propel you and 100K Ideas forward?
The primary thing I learned is that you can have great intentions, but that intention does not matter if people feel left out or forgotten. Flint is a unique community and has been through a lot. It was 100% necessary for us to take a step back, humble ourselves and really listen to what the community was telling us. Residents feel there were barriers to accessing our resources and support downtown. The solution was not to open our doors wider in the same location, but instead meet them where they are comfortable, and those barriers didn't exist. We pretty much had to go through our own process of learning from our experiences to move forward. This meant listening to feedback and implementing program changes to address the mission we set out to accomplish.
Honestly, I don't know if we would be where we are today if we had not gone through that process. It really helped us understand our deficits as an organization. It also provided us a way to also relate to our clients and their respective journeys.
Are there some standout ideas, projects or products that have come through 100K Ideas and really inspired you?
There are so many! A couple that standout are My Bees Nest and Elle Jae Essentials. They both are local businesses that were created out of a gap they saw in the market. They have taken what they have learned from 100K Ideas and other resources to really move their businesses forward. They also are never satisfied with where they are and continue to innovate in their space. I am lucky to know them and see how they have grown in a few short years.
What does it mean to you to be providing this service and resource to the people of Flint and surrounding areas?
It really means a lot. Before working at 100K Ideas, I visited Flint regularly because this is my husband's hometown. I fell in love with the city and community. When we finally moved here, it immediately felt like home. To be able to give back to your "home" is something not everyone gets to experience, and I am very grateful I do. I have seen the growth of this community in the 10+ years I have experienced it and to know 100K Ideas is contributing to that is a great feeling.
I truly believe Michigan is one of a kind. Choosing to stay here is one of the best decisions I have made.
How do you think Michigan – its people, resources, partners – makes this kind of work possible?
Even though the state is large, the ability to connect with people working in the same space actually makes it feel small. Across the state, we all share the same vision of a better economic future and the hope that people choose Michigan to experience that future. Entrepreneurship and small business are a crucial way this is achieved. People are excited to pursue their ideas and launch their businesses, the support resources and organizations are excited to support them, and partners at all levels see the value in these businesses establishing in Michigan. For me, I see that people genuinely care and I believe that is reflected in the success of innovators and entrepreneurs in the state.
What makes you proud to be a Michigander?
So much! A lot of my personal and professional life is rooted in being a Michigander that it is honestly part of my identity at this point. I appreciate the state-wide environment that has allowed 100K Ideas to thrive and as a professional, feel as though the sky's the limit in what I am able to accomplish. On the personal side, I am glad it is the place where my children are growing up. They can experience beaches and snow; they have access to amazing museums and outdoor activities. The possibilities for them are also limitless, which is one of the most important things you look for in the place you call home.
Listen here to Brandee Cooke-Brown's episode of The Michigan Opportunity podcast with host Ed Clemente.