Brad King of Orbion Space Technology
Brad King, founder of Orbion Space Technology, shares how he became one of the U.P.'s leading rocket scientists
From a young age, Dr. Brad King has been sure of two things: he loved living in the Upper Peninsula, and he loved rocket science. Fortunately King, 52 , has been able to engineer a life that combines both. As the founder of Orbion Space Technology and a lifelong resident of the U.P., King credits his home state of Michigan for providing the right ingredients to carve out the life of his dreams.
Born and raised in historic Calumet, King's lifelong fascination with aerospace led him to the University of Michigan, where he graduated in 1993 with a bachelor's degree in aerospace engineering. After earning his Master of Science and then a PhD. in 1998, also from U-M and all in "rocket science," King won a postdoctoral fellowship from the National Research Council at the National Institute of Standards and Technology (NIST) in Boulder, Colorado. While there, he studied laser-cooled trapped ions for plasma physics, time and frequency standards, and quantum computing.
During his entire time in graduate school and in Boulder, King's heart remained in the Upper Peninsula. "Kind of what I noticed, even when I had time off, I was coming back to Michigan, back to the U.P. At Christmas, I'd come back to the U.P. Fourth of July, back to the U.P. If I could take a Friday to Monday off, I went back to the U.P. It became apparent that that's where I wanted to live.
"You can either look at a place you want to live and then go, 'aw shucks, they don't have any jobs I want to do,' and then end up living someplace you hate," King said. "Or the way around that is to create the job you want to do in the place you want to live, if it's not already there."
With that realization, the challenge for King became how to combine his love of aerospace and his desire to live in his beloved Upper Peninsula. Upon completion of his fellowship, he returned to Houghton and convinced Michigan Technological University that it should begin space propulsion research. He was hired on in 2000 as a faculty member and was empowered to start a research program in his field of choice. That led to the development of a research program focused on advanced space propulsion technologies, including Hall-effect plasma thrusters and electrospray propulsion (he remains a tenured professor at MTU where he continues to share his love of space and inspire future generations of rocket scientists to this day).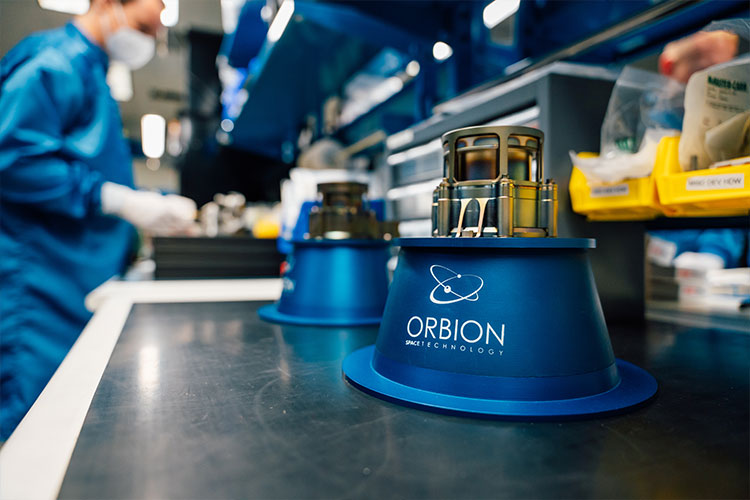 King also has an entrepreneurial streak and through his research at MTU, formed Orbion Space Technology in 2016 with partner Jason Sommerville. They founded the company in response to a demand they could see coming in four or five years for the very specialty thrusters they had become experts in.
However, King faced a couple of barriers – for starters, he didn't know how to take a company from the idea stage to the point where it was a part of the space revolution.
"I didn't know how to found a company and grow it the way it needed to, so I reached out to mentors and resources, and the Michigan Tech Enterprise Corporation SmartZone was right here and willing to take me under their wing," King said. "This also involved mentorship from statewide organizations like the Michigan Economic Development Corporation, who were instrumental in teaching me how to grow a company."
Funded by the MEDC, the MTEC SmartZone provided Orbion a wealth of business development support and resources to help the business build a foundation. With that mentorship and the support of MEDC, King tapped into Michigan's robust entrepreneurial ecosystem, identifying and venture creation programs and other opportunities.
Armed with $500,000 in grants from a variety of resources, along with several million dollars in seed capital, Orbion Technology launched a prototype and bring it the commercial market. Several rounds of venture capital later, the company now has a manufacturing factory in Houghton where they're building the plasma thruster system, dubbed Aurora, that is now available at a price within reach of commercial satellite companies and will begin shipping in early 2023.
The satellites are used for a variety of purposes by both commercial and government customers. Companies that send satellites into space via a rocket will use Orbion thrusters to send a satellite to its final destination in space, where it can maneuver and make corrections. At the end of the satellite's mission, the thruster helps the satellite come down safely and in a controlled fashion, burning up in the atmosphere without leaving debris behind. Many of these satellites are used for earth observation, such as allowing companies to map the entire surface of the earth, capturing traffic issues, train traffic, and the like. Communication is another purpose – for example, the SpaceX Starlink Constellation, which provides WiFi from space, uses similar satellites.
In the future, Orbion plans to grow its factory to meet demand for its satellites, and is also working on variants of its product that fit different market segments.
"Sometimes people ask me, 'Why did you found a rocket company in the Upper Peninsula of Michigan?' And I tell them the U.P. is as close to space as anywhere on the planet."
"Space has completely changed and it's all about manufacturing now. Satellites are just vehicles, and the industry is demanding mass production of these vehicles," King said. "And that's what Michigan does – Michigan is set up to do mass production of vehicles. So really, all of the manufacturing infrastructure, the technical know-how is right here in the state. We just need to map this on this new class of vehicles which don't drive on the surface of the earth, they fly around above it."
To that end, King says when he set up Orbion's manufacturing team, he intentionally didn't populate that team with people who had experience in aerospace manufacturing. Instead, the team is made up of folks with experience in the automotive sector and in medical tech, industries that have a storied legacy of innovation in Michigan. These industries have, for decades, known how to build lots of things, keep the quality high, and keep the costs reasonable. King says his team is teaching the industry how to build space technology.
Since his early days with Orbion, he has also learned that venture capital is no longer confined to the ZIP codes around Silicon Valley. There's a large venture capital community in Michigan that's interested in making local investments, King says. At the same time, the venture capital investors from the traditional areas – the Boston and Silicon Valley investors – are very interested in making investments in Michigan.
"The interest in Michigan is multi-fold. The obvious is that we have great companies built on great ideas, like Orbion. At the end of the day, venture capital investors are really looking for the technology, market size, products and management that will bring them a healthy return. Orbion checks all of these boxes," said MEDC Sr. Vice President of Entrepreneurship and Innovation Fred Molnar. "Orbion has developed a fantastic product and become extremely attractive to venture capital investors. We are proud multiple touch points in the Michigan startup tech ecosystem have helped Orbion in its earliest phases obtain todays success. MEDC supported entities and programs include the local MTEC SmartZone, the SBDC Tech Team and various MSF funded programs administered through the MEDC Entrepreneurship and Innovation team. The MEDC stands ready to assist Orbion as they enter the growth phase of delivering product to their customers. Orbion is doing what Michigan does best, advanced manufacturing at its finest level."
In fact, for every dollar Orbion has taken in from Michigan investment, they've brought in $7 in from the coasts, according to King.
"So the mentality is here, the management expertise is here, the technical expertise is here. Crucial with that is we need access to research universities, and Michigan has those in spades. We've got excellent research universities right here," King said. "We've got access to the talent, we've got access to the intellectual capital, and now we have access to the financial capital.
"Why Michigan? The honest answer is, this is where I want to be and this is where I love. The things I enjoy are – not surprisingly – things Michigan is famous for: Water, four seasons, rural areas," King said. "But also, all the necessary ingredients are right here in Michigan. Customers want the best product and globalization has leveled the playing field. So why go live somewhere with a lower quality of life and higher cost of living, when you can get all of those benefits while living on the shore of Lake Superior?"
Why indeed? From his humble beginnings as a Calumet born-and-raised kid with an aerospace fascination to full-fledged rocket scientist, King has demonstrated that in Michigan, you can build a life you love – the ingredients are all right here.