Bill Thompson of Michigan Ice Fest
As an event organizer for the annual ice climbing festival, Thompson draws climbers and legends from across the nation and around the world to Munising in Michigan's Upper Peninsula
Michigan's Upper Peninsula is an adventure lovers' paradise that attracts outdoor enthusiasts year-round. But in mid-February, almost 1,400 people from around the world venture to Munising in the U.P. during the chilliest time of the year to take part in the annual Michigan Ice Fest. In 2023, climbers from seven countries and every state in the U.S. participated, according to organizer and co-owner of Down Wind Sports, Bill Thompson.
Thompson grew up in Flushing, Michigan with a love for the outdoors, but learned about the recreational possibilities and splendors of the U.P. when he arrived in Marquette to attend Northern Michigan University – there, he completed an undergraduate and master's degree in outdoor recreation.
Although the Michigan Ice Fest is now the country's second-largest gathering of ice climbers, it had a modest beginning. In 1990, four friends from Kalamazoo discovered the area through snowmobilers. They saw pictures of the ice and planned a trip. After the first year, they advertised to anyone who wanted to go ice climbing, and a college buddy and Thompson showed up. More than 30 years later, thanks in large part to the passion of its organizer, the ice climbing festival has evolved into the marquee event it is today.
Thompson credits the growth of the festival to renowned athlete Conrad Anker, who has climbed in Antarctica and summited Mt. Everest. Anker came to the festival in 2013 to film an IMAX movie for the National Park Service. Thompson says the weather was brutally cold and beautiful, and Anker fell in love with the area. Anker told his two million Instagram followers that the area offered the best ice climbing in North America that nobody has ever heard of.
"One of the unique things about ice climbing in Michigan is we have something nobody else has, and that's Lake Superior," Thompson said. "The numerous waterfalls that make up Pictured Rocks really make the area a unique place for ice climbing. Climbing over open water is something you can't do anywhere else in the world. We have this sandstone formation that makes up Pictured Rocks National Lakeshore, and it's very porous. We get a lot of rain in the fall, a lot of snow during cold temperatures, and this ice forms everywhere. We have miles and miles of ice. Lots of ice, Lake Superior – it's the place to climb."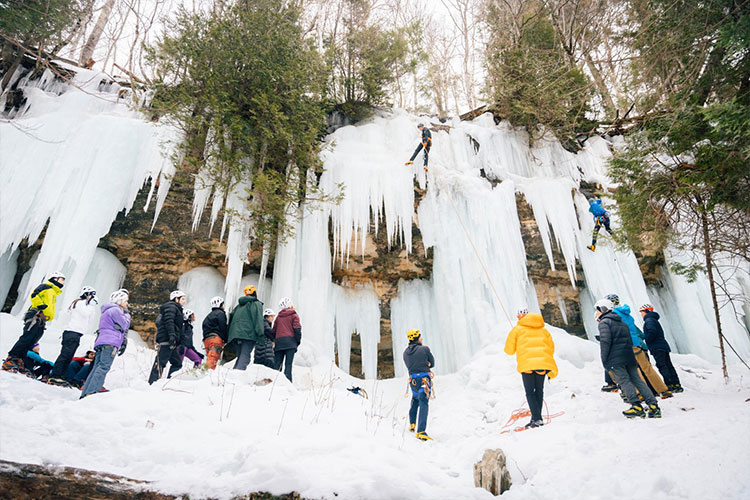 In 2023, the festival offered more than 150 climbs. World-renowned climbers and guides taught courses on topics ranging from Belay Techniques to Climbers' Yoga, to Intro to Ice Climbing for People of Color.
The festival provides an opportunity to try a sport that traditionally has a high barrier to entry by providing the gear and high-quality instruction from professional athletes. All the equipment needed for ice climbing is made available at the event, including helmets, clothing, specialized boots, crampons and ice axes.
Thompson insists that anyone, even not-very-adventurous souls, can ice climb.
"The Michigan Ice Festival is an opportunity for people to try the sport of ice climbing," Thompson said. "There's a lot of ice festivals all over the country, but ours is unique in that we have a lot of first-time climbers. You have someone who's never ice climbed before – we give them everything they need and set them up with the Michael Jordans, the Steph Currys, the LeBron Jameses of our industry. They go out and climb with them and it's a winning formula for getting people excited about the sport and giving them that ice climbing experience.
"We pride ourselves in being welcoming to beginners. We offer courses for women only, taught by female athletes. We provide the gear, tools, techniques and quality instruction. Anyone who's reading this should know they can do it."
"Our end goal is to give people the experience. A lot of people say, 'I could never do that, I'm afraid of heights, I'm not strong enough.' The instruction gives people the tools and techniques to overcome that fear so they can concentrate on what they're doing to have success."
Diversity is the Key to the Future of the Sport
According to Thompson, the sport is working hard to expand beyond its insular community. "We've made strides to include everyone," he said. "We feel strongly that we need to make our activity viable, we need to be more inclusive. It makes for a better, stronger community."
In 2023, the festival hosted the Full Circle Everest team, the first group of all-Black climbers to summit Mt. Everest. Members of the team included "Dom" Williams, along with other North Face-sponsored athletes including Conrad Anker and Sam Elias. They were on hand for the entire event and led groups of new climbers attending as part of the Detroit Outdoors Collaborative, an outdoor adventure and environmental education program supported by the Sierra Club, the Detroit Parks and Recreation Department, and the YMCA of Metro Detroit that provides urban youth with positive outdoor experiences.
Munising is a Four-Season, Multi-Sport Destination
In addition to ice climbing, Munising offers a vast array of activities, especially for the outdoor enthusiast. The Pictured Rocks National Lakeshore is a four-season recreation destination, and the area offers ice climbing, cross-country skiing and snowshoeing, snowmobiling, ice fishing, hiking, canoeing, kayaking, sightseeing, birding, backcountry and vehicle-based camping. Shipwreck tours are another popular activity. The Grand Island National Recreational Area is located just a half-mile from Munising and situated in the waters of Lake Superior. Designated a National Recreation Area in 1990, Grand Island is a 13,500-acre area showcasing a rich natural and cultural history.
"We have people coming up strictly to go ice climbing, but then they see the area offers dogsledding, great cross-country skiing, so they can make this multi-sport, multi-adventure trip," Thompson said. "It's really good for the community because they're buying gas, they're staying at hotels, they're buying food. If we can make them into ice climbers, they'll come back two or three times a year and that brings a lot of money into the community.
"There's such a great vibe to it. We start to see people get that addiction to climbing, and we see them coming back year after year. They have instructors who climb all over the world and they get inspired."