Amy Stocking of Turner's Blueberry Farm
Amy Stocking and her husband Dan are growing their family and a superfood at Turner's Blueberry Farm in Caro
In 2022, longtime farmers Don and Cathy Erla passed down ownership of popular Turner's Blueberry Farm to their niece, Amy Stocking and her husband Dan. Cathy's uncle Jerry Turner first welcomed blueberry pickers from around the Thumb region to the Caro farm in the 1960s, and the Erlas kept the tradition going for over 30 years.
As a native of the Thumb, Amy grew up making memories at the farm, from picking blueberries as a child to working in the sales shed in high school. When her aunt and uncle approached her seven years ago about taking over the farm when they retired, she was hesitant.
As a newlywed with no kids and a career in the Metro Detroit area, the idea of taking over the blueberry farm – though idyllic – didn't seem feasible at the time. But, as Amy says, life changes. Several years and two children later, the opportunity to raise her family on the farm in Caro came at the right time.
Amy and Dan utilized resources from the Michigan Small Business Development Center (SBDC), which helped the couple set up their LLC and connected them with mentors. Amy has also taken several SBDC online classes, including Facebook classes that have significantly helped to build their business since they created their page in 2021.
They spent the next few years learning the ropes from the Erlas to prepare for carrying on the farm's tradition of providing great crops and excellent customer service. Taking the reins in time for the farm's 58th season, Amy and Dan are keeping this community treasure in the family as third-generation owners.
Looking at the farm's 59th season and beyond and with a third child on the way, Amy is planting her roots in the Thumb and proving she's true blue.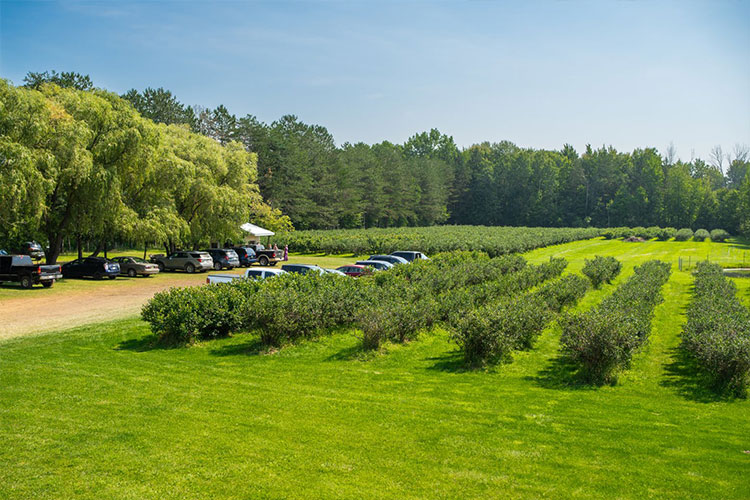 Turner's Blueberry Farm is a unique, generational family business in that it has been passed down twice now to a niece in the family. Can you speak to that family history a bit and what it means to continue that legacy?
The farm has been a part of my summer memories my whole life! From picking as a child to starting my first job there to coming back home in the summers to visit and bring friends – now it is a real part of our everyday life. We were excited to keep the legacy going and the community was also very excited it was staying in the family as it is part of so many family traditions of Thumb area residents. It is also nice to have my aunt and uncle so close with all their farm knowledge.
Your first job was helping at the farm. Can you describe your journey of growing up in that area, moving away, and coming back?
I loved growing up in the Thumb area. My mom and dad both grew up in very large families, which meant I got to grow up with A LOT of cousins, aunts and uncles . . . and I loved it. In high school, my first job was working in the sales shed at the blueberry farm and that's when I fell in love with this piece of land and what it meant for the community. After graduating from Cass City High School, I went to Saginaw Valley State University for undergrad and then Wayne State University for my master's degree. I lived and worked in metro Detroit for about 10 years, during which time I met my future husband. Once we started to expand our family, we wanted them to grow up how we did – in a small town close to family. So, when my aunt and uncle approached us about taking over, Dan and I had already talked and dreamed about raising our family on the farm.
Can you describe what changed your mind about taking over the business and the process you went through to prepare to take over the farm?
Honestly, the pandemic and being able to keep at least one of our "day" jobs remotely is what helped us change our mind. We would not have been able to do it without the more flexible workforce we have today, compared to five years ago. With kids, we wanted more balance to be present and not stuck in a cycle and taking over this business had allowed us that.
What does the support of the local community mean to you?
I love hearing the stories from our customers, some have picked there for over 40 years, others remember coming as a kid and now bring their kids. These loyal customers and family traditions are what supports the farm.
What are the qualities of Michigan and your area in particular that led you to want to build your life and take on this business?
Michigan is a beautiful state to live and work. Our family enjoys taking advantage of the four seasons with our many outdoor pursuits, from skating and sledding in the winter to camping, swimming and kayaking in the summer (before and after the blueberry season, of course). Growing up in the Thumb afforded me a lot of opportunities to grow up in a small community where everyone knew each other and, when the opportunity to make a life on the farm came up, my husband and I decided this was the experience we wanted for our children. We wanted our kids to live closer to the land but we also wanted that for ourselves. We wanted to work with our hands and feel the pride that comes with maintaining the farm and ensuring the blueberries grow so our customers can literally enjoy the fruits of our labor.
How does it feel to be a part of Michigan's thriving agribusiness industry?
It is FUN! We get to offer people a chance to enjoy the beauty of nature and delicious fresh fruit. We are excited to hopefully expand the agritourism part of our farm in the future.
What's your favorite way to enjoy the blueberries?
During the season we really do not have time to bake, so I enjoy giving them to my mom to turn into desserts, muffins, and bread! We all love eating them fresh during the season and add frozen berries to our breakfast yogurt and smoothies year-round.
You're expecting your third child this year. Have your son and daughter shown interest yet in the farm, eating/picking blueberries, or just exploring?
They love living on the farm and eating the fresh berries. They enjoy the golf cart rides around the farm during the spring as we check on the crop. Last summer, at only 3, my son decided to start telling customers he was the "boss" and answered the phone a few times.