Alan Baugh of Baugh Shoe Repair
At 93 years old, Alan Baugh continues his family's century-old legacy business in downtown Wayland
Celebrating 100 years of business in 2023, Baugh Shoe Repair – and its owner Alan Baugh – are a Wayland institution. From the age of 12, Alan began mastering the craft of cobbling shoes, following in the footsteps of his grandfather Frank and father Clayton. He helped his father out at the repair shop after school before working full time when he graduated.
Decades later, Alan is 93 years young and still using his skills as a cobbler to repair the shoes of customers from near and far.
What's the background story behind your family's business?
Baugh Shoe Repair began in 1923 with my dad and his dad, making the business 100 years old now. My grandfather passed away in 1928, the year before I was born, so I never knew him. But my dad carried it on, and I started working here when I was 12 or 13. I've worked here ever since, except for my two years in the service from 1950 to 1952. I kept at it because it was a way to make a living and, eventually, to support my wife and four kids.
What does it mean to be a cobbler?
Being a cobbler means doing a good job and having people tell you that you did a good job. I get a lot of work shoes, cowboy boots, heels for the ladies – quite a variety. I re-sole work boots every day. The work involved depends on the shoe. You get the knife out and start cutting, get the pliers out and start prying.
Has Baugh Shoe Repair remained a family business?
My son was going to carry on the business, but he passed away in his sleep in 1988. He was 34 years old. He'd have been the boss by now, and I'd be a part-time employee. I'd be working for my son, but that isn't the way the Lord wanted it, so that's the way it is. Since 1988, I've been hanging onto this by myself. My daughter Sherry works at the cash register.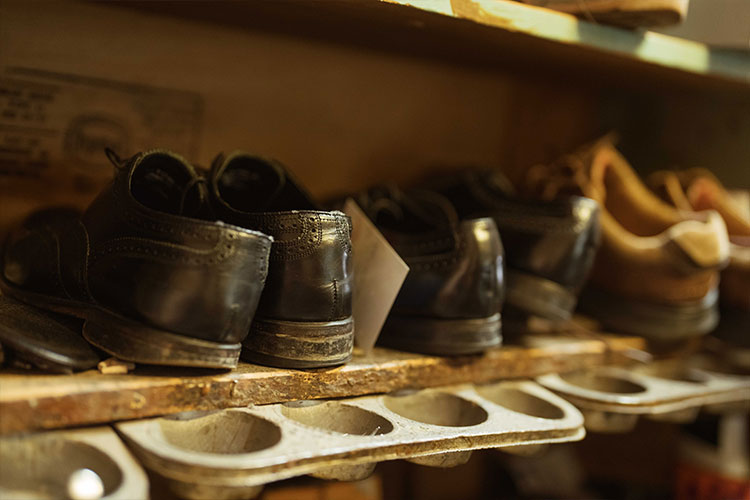 What has motivated you to keep running the shop after all these years?
I'm 93 now, but I'm still working. It's something to do and people tell me I can't quit, so I don't. I'm proud of my work because people tell me they like what I do, and they come back. I've got a lot of repeat customers who bring more work in as the years go on. I'm glad I can help them out. I'm glad I've been able to serve people. It gives you the desire to keep going. I'm not ready for the rocking chair yet, although I go back and sit in mine quite often.
This story originally appeared as part of the Michigan Main Street Story Series.